How to Troubleshoot Windows 7 Random Freezes or Hangs

2013-02-07 17:12:53 / Posted by Shawn Hamilton to Windows 7
Follow @ShawnHamilton
Windows 7 keeps freezing and taking forever to startup? Or it freezes or hangs randomly during the process of working on something important. Isn't frustrated? In general, there are several reasons why your PC might hang. Drives, conflicts with other programs, malware, and memory can all cause problems with Window 7 hanging, freezing or crashing. If Windows 7 freezes at random and it crashes at the very beginning of startup, the problem may probably relate to the Registry. When the Windows registry is filled with errors, it will prevent the system from correctly communicating information and the OS as well as software and hardware devices can't be started properly. If you would like to fix Windows 7 freezes issue, you have to repair Registry first.
To fix Windows 7 Registry errors, you can clean the Registry of corrupt files and various errors with Windows Boot Genius. It is the professional Windows 7 hangs problem repair software. It not only fixes errors but also speed up your system by cleaning up some unnecessary files. The article below tells you how to troubleshoot Windows 7 freezes randomly step by step.
Buy Now Windows Boot Genius:
How to Resolve Windows 7 freezing Issue on Startup?
Step 1. Create a Windows 7 freeze repair CD/DVD or USB Drive
Download Win 7 freezes restore software (Windows Boot Genius) and install it in any accessible computer. Launch the program. In the main interface, select "How to create bootable CD/DVD or USB drive" menu in the left window. In the right window, follow the tutorial step by step to make a boot CD, DVD or USB drive.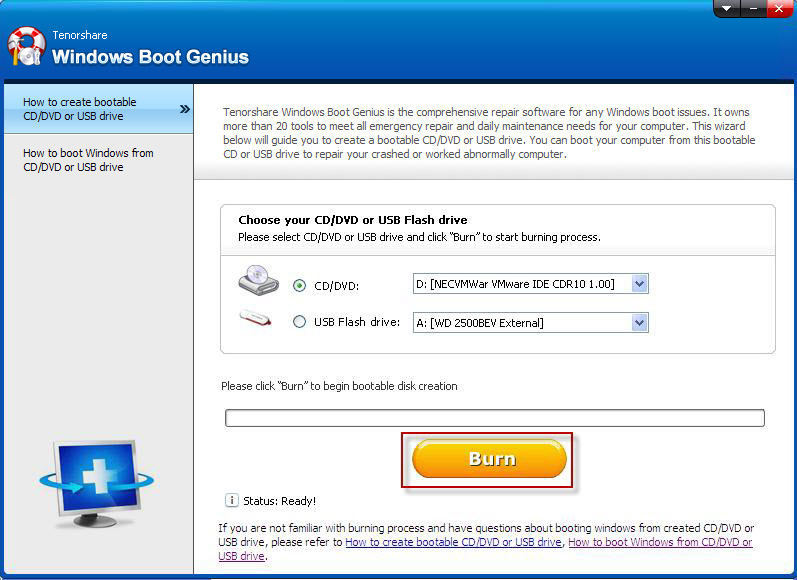 Step 2. Boot Windows 7 from CD/DVD or USB Drive
Insert the newly created CD/DVD or USB drive to the Windows 7 which freezes constantly. Restart the PC, press F2 or Delete to enter BIOS setting and set the computer boot from CD/DVD or USB drive, not from the hard drive.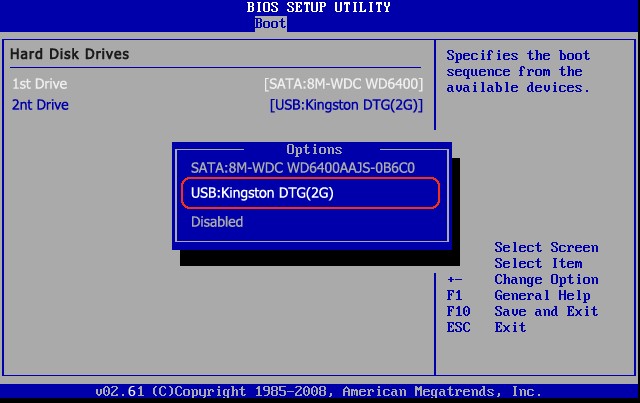 Step 3. Fix Windows 7 Freezes on Startup or Hangs Constantly Problems
Windows Boot Genius icon comes to you when you get into WinPE version successfully. Click the icon to run the program. In the home window, select "Windows Rescue" module. In the next window, choose "Registry Recovery" in the Function Center. Then scan your computer with that tool. Within few simple clicks, you can clear Registry table completely and let your Windows 7 computer runs smoothly.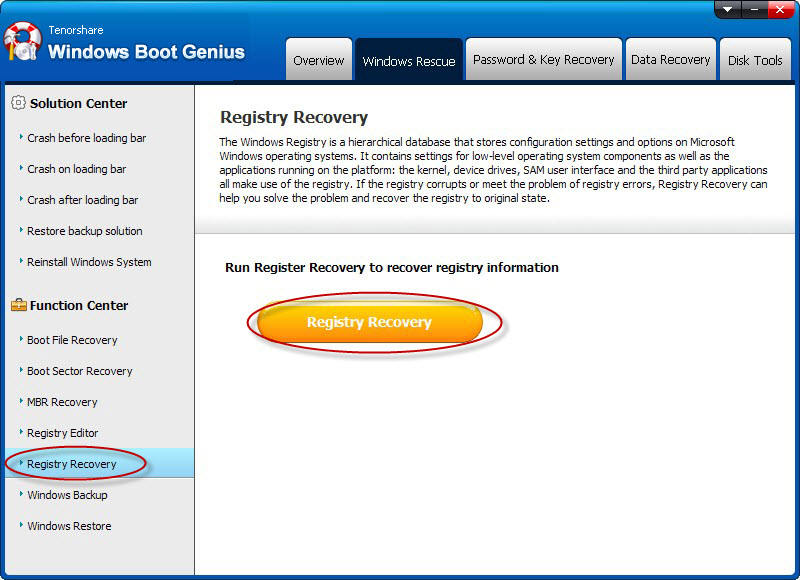 Tips
: Windows Boot Genius also helps you fix
mouse freezes Windows 7
, Windows 7 hangs after being idle,
Windows 7 freezes after login
, etc.
Buy Now Windows Boot Genius:
comments powered by