"Why does my laptop freeze when I use smart recolor on Photo bucket?
Every time I get on it to recolor a picture my laptop freezes and I have to restart it. What can I do to prevent it from happening again?"
- Asked by Vivi from Yahoo Answer
Most of us may encounter accident as when you are playing games in the internet, your laptop freezes suddenly and the computer had to restart again. For a few minutes and then un-freeze and freezes again in a few minutes later. Isn't frustrated when you are reading books or working?
Why does my laptop keep freezing? Many of us will ask this question. In general, this is a common occurrence in Windows based operating system, including Windows 10, 8.1, 8, 7 and it can be caused by various reasons. However, it is not the end of the world. There are many methods can help you solve the issue.
Buy Now
Why Does Your Laptop Freeze?
1. The laptop is overcrowded by the program you are going to utilize.
2. Your computer does not have sufficient memory
3. There aren't adequate source for your computer, etc.
4. Corrupt operating system files. The most common cause of laptop freezing is a corrupt registry. If your registry is bloated and overstuffed with an assortment of useless pieces of data, the operating system will not completely uninstalled all programs, so you get a freezing screen.
5. Overheating.
6. The computer is affected by a virus
And more…
How to Troubleshoot Laptop Freezes Issues?
If the problem was not caused by the hardware failure, it is easy to solve it. Just let you laptop have a rest if it is because you are using it for a long time. For corrupted system file, we suggest you use software to have it repaired. Here we recommend you use Windows Boot Genius, the all-in-one Windows operating system repair software. It is able to repair corrupted registry, boot sectors, etc. The article below is going to provide you with guide to fix your laptop on Windows 10, 8.1, 8, 7, etc.
Step 1. Make a Laptop Repair CD/DVD or USB
Download laptop freezes up repair software (Windows Boot Genius) and install it in any Windows computer. Launch the program, in the main screen, Select "How to create bootable CD/DVD or USB drive" mode and make a repair CD/DVD or USB under the instructions.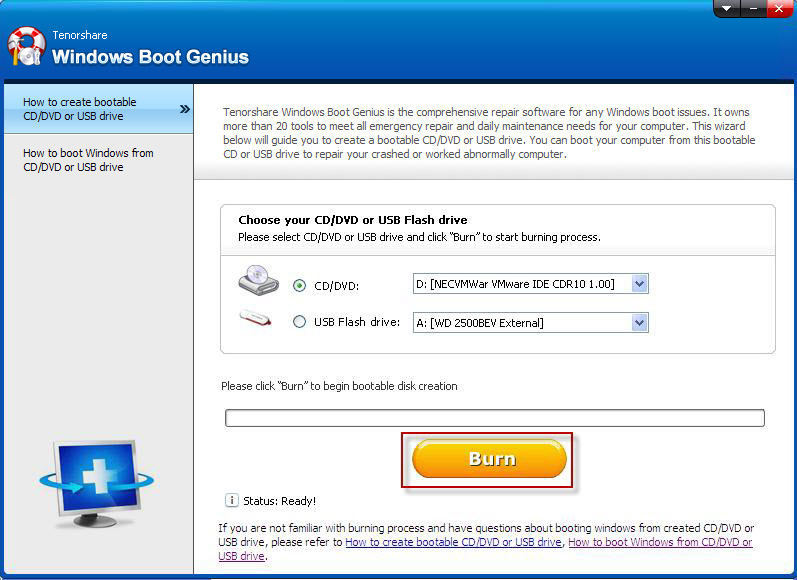 Step 2. Boot Laptop from CD/DVD or USB Drive
Insert CD/DVD or USB drive to the laptop and restart it. Then Press F2 or Delete to go to Boot Device Menu. Change the BIOS setting here and make your laptop to boot from CD/DVD or USB drive (Here we take USB drive for example)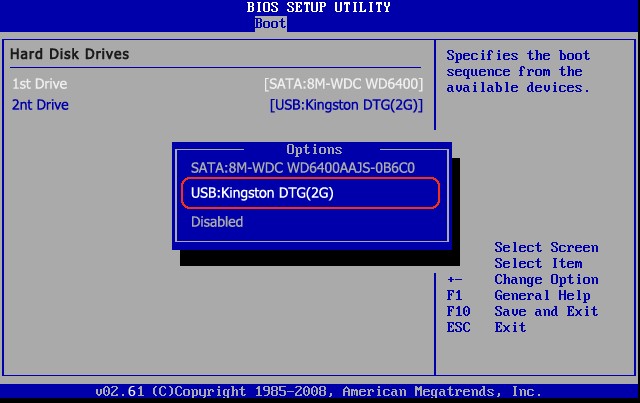 Step 3. Fix Laptop Freezes
When the laptop restarts successfully, you will see Windows Boot Genius icon. Click the icon to run the program. In the main interface, choose "Windows Rescue" module. You will see many tiny utilities here. If your laptop keeps freezing after startup, please try to repair corrupted Registry with Registry Recovery. This tool helps you clean corrupted registry file and let the Registry go to normal.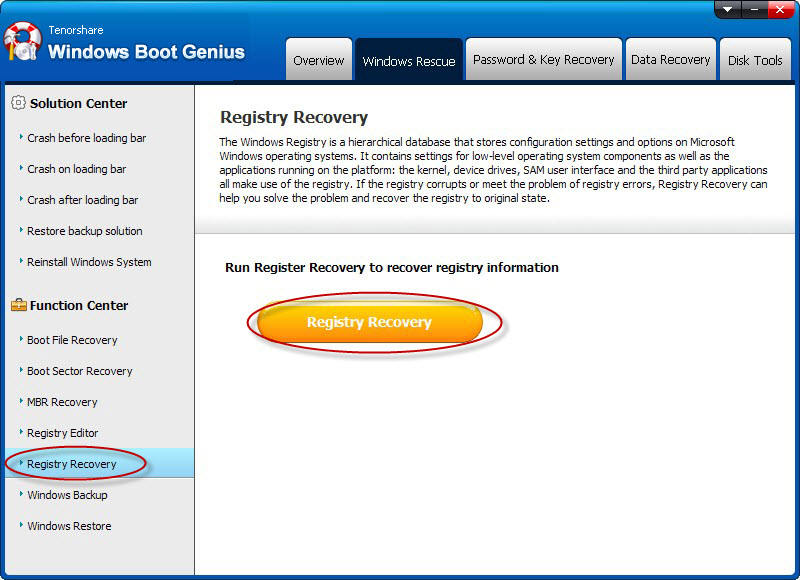 All work done! Just unplug the USB drive and reboot your computer again. Then you can use your computer with no interruption. Good news is this tool is available for all laptop brands. Such as Samsung, Dell, HP, Toshiba, etc. You can fix all laptop freezing issues with this magic tool.