"Why is my computer beeping continuously instead of usual beep when I try to turn it on and it won't boot? No signal to display or other boot activity. My motherboard manual doesn't state what the three beeps mean. I just play a game and the computer shut off and started beeping again."
Have you ever encountered with similar issue like above? If yes, then you are reading the right content. I will explore feasible solutions to fix (Dell/HP/Lenovo/ Samsung/Acer /ASUS) computer beeps constantly and won't boot problem in this post.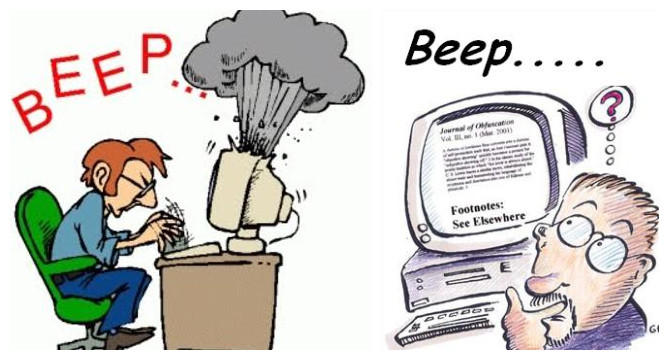 Part 1. Why Your Computer Makes a Beeping Noise and Won't Boot?
What do the beeps mean when you turn on a computer? Why is my computer beeping continuously? Actually, once your personal computer beeps at you, you should pay attention to it because that's a cry for help. Most of the rebarbative beep codes may be caused by BIOS warning. There're various beep code patterns and different computers make different beeps. For instance, Phoenix BIOS codes are long and short beeps delivered in groups. Here are the beep codes about AMI BIOS found from PC Magazine and you may figure out other codes from search engine.
| Beep Code | Meaning | Troubleshooting |
| --- | --- | --- |
| 1 time | Refresh Failure | Reseat/replace memory, troubleshoot motherboard. |
| 2 times | Parity Error | Reseat/replace memory, troubleshoot motherboard. |
| 3 times | Memory Error (first 64KB) | Reseat/replace memory. |
| 4 times | Timer Failure | Troubleshoot motherboard. |
| 5 times | Processor Failure | Troubleshoot CPU, motherboard. |
| 6 times | Keyboard Controller Failure | Troubleshoot keyboard, motherboard. |
| 7 times | Virtual Mode Exception Error | Troubleshoot CPU, motherboard. |
| 8 times | Display Memory Failure | Troubleshoot graphics card, motherboard. |
| 9 times | ROM BIOS Checksum Failure | Replace ROM BIOS, troubleshoot motherboard. |
| 10 times | CMOS Shutdown Register Failure | Troubleshoot motherboard. |
| 11 times | L2 Cache Failure | Troubleshoot L2 cache, motherboard. |
| Continuous | Memory or Video Failure | Troubleshoot memory, graphics card, motherboard. |
Part 2. How to Stop Computer Beeping and Will Not Boot?
Continuous beep sound from CPU and no display on computer? When you faced with a beeping computer with a black screen on startup before loading, there are common fixes and ultimate troubleshooting you are able to assist in. Below are a few of them.
Common Fixes to Work out Computer Beeps and Won't Boot
1. Make sure that there's no stuck keys in the keyboard.
2. Inspect all cables connected to computer and check they are completely plugged in.
3. Interrupt external devices such as printers, USB sticks and external drives.
4. Be sure that internal hardware has appended to the computer such as additional memory.
5. Get rid of all internal connectors and cards and then reinstall it, including the memory but not CPU.
6. Diagnose beep codes stand for and app and handle with your trouble according to the total solutions online.
7. Take your computer to repair shop and perform professional maintain.
Ultimate Solution to Fix Computer Continuous Beep and Won't Boot with Windows Boot Genius
Computer beeping while running? Believe or not, once your computer won't boot, Windows Boot Genius is the hottest and best life saver. It integrates 99% computer boot issues and solutions you may face with and it's easy to handle as well. Look at steps-by-steps in the following instruction and you will know how:
Step 1. To get started, run this program from another accessible Windows-based desktop or laptop.
Buy Now
Step 2. Plug in a blank USB to that computer, select "USB Flash Drive" and hit on orange "Burn" button until burning is completed.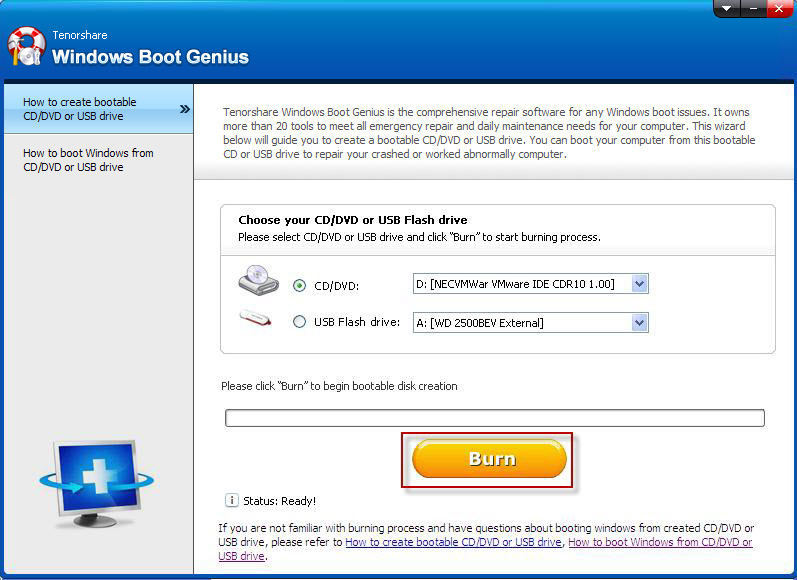 Step 3. Insert that USB to your malfunctioning computer and let it boot from USB by changing BIOS setting. After rebooting for a few seconds you will see Windows Boot Genius interface again.
Step 4. Hit on "Windows Rescue" and then choose "Crash before loading bar". There're the fixes about this booting problem.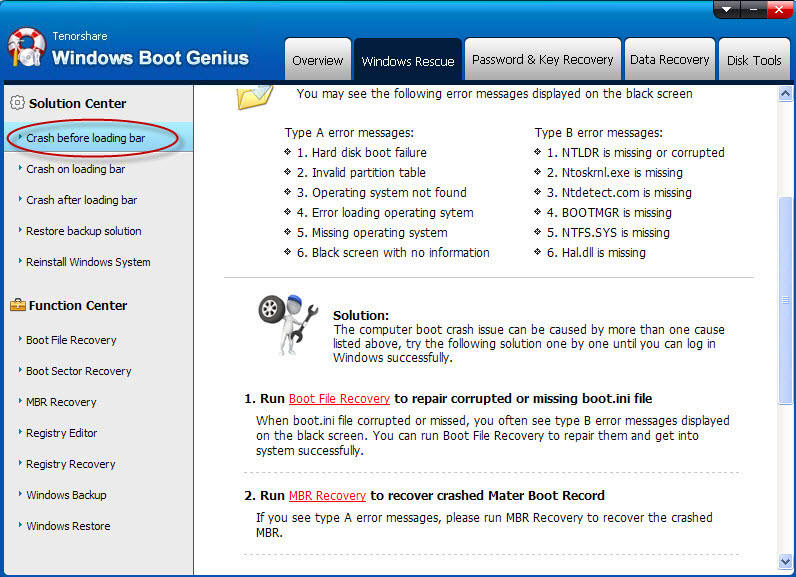 Step 5. According to your issue, you may choose to run "Boot File Recovery" or "MBR Recovery" on "Function Center" tab.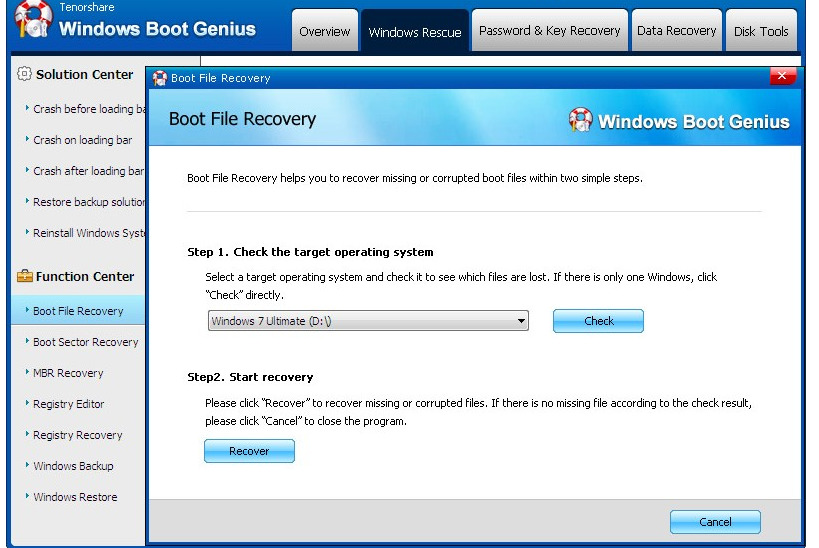 Hope those common fixes and methods will help you cope with computer won't boot and beeps problem and your laptop or desktop will be alright in the future. Is the page helpful to you? Welcome to leave your comments and share with me.