Registry is one of the biggest differences between Windows system and other operating system. Just like a big database, registry stored almost the Windows system hardware and software information. Depending onWindows registry, the system could run accurately and stable. Even you can restart the system if it corrupts accidentally.
When you change a setting and install new software into your system, some value will be changed or added into the registry. If you uninstall some programs or doing some changes in your computer, there may be too much useless registry information in the system. In this condition, your computer may response slow and full of useless files.Here you can follow our tutorials to clean invalid registry entry in Windows 10/8.1/8/7/XP.
To get start, download and install Windows Care Genius into your system.
Buy Now
Part 1: Delete useless registry entry in Windows system.
Step 1: LaunchWindowsCare Genius. In main interface, click "Checkup" to do a quickly check for your system. Then you will get a score about the system health status.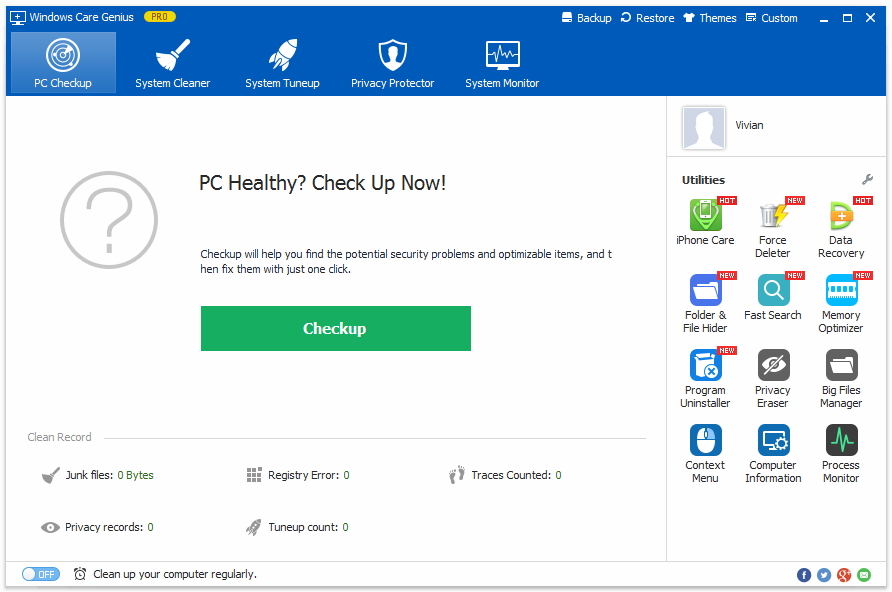 Step 2: Click on "Fix", it will automatically help you delete all of the junk files, computer traces and browser history, tune up your computer.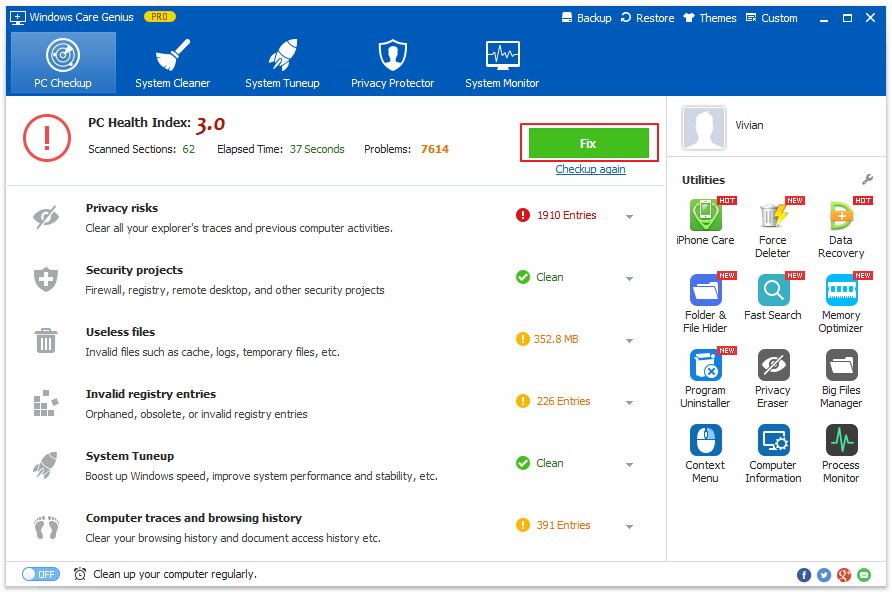 Step 3: Click the "System Clean"tab; you will see five options in left panel. Select "Registry Cleaner" and click "Scan". This program will automatically help you scan the registry and find out invalid registry entries.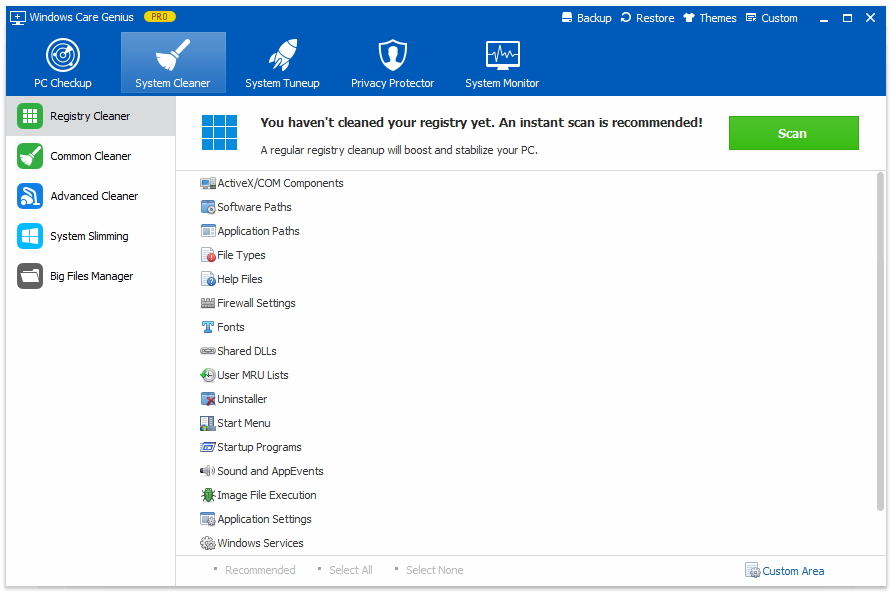 Tips: During the scanning, you can click "Custom Area" in bottom right corner to specific the items that you want to scan and clean.
Step 4: Wait several seconds for the scanning completed. You can click "Clean" to delete all of the useless registry entry. Just one click, you can get back a clean and tidy registry.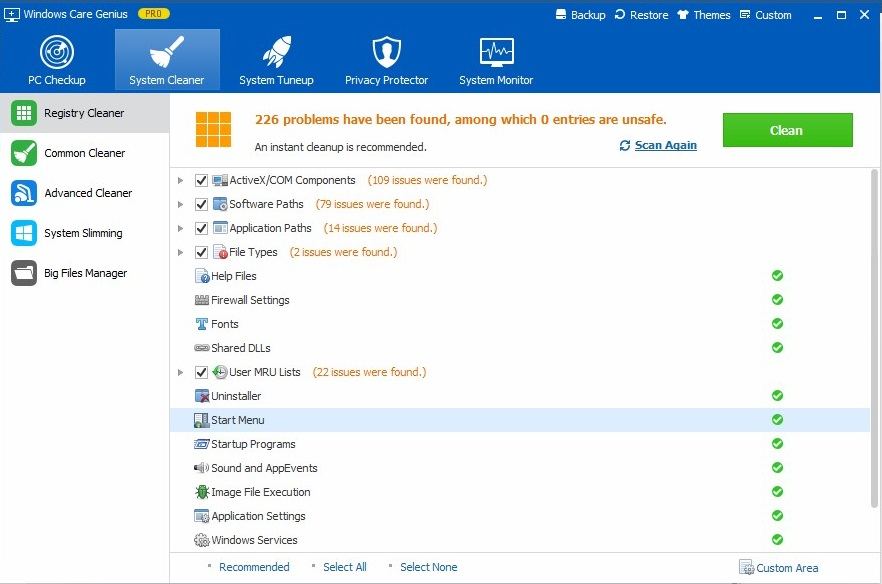 Note: Windows Care Genius will automatically help you back up the registry information, if you need to restore.
Part 2: Set Windows Automatically Clean Registry and Other Items
Click on "Custom" in top right corner, choose "Settings". Under tray option, please check the options "Display floating window automatically …" and "Auto-optimize". It will automatically help you clean useless registry informationand other useless rubbish file.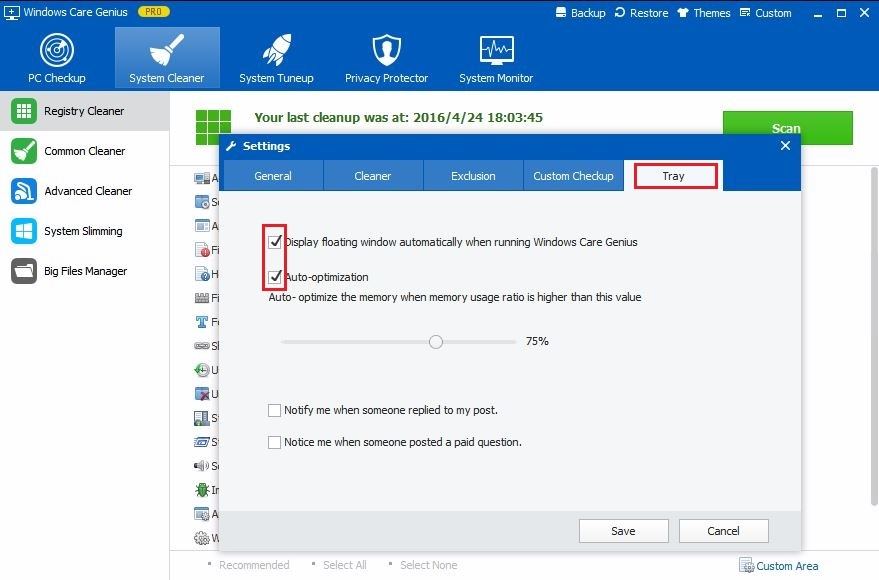 Removing registry entries on Windows can be easier as long as you choose professional tool. In fact, equipped with other special tools, Windows Care Genius can do more than you thought, such as System Cleaner could help you do a comprehensive clean for your system, System Tune up could help you speedup the running speed of your computer, Privacy Protector could help you erase privacy information in your laptop. It is really an all-in-one system utility for Windows 10/8.1/8/7/XP. So what are you waiting, just download and have a free try for Windows Care Genius.