For users who always need to boot computer, a bootable USB flash drive can be useful than CD/DVD. Whereas, there are also some problems that users find that the bootable USB not showing up in the boot menu Windows 7, and they cannot successfully get into the computer system. What cause this situation and how to fix? Let's have a look at the following content.


What Causes PC Cannot Boot from USB?
When users find they cannot boot from USB even though BIOS is set to boot from USB. They might need to check the problems first. Here we listed the most common ones:
A. USB drive is not bootable. Before you start to use the USB for boot Window 7 to your computer, make sure your USB flash drive is bootable.
B. Whether your computer supports booting from USB or not. For some PC, its motherboard doesn't support USB booting, and you can check it by searching your PC model online.
C. Configure you PC to boot from USB. To enter BIOS menu, different computers may have different ways that you need to check the right method to get into BIOS menu of your computer.
D. The file system of USB drive. For example, if you want to install Windows 7 in UEFI mode, you need to make sure that the bootable USB is formatted in FAT32. For different mode, you are required to get different formatted USB flash drive.
How to Fix Window 7 Computer Won't Boot from USB?
If you cannot easily find out the reason why you cannot boot from USB on Windows 7, then we recommend you the world's best helper to fix this issue. Windows Boot Genius, with it you can create a suitable bootable CD/DVD or USB to restart inaccessible Windows 10/8/7 system.
Buy Now
First download and install this software on an available computer, then launch the program.
Insert your bootable CD/DVD or USB drive to the computer. And you will see the interface below, select CD/DVD/ or USB as you decide, and click "Burn" to begin boot disk creation.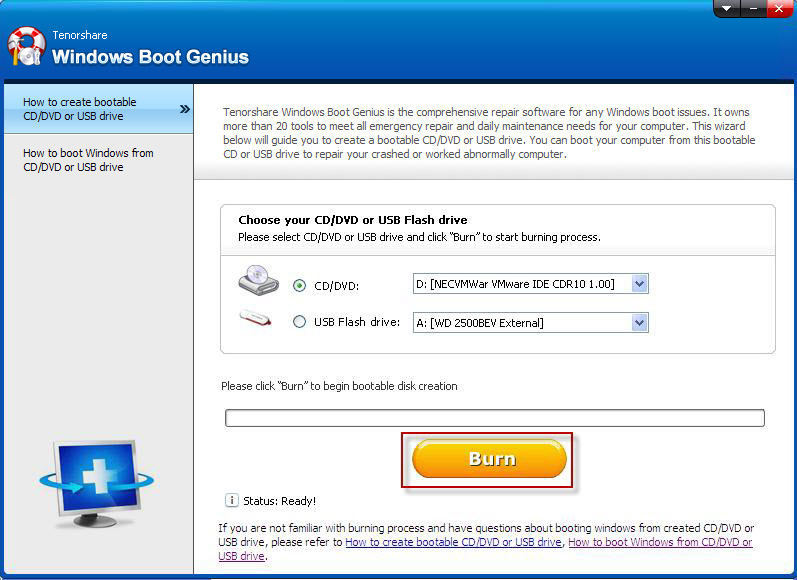 If you want to know more about how to boot up computer from those moveable devices, you can refer to:
BIOS Setting for CD/DVD
BIOS Setting for USB Drive
Besides, Windows Boot Genius can also help to optimize your computer, when you meet with some troubles with crashes, blue/black screen as well as all the boot errors. Even you accidently broken hard disk/partition, it can help you backup and restore important data for you.
Next when you are unable to boot from USB Window 7/8/8.1/10, don't forget to have a try by using Windows Boot Genius.