One day you press "Power" on your Windows 7 computer, and you receive the dreaded "BOOTMGR is missing, Press Ctrl+Alt+Del to restart" error message, in white text on black screen. So you hit Ctrl+Alt+Del and get the same message again and again, in an infinite and terrible loop. After rocking back and forth, you straighten up, take a deep breath and search on Google, but get dazzled by so much software and service on the market. What a frustrating day!
If this is the case, you come to the right place. In this article we would like to dissect "BOOTMGR is missing" in detail.
P.S: BOOTMG is missing in Windows 8? You can also read about How to fix BOOTMG is missing in Windows 8 for more details.
Buy Now
What is BOOTMGR is Missing in Windows?
BOOTMGR, short for Windows Boot Manager, is a small piece of software that's loaded from the volume boot code, part of the volume boot record, which helps your Windows 10, Windows 8, Windows 7, or Windows Vista operating system start.


The "BOOTMGR is missing" error displays shortly after the computer is turned on, immediately after the Power On Self Test (POST) is complete. Windows has only initially started to load when the BOOTMGR error message appears. Also see how to fix Ntldr is missing error for Windows users.
What are Causes of BOOTMGR is Missing Error?
1. Corrupt and misconfigured files, hard drive.
2. Operating system upgrade issues.
3. Corrupt hard drive sectors.
4. An outdated BIOS.
5. Damaged or loss hard drive interface cables.
6. Your computer is attempting to boot from the drive that's not properly configured, such as a non-bootable source.
How to Fix BOOTMGR is Missing Error in Windows Vista/7/8
Before start to fix BOOTMGR is Missing error, you should make sure if it is necessary to utilize assistant tools. Firstly, reboot your computer. Sometimes, Bootmgr error is just a fluke. Secondly, check your floppy and optical drive to make sure there is no unbootable source that is connected to your computer. If yes, disconnect it. Then go to BIOS to set the drive with Windows installed as the first boot device.
Still having Bootmgr issues? You should use a professional Windows boot fixing program. Windows Boot Genius is highly recommended to repair "Bootmgr is missing" issue or "bootmgr is compressed" error safely and completely. And it fully supports fix bootmgr is missing for Windows 8, bootmgr is missing for Windows 7 and bootmgr is missing error in Vista, etc.
Follow the directions as follows to finish this intimidating and risky task in a super easy way.
Step 1
: Create a bootable CD or USB with Windows Boot Genius. Insert a blank CD or USB into a computer which can boot normally and run this software. You only need to perform a click on the "Burn" button in the center.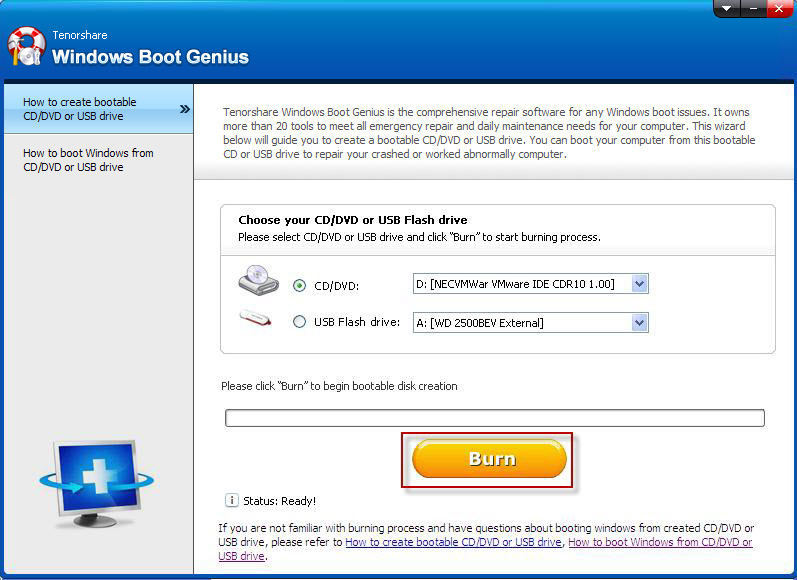 Step 2
: Insert the bootable CD or USB your burned just now into your computer, then start the computer and press F12 to get into the Boot Menu. Choose the CD or USB as the first boot device and proceed.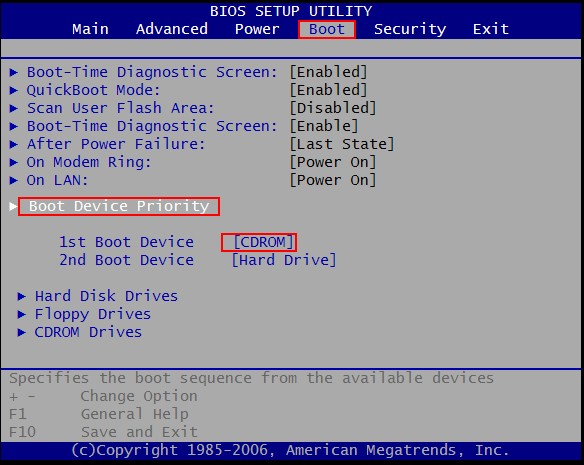 Step 3
: After getting into the system, launch Windows Boot Genius. Choose "Windows Rescue" on the top tab. It shows "Crash before Loading Bar" by default. In the part of "Type B error messages", you will see " BOOTMGR is Missing" in No. 4. Try the repair solutions one by one, until the Bootmgr errors are fixed.