Is you computer safe enough? Does your Windows 7 ask for a logon password when you start your PC? It should. If not, a logon password must be created as soon as possible. This article will tell you how to make a user login password on Win7. It is easy and usually takes less than a few minutes
It is a big security concern if you do not have a Windows 7 logon password. Without a password, anyone in your office or home has full and unrestricted access to everything on your PC. Fortunately, creating a new Windows 7 login password is very simple.
Related Guide: How to change login password in Windows 7?
Note: If you're trying to create a new Windows 7 user password because you've forgotten yours and can't get in to Win7, see how to recover a forgotten Windows 7 Password.
Follow the steps below to create a password for Windows 7 logon account:
1. Click on "Start" and then "Control Panel".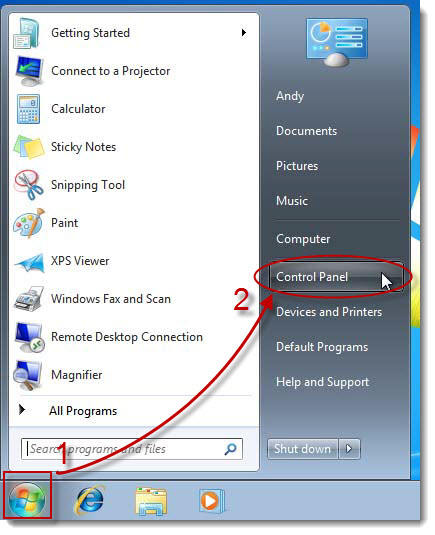 2. Click on the "User Accounts and Family Safety" link.


Note: If you're viewing the Large icons or Small icons view of Control Panel, you won't see this link. Simply click on the User Accounts icon and proceed to Step 4. In my computer, my win7 user name is Andy. So I click its icon.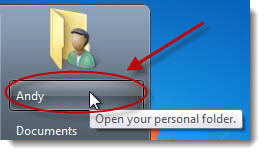 3. Click "change your Windows password" on the "User Accounts" area.


4. In the "Make changes to your user account" area of the User Accounts window, click the "Create a password for your account" link.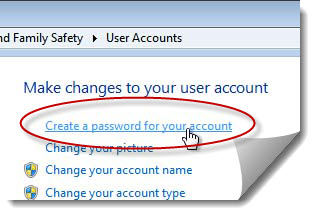 5. In the first two asterisk text boxes, enter the password you want to start using. Entering the password twice helps to make sure that you typed your new logon password correctly.
In this example I use my birthday as my logon password. But I advise you not to use your birthday as a new password because it is easy to guess. You should create a strong password.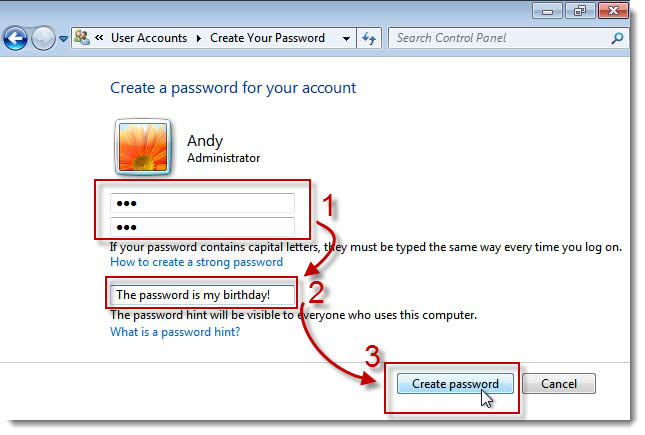 6. In the final text box, you're asked to Type a password hint. This step is optional but I highly recommend that you use it. If you try logging in to Windows 7 but enter the wrong password, this hint will pop up, hopefully jogging your memory.
7. Click the "Create password" button to confirm your new password.
8. After creating a new password, you will be returned to the User Accounts window. Now you can see the user account "Andy" has been password protected.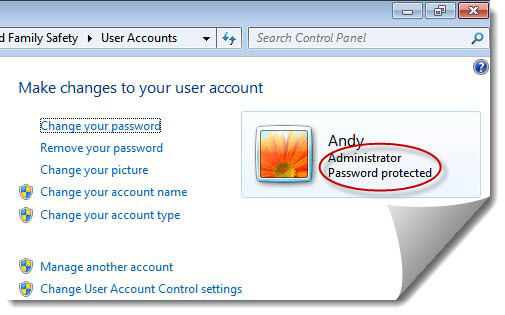 9. Now that your Windows 7 account has a password setup, you must use this password to log on to Windows 7 from this point forward.
10. Create a Windows 7 password reset disk. While not a required part of creating a new password, I highly recommend that you do this. A password reset disk will protect you from the consequences of forgetting your new Windows 7 password. If you lost Windows 7 account password and you don't have created a password reset disk, you can use this Windows 7 Password Recovery Tool.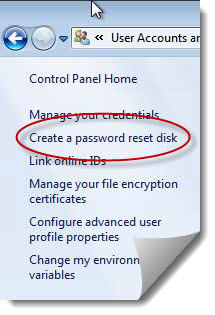 Tips for ceating a Windows 7 logon password
If you your Win 7 has been lock with a password and not accessable, you can use a third-party software to create password for Windows 7, click here to get more information about this Windows 7 logon password creator.
Free Try Windows Password Recovery Tool
World's 1st Windows Password Recovery Software to Reset Windows Administrator & User Password.
Free Download
Free Download