When you turn on your Windows 7 computer, it prompts you for a password to log on. However, you cannot remember the password, and the system disk is not available on your hand. Then what else can you do? Reinstalling the operating system should be a good tip. But it is money and time consuming. Actually, you have no need to reinstall the operating system. Windows 7 auto login program enables you to remove the forgotten password quickly and effectively and let you auto login Win 7 freely.
How to Keep Login Windows 7 with No Password
Step 1. Install Windows 7 auto login software in Any Available Computer
Download Windows Password Recovery and install it in any accessible computer. The program can be well compatible with the newest Windows 8 and other common Windows versions.
Step 2. Burn .iso File to a Blank CD/DVD or USB Drive
Prepare a blank CD/DVD or USB drive in advance. Insert CD/DVD to CD-ROM drive or connect the USB drive with USB porter and then burn the .iso file to them.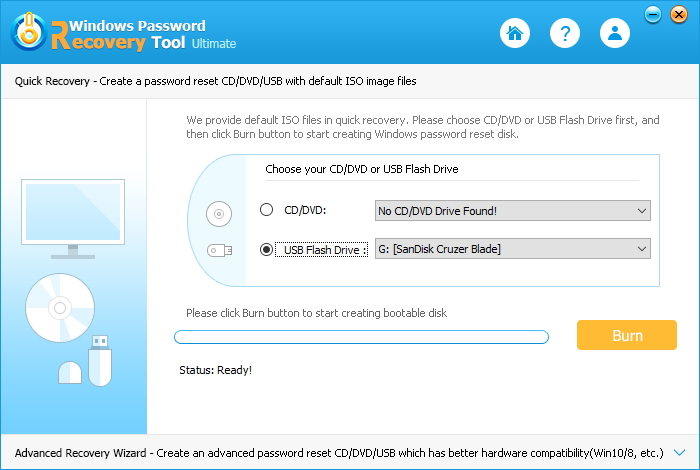 Step 3. Boot up Password Protected Win 7 with the Newly Created CD/DVD or USB Drive
Insert the newly created CD/DVD or USB drive to the encrypted computer. Change your computer's setting to make it boot from the CD/DVD or USB drive. If you are not familiar with how to change BIOS settings, you can refer to: how to set BIOS to boot from CD/DVD-ROM and how to set BIOS to boot from USB Flash Drive.

Step 4. Select your Operating System
You will see the interface of Windows Password Recovery Tool here. Highlight the operating system and click "Next" to continue.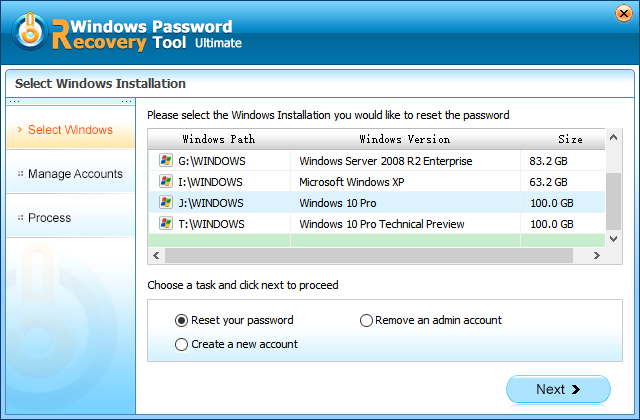 Step 5. Choose One Account to Begin to Remove Windows 7 Password
Tick the box before each account, then click "Next" button to begin password remove. Within several seconds, your password will be successfully set to blank. Then click "Reboot" to restart your PC and automatically log on Windows 7 without password.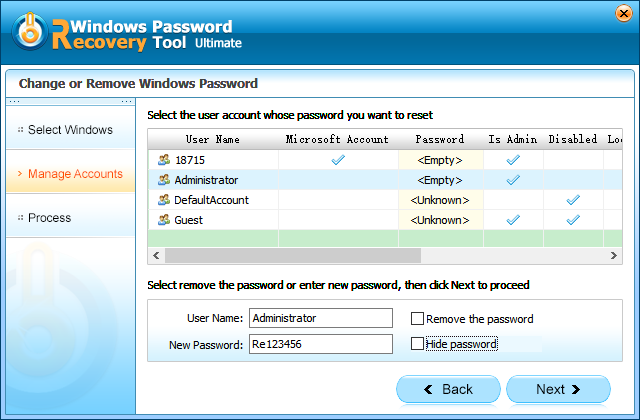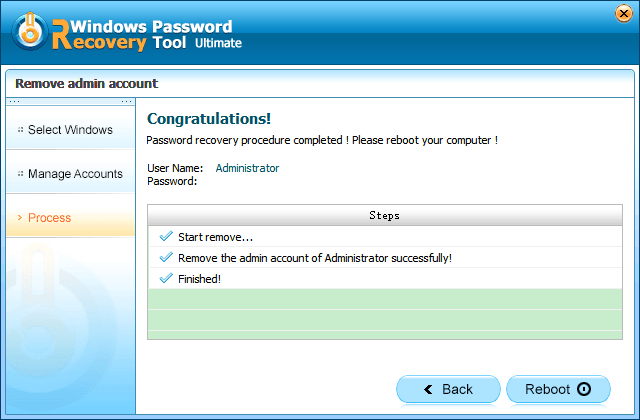 Note: Before reboot your computer, please eject CD/DVD or USB Drive from your computer.
How to Set Up Windows 7 without Password?
If you know the password well, but you are bothered to enter password each time you log on Windows 7, you can completely get rid of Win 7 password with the following tutorial and login without password, although much less secure.
1. Press the Windows key + R on your keyboard to launch the "Run" dialog box.
2. Type in "control userpasswords2" and press "Enter".
3. The User Accounts windows will display there. Uncheck the option "Users must enter a user name and password to use this computer" and click "OK".
4. Then you are asked to enter the current password. Confirm it.
5. After that, you can auto log on Windows 7 without password.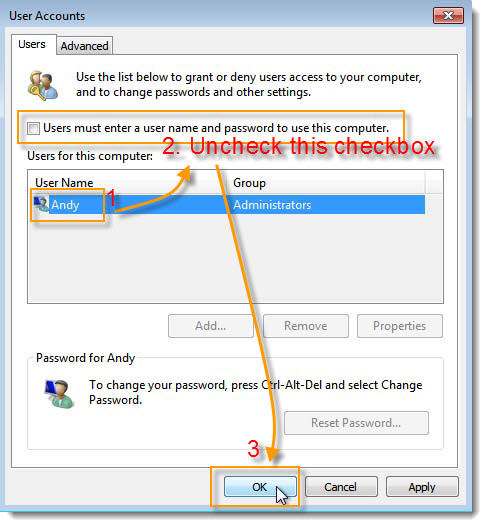 Note: For the sake of personal privacy and security, you are not recommended to hide your password.
Free Try Windows Password Recovery Tool
World's 1st Windows Password Recovery Software to Reset Windows Administrator & User Password.
Free Download
Free Download