Besides the normal local account, Windows 8 brings another three new ways to help users protect PC: Microsoft account, picture password, and PIN logon. If you want to try PIN logon to protect Windows 8, then read the following content to learn what the PIN logon is and how to set up Windows 8 PIN logon.
Free Download
Free Download
What is PIN logon in Windows 8?
PIN logon is another way for Windows 8 users to logon PC. This PIN is a 4 digit code that consists of only numbers and it is useful when your normal login password is too complicated to type on the virtual keyboard in a tablet. PC users can also set up PIN logon as an option to enter into Windows 8.
How to Create Windows 8 PIN Logon?
Just as easy as to create a picture password in Windows 8, you only need 5 steps to create pin logon in windows 8.
Step 1: Display the Charms Bar and click or tap Settings to display the Settings panel.
Step 2: Click or tap Change PC Settings to display the PC Settings page.
Step 3: Click or tap Users in the left column and the "Create a PIN" button.
Step 4: Enter your current password and click or tap the OK button.

Note: If you forget your current account password, use Windows Password Recovery Tool to help you recover your password.

Step 5: Enter the desired four-number PIN, confirm it, and then click or tap the "Finish" button on the Create a PIN panel.
Now you have been successful to create PIN logon in Windows 8.
Note: When you log into Windows 8 next time, you're prompted to enter your PIN instead of your password, Enter the four-number PIN (you don't have to press Enter when done) to log in.
How to Remove Windows 8 PIN Logon?
If you prefer to sign in with your password, click or tap Sign-in Options and proceed from there. Or at any time you forgot PIN and want to change or remove the PIN, you can click the "Change PIN" or "Remove" button on the User settings screen. Besides PIN Logon, Windows 8 or 8.1 also provide local account, Microsoft account and picture password logon, click here to read how to remove Windows 8 logon passwords.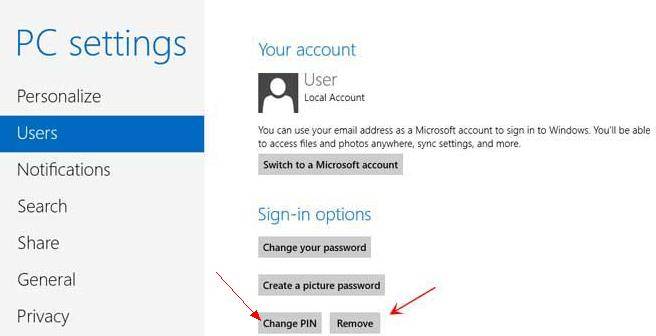 If you forgot Windows 8 Logon Password, we highly recommend this 1-click Windows Password Recovery Tool.
Free Try Windows Password Recovery Tool
World's 1st Windows Password Recovery Software to Reset Windows Administrator & User Password.
Free Download
Free Download