Top 3 Ways to Reset Your Forgotten HP Pavilion Password

2013-08-21 17:02:56 / Posted by Shawn Hamilton to Password
Follow @ShawnHamilton
"I have a HP Pavilion running Windows 8, unfortunately I forgot password to login it. Is there a way to reset HP Pavilion password efficiently?"
Forgetting password especially forgetting Windows password always troubles people in every day's busy life. When forgot Windows password, you can't do anything with it until you get the password and login to your computer. So this article, taking HP Pavilion for example, discusses how to reset HP Pavilion password on notebook computer.
Free Trial Windows Password Recovery Tool:
Buy Now Windows Password Recovery Tool:
Method 1: Reset HP Pavilion Password with Password Reset Disk
Password reset disk is the easiest and fastest way to reset HP Pavilion password on laptop. If you have created a password reset disk in advanced, now it's time to use it.
Note
:if you are not so foresighted, then
Windows Password Reset
is a wise choice to reset HP Pavilion password.
Once you've typed the wrong password, Windows 8 will show a "Reset password" link below the login box. Simply plug your password reset disk and click on "Reset password".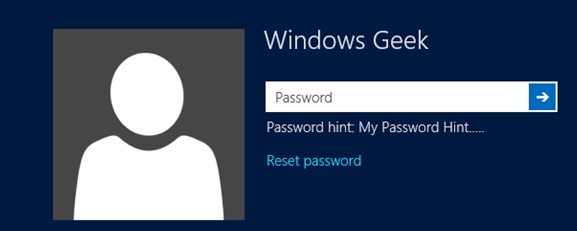 Click "next" on the Password Reset Wizard and pick the right disk if you have more than one.
Type a new password and a new password hit.
Method 2: Reset HP Pavilion Bios Password with Windows Password Recovery Tool
Windows Password Reset is the most widely-used and efficient way to reset user password on HP Pavilion (administrator account password as well). It has no extra requirements that you just free download the program on an accessible computer and operate as following steps:
Create a password reset disk. Insert a CD/DVD disk or USB flash to the accessible computer. Specify the CD / USB burning drive and click "Burn".

After that, take out the password reset disk and insert it into your locked laptop. Remember to set your laptop to boot from the CD/DVD-ROM/USB.
Select the Windows system user account you forgot the password and click "Next".

Click "Reboot" to recover your forgotten HP Pavilion password. After that, you can log in your laptop without any password.
Method 3: Reset HP Pavilion Password with another Administrator Account
You can easily reset other user password when you log in as administrator in Windows 10/8.1/8/7/Vista/XP. If you have someone with an administrator account on your laptop, then you can ask him to reset password on HP Pavilion laptop for you. Following steps take Windows 8 for example.
Sign in Windows 8 via another administrator account and open User Accounts windows.
Select the user account that you want to reset password of. And Type a new password twice; then click "Change password".
Here are the top 3 ways people used to reset password on HP Pavilion notebook. If you don't know to select which one, just go directly to Windows Password Reset which is easy to use and 100% Windows password reset rate guaranteed.
Free Trial Windows Password Recovery Tool:
Buy Now Windows Password Recovery Tool:
comments powered by