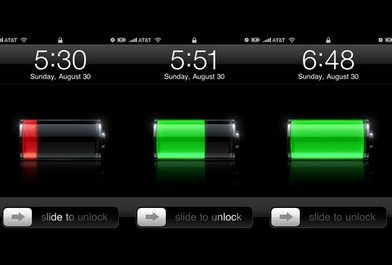 Got a shiny iPhone 5? After enjoying the powerful entertainment functions it brings to you for several hours, you found your new iPhone5 was powered off or your encountered the trouble that iPhone 5 battery drains after the iOS 6.1.3 update. Now you are wondering is there a way to manage your iPhone 5's battery life and extend the battery life. Look no further;here is the right place for you.
How to Manage iPhone 5's Battery Life?
To manage your iPhone 5's battery life, you need to understand your battery usage. Apple officially claims that the new iPhone 5 offers up to 8 hours of talk time on 3G, up to 8 hours of internet use on 3G, up to 8 hours on LTE and up to 10 hours on Wi-Fi, up to 10 hours of video playback, up to 40 hours of audio playback and finally up to 225 hours of standby time.
The battery will drain out more quickly if you do more than one things simultaneously for instance, you listen to music while surfing the internet. And You can check out the usage and standby time since the last full charge via the Settings app. Just run Setting app and tap on general, then tap on Usage.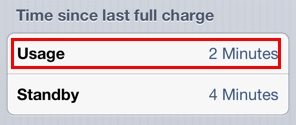 Another thing for managing iPhone battery life is that iOS displays the battery level in the top right corner of the status bar. You can enable battery percentage indicator in Settings to keep track of the charge remaining in your iPhone more easily.
How to Extend iPhone 5's Battery Life?
We offer some tips to help you extend iPhone 5's battery life.
1. Set up Auto-Lock interval so that your iPhone will turn off quickly after a period of inactivity.
2. Disable "Ask to Join Networks" if you are not using it as iPhone's Wi-Fi chip will automatically search for available network. If this happens in regular intervals, it's going to have a noticeable impact on your battery.
3. Lower the default screen brightness or turn on Auto-Brightness to extend battery life.
4. Turn off LTE if it is not available and turn off Bluetooth if you don't use it.
5. Turn off Siri's Raise to Speak feature if you don't use it frequently.
6. Restart your iPhone for a while if you found a sudden degradation in battery life. It is probably because of an app costing your iPhone 5's battery life.
7. Go through at least one charge cycle per month. Charge the battery to 100% and then completely run it down.
Now you may know how to manage and extend your iPhone 5's battery life. You may also notice that some tips extend your battery life but sacrifice some features and user experience. So you can selectively use these tips. And for other iPhone tips, such as or how to recover lost iPhone data, you can turn to iPhone Data Recovery for help.