What to Do When iTunes Asks for Password to Restore iPhone Backup

2012-10-12 03:55:18 / Posted by Shawn Hamilton to iPhone Backup Password
Follow @ShawnHamilton
iTunes backup is a really wonderful helper that allows you to restore iPhone contents in just a few minutes. But when you use iTunes to restore iPhone from backup, you find a pop-up window in the iTunes asking for password to restore iPhone backup files. And this happens to your iPad or iPod as well. If you happen to forgot this password, or never set such a password before, you may have no idea what to do next.

Do not panic. There has to be a way. All you need is a password restoring tool. Take my advice and try iPhone Password Restore which not only restore iPhone backup password but also restore backup password for your iPad and iPod touch.
Let's see how the iPhone Password Unlocker manages to restore password for iPhone backup.
1

Step I. Key Container File Importing

Click "Open" to open the Key Container File which you need to decrypt and recover forgotten iPhone backup password. This file will be detected by the tool once you install the tool on your computer and launch it. All you need to do is several clicks of your mouse to finish file importing.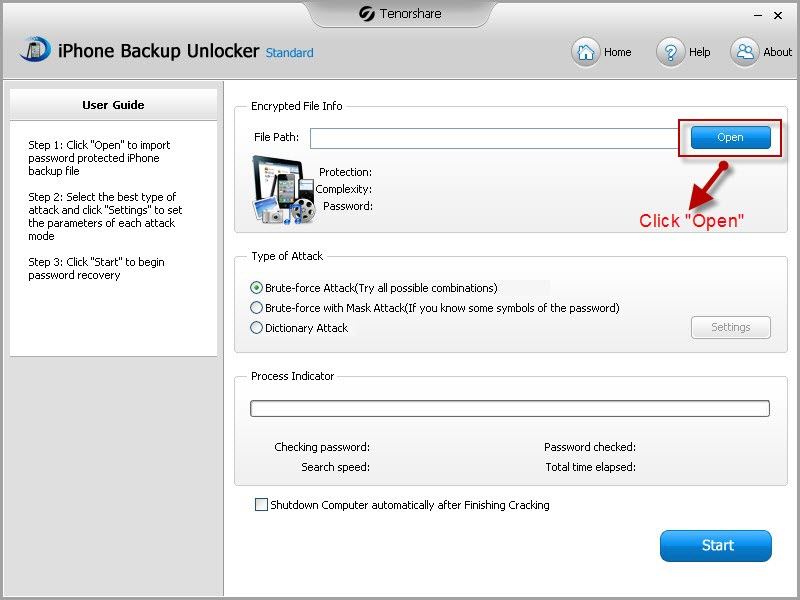 2

Step II. Choose an Attack Type and Define Settings for Restoring iPhone Backup Password

The iPhone Password Unlocker provide users with three types of attacks: Brute-force Attack, Brute-force with Mask Attack and Dictionary Attack, which all work differently in restoring iPhone backup password. We take Brute-force with Mask Attack for an example.
1. Choose the "Brute-force with Mask Attack" in the Attack Type bar, and then click the "Setting" button next to it to enter the settings page.

2. You now get the "Password Length Options", "Character Ranger Options" and "Affix Set" to set. Though no need to fill in them one by one, you'd better fill these options as many as you can, basing on how much you could recall of the password.
3

Step III. Run the Program to Let It Restore Backup Password

This requires you to click "Start" on the bottom on the interface. You are allowed to choose "Shutdown Computer automatically after Finish Cracking", and the program will save the cracking record for you to check later.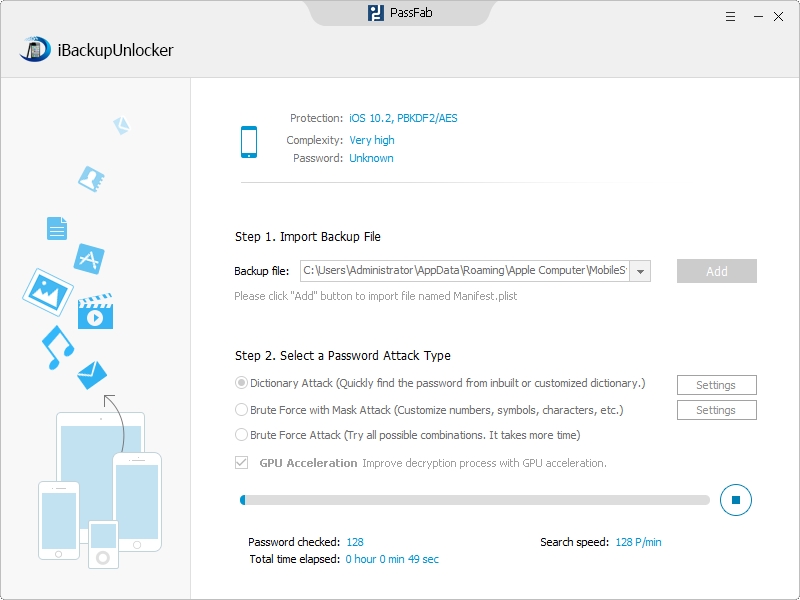 Next time iTunes asks you for password to restore iPhone backup files or says that "iPhone backup password incorrect", do as the steps above. I am sure you will get the password to restore iPhone backup in no time.
Download iPhone Backup Unlocker to Recover iTunes Backup Password:
comments powered by