Is There Any Serious Situation Where your iPhone Data Is Lost Accidently?
Have you ever encountered such a situation that your naughty little brother takes away your iPhone. He presses the buttons wrongly and your iPhone becomes a brick having no response. Worse still, there are some important data such as contacts, your loving photos, important SMS, etc. stored on it. Is it possible to restore iPhone from iTunes backup without connect device?
Luckily, we are now living in a wonderful, convenient world, so many terrific technologies are used to make our life easier. Even your device is broken or lost, as long as you made backup before, you can easily restore iPhone from iTunes backup with iTunes Data Recovery, a professional iTunes data extractor. With this program, you can selectively extract what you want from your iTunes backup file without connecting your devcie.
How to Restore iPhone 5/4S/4/3gs from Backup ?
iTunes Data Recovery is extremly easy to use, no need any technical skills. You just need to follow the following 3 steps to restore iPhone from backup:
Step 1: Scan Backup Files of Your iPhone
First you should download iTunes Data Recovery, install it in your PC, launch it, you will see this interface: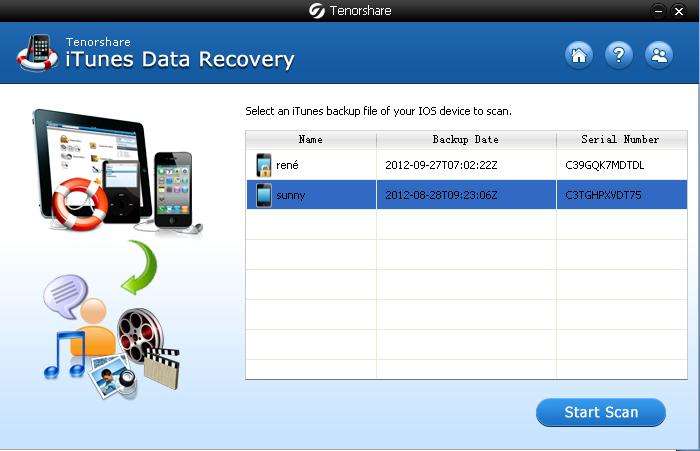 Highlight your iPhone and press the button "Start Scan".
Step 2: Preview and Select iPhone Contents
What is also very enjoyable is that you can preview the files in detail and check whether they are the files you want to restore, if so, you only need to select the wanted files.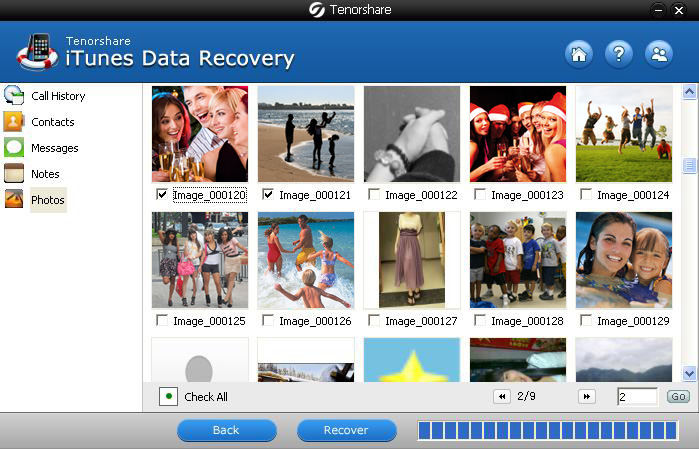 Step 3: Restore Your Lost iPhone Data
After you check and confirm them, click "Recover". In the pop up window, select a proper save path.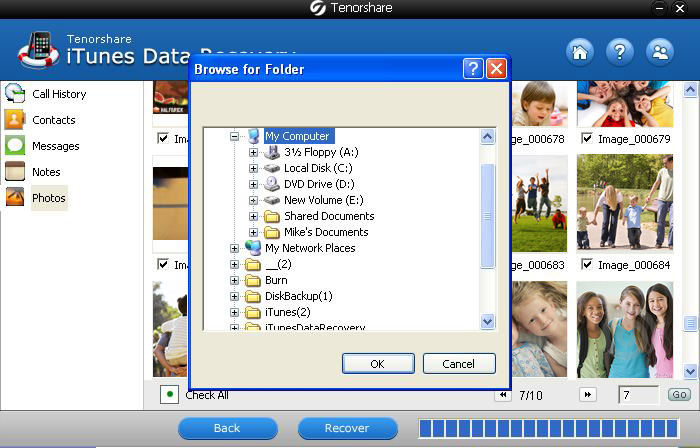 Here now, you have finished your restoring work. Isn't it simple?
And I wish you can successfully restore your lost iPhone data. But if you didn't make backup just right, don't worry, I can recommend you another wonderful tool iPhone Data Recovery to restore iPhone without backup. It's a restoring tool with more powerful functions. For your data safety, you'd better keep a good habit to make backup regularly and frequently.
Tips for Keeping Your iPhone in Prime Shape:
1. Be sure to have a protective case which will absorb the dirty drops such as water and oil. Also it can prevent accidental bumps.
2. Screen protector is also very important to protect your iPhone screen. Screen damage destroys your iPhone value most, so you're supposed to protect your screen in duty bound.
3. Cleaning your iPhone frequently. Because it will absorb much bacteria and other dirt after a-few-days' use.
4. Power off before you clean your iPhone or other operation which needs to take down your battery.