How to Disable Backup Password for iTunes, iPhone 5 and New iPad

2012-10-28 03:25:29 / Posted by Shawn Hamilton to iPhone Backup Password
Follow @ShawnHamilton
Have you ever been trying to jailbreak iPad/iPhone/iPad, and when suddenly there was a pop-up window saying: "The attached device has a backup password set. You need to disable the backup password in iTunes before you can continue"?
This must happen to a lot of us, especially if you try to jailbreak your iPhone 5 or new iPad. In this case we have nothing to do but to disable iPhone backup password including iTunes, iPhone 5, new iPad, etc. Well, lucky for you, this guide is just the one that aims to teach you how to disable backup password for iOS devices.
This guide will tell us how to disable iPhone backup password in 3 steps. Besides, it also works for backup password disable in iTunes for iOS 6.0 devices including iPhone 5, new iPad and iPod.
1

Step1. Add Key Container File to iPhone Backup Unlocker

Once encrypted, there will be a file called "Key Container File" in the iTunes backup file, which the software could be able to detect and find directory of automatically once you click "Open".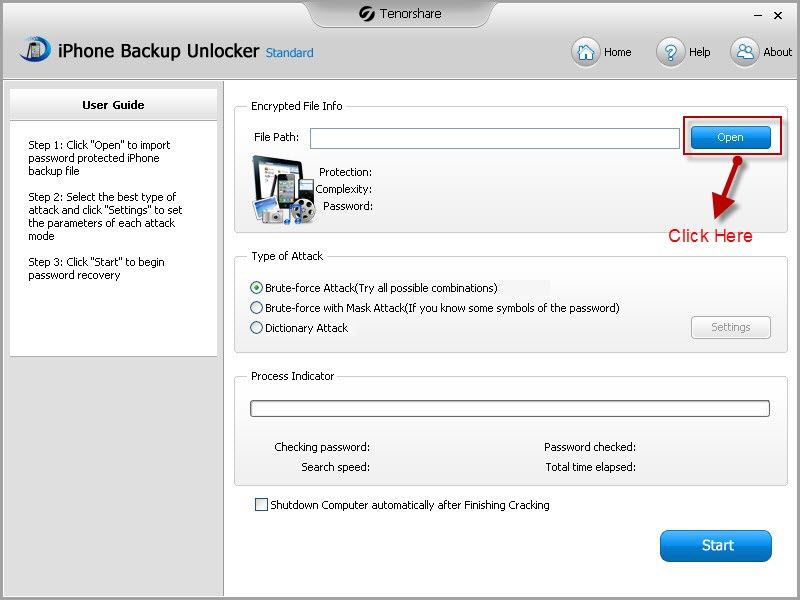 2

Step2. Choose an Attack Type and Set Accordingly

As you could notice from the picture above, there are three attacks provided for iTunes backup password disable, which included in the "Type of Attack" bar - Brute-force Attack, Brute-force with Mask Attack and Dictionary Attack for disabling backup password in iTunes. Here we take Brute-force with Mask Attack for example.

Before setting for the attack, left click your mouse to choose the attack.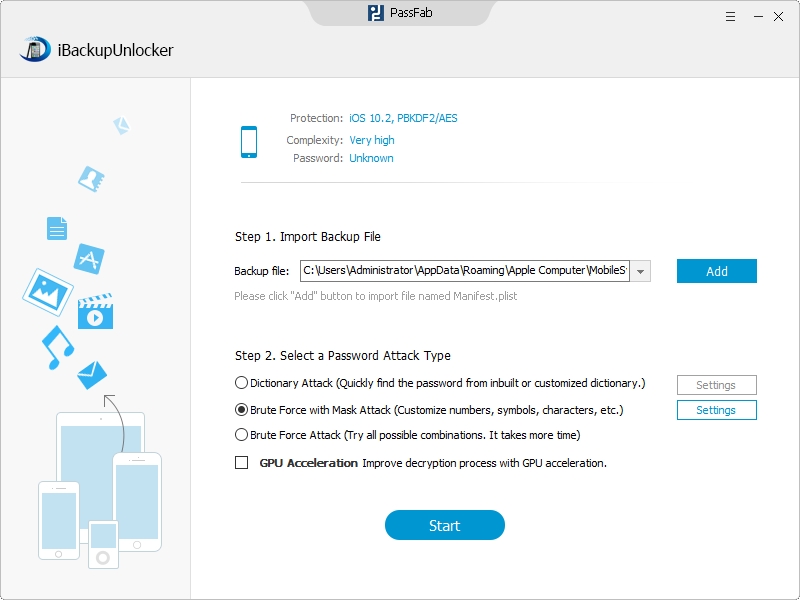 Then click "Setting" next to the attack, and you would get a window showing "Password Length Options", "Character Range Options" and "Affix Set". You are required to set these options according to how much you remember about the lost password. Set accurately and properly, the decryption speed would be greatly speeded up.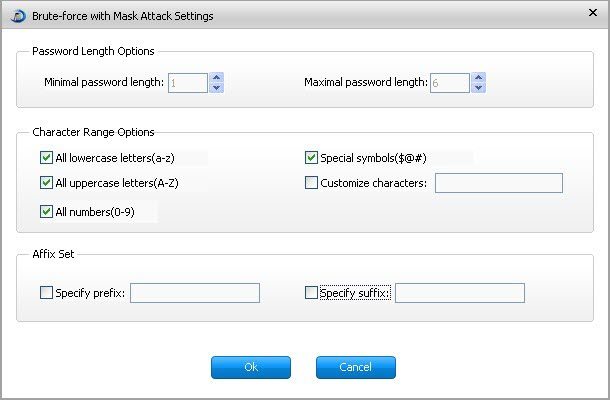 3

Step3. Start the Program to Find Backup Password

Press "Start", and the program would get your order and start to run the program. Within a few minutes, your password will be displayed on the window below.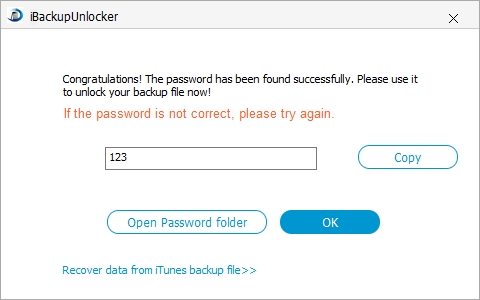 Next time you need to recover iTunes backup password, feel free to seek professional help from iPhone Backup Recovery which saves your time and energy by efficiently recovering password for you.
4

Step4. Turn Off iPhone Backup Password

Next you should start iTunes, and enter the password to disable iPhone backup password or disable iPad backup password in iTunes.
Tip: How to Disable iTunes Backups Process
This command will change a hidden setting in the iTunes preferences that will force it to skip the backup process.
1. Quit iTunes.
2. Open Terminal.app (found in /Applications/Utilities/)
3. Copy and paste this in, then hit return:
defaults write com.apple.iTunes DeviceBackupsDisabled -bool true
4. Open iTunes
5. Plug in your iPhone (2.0 or 3G) and sync.
It will take a few seconds, assuming you don't have a ton of music or podcasts.
Changing the 'true' in step 3 to 'false' will re-enable the backup feature.
Download iPhone Backup Unlocker to Recover iTunes Backup Password:
comments powered by