Hi, I have an Acer Aspire 4930TG. I once had set a boot up password in bios. I want to remove it so I set it to null. Bad decision! Now I can't boot this laptop at all, stop immediately upon power up with ""Enter Current Password". So I'm completely locked out. My friend asks me to fix it with Insyde but it's too difficult and unsavvy for me. Who can tell me how to set Insyde Setup Utility to boot and reset password from USB and any ideas are welcomed.
How to Use Insyde H20 Setup Utility to Boot from USB and Change Password:
1. Obtain and remane the correct BIOS file for your system from the Insyde office website. The file extension will be one of the following : ".fd" ".rom" ".bin" ".wpn"
2. Copy the remaned BIOS file to an empty USB flashdrive. If the flashdrive is not empty or is incorrectly formatted, the recovery process may fail.
3. Unplug the AC power and adapter as well as remove battery.
4. Insert the USB flashdrive into one of the USB ports on the computer. With all power source disconnected from the computer, hold down the "Windows" key and the "B" key. Do not release these keys until instructed to do so.
5. Connect the AC power adapter to the computer. Press "Power" button to boot up your computer.
6. When the LED's illuminate, you may release the two keys from step #6. You may notice some of the LED's illuminating differently from how they do in normal computer operation.
7. After about 10 seconds, the computer should start reading the flashdrive. While searching for the file system, the computer may beep for one second. If the BIOS file is not found, the computer will restart and try it again.
Hope this works for everyone!
8. After the computer is finished loading the BIOS file, it will start flashing the BIOS. About 5 seconds after the flashing process has finished, the computer will shut down automatically. For larger BIOS images, this may take longer. For now you can enter your computer without password and later reset it.
Additional Way to Easily Set BIOS to Boot from USB and Reset Password
Actually there is an easy way to boot computer from USB and reset password. With Windows Password Recovery Tool , you don't need Insyde at all and change your password with easy.
Step1.
Download and install program on your unprotected computer. Run the program and create a bootable USB flash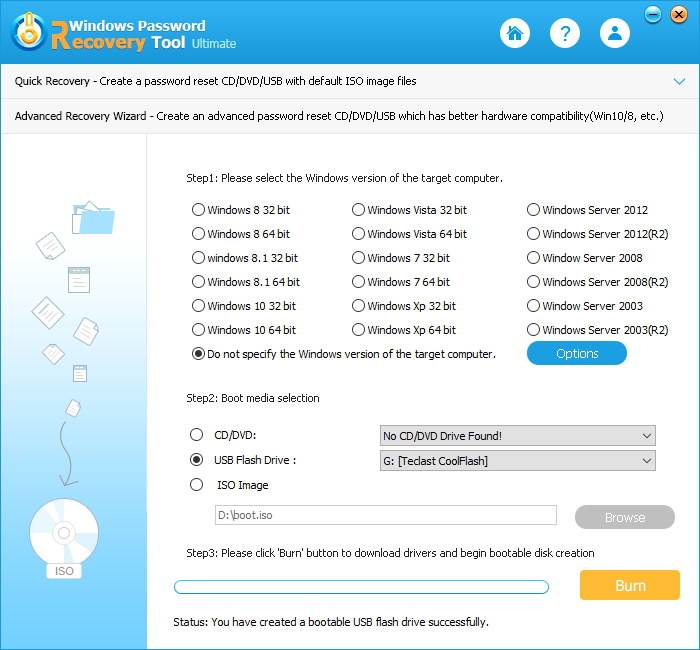 Step2.
Insert newly created USB into your protected computer and boot it. Then you have to press F12 to enter and set BIOS firstly. Select hard drive from the dropdown list and click Enter.


Step3.
Choose the account from User Name and click "Remove the password" and click Next. Your password will be erased and click "Reboot" to restart your computer. Now you can enter your computer without any password and reset it.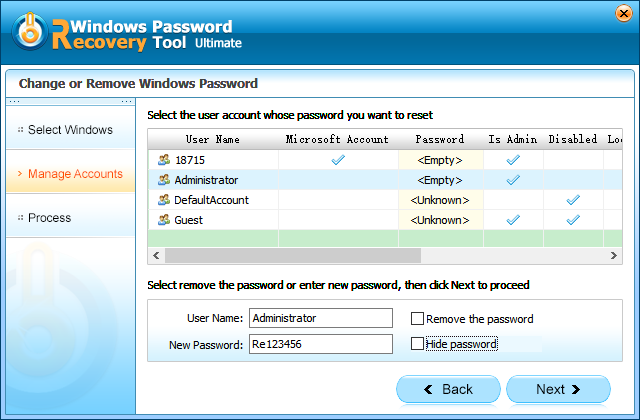 Free Try Windows Password Recovery Tool
World's 1st Windows Password Recovery Software to Reset Windows Administrator & User Password.
Free Download
Free Download