Forgot Windows 7 admin password and got locked out? Well, don't dwell on that, it happens a lot. Now the bigger question is how to regain access to our computer? It's actually very simple, just break Windows 7 password, but how? Here are 2 easy tricks that will teach you how to unlock Windows 7 password:
Trick 1: Crack Windows 7 Admin Password by Restoring Windows 7 to a Previous State
If you configured a new password recently and can still remember the password you used before, then you can restore your computer to a certain point before you changed the password, however, you'll have the reinstall all the apps before the backup point since it'll be all erased, here's how to do a system restore.
Step 1:
Insert Windows 7 setup DVD and restart your computer.
Step 2:
Press any key to continue when you get the "Press any key" message.
Step 3:
Define settings for the language to be installed, time and currency formats and keyboards and input, etc. Click "Next".
Step 4:
Click "Repair the computer" and choose the target system, click "Next".
Step 5:
Click "System restore" and confirm by clicking "Next".
Step 6:
Confirm the disk you want to restore form, click "Next".
Step 7:
Click "Finish" and click "Yes" after receiving a hint. Restart your computer, after successfully logging in, unlock Windows 7 administrator password by changing the password that you forgot.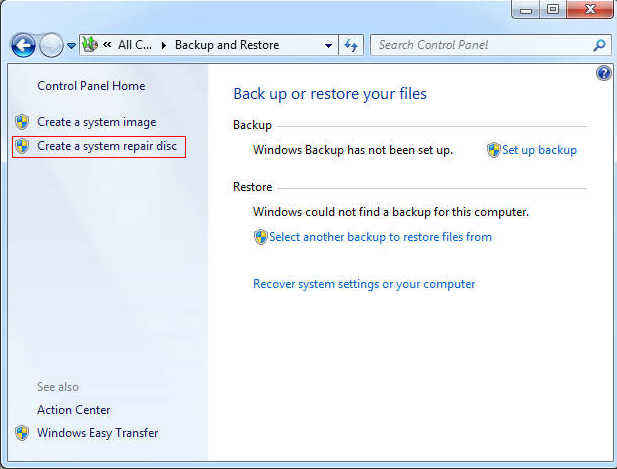 Now, you succeeded in your effort to hack administrator account password in Windows 7 with a Windows 7 restore disk.
Trick 2: Unlock Windows 7 Login Password with Windows 7 Password Unlocker
If you lost Windows 7 administrator password and the first trick to retrieve Windows 7 withoout password didn't work for you, you should considering using Windows Password Recovery Tool professional , it's an user-friendly password unlocker tool that makes unlocking Windows 7 password a piece of cake. Download Windows 7 password unlocker free and run it on another available computer, then do as the following 2 easy steps to learn how to unlock password in Windows 7:
Step 1:
Create a Windows 7 Password Unlocker Boot Disk or USB to Unlock Windows 7 Login
Insert a CD/DVD or USB flash drive into the computer where Windows 7 Password Unlocker(Windows Password Recovery Tool) runs. Click "Burn" to start crating a boot disk or USB.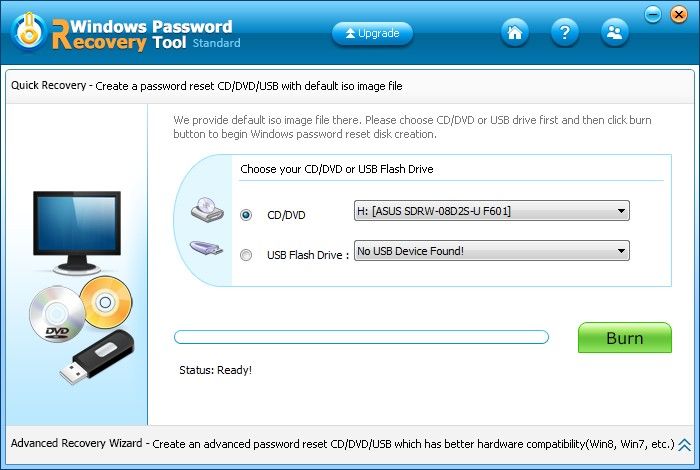 Step 2:
Unlock Windows 7 Password
1). Insert the newly created boot disk or USB to your locked computer. Now use this boot disk to unlock windows 7 account. Remember to set bios to boot from it .

2). After initializing, choose the target system you lost Windows 7 login password to.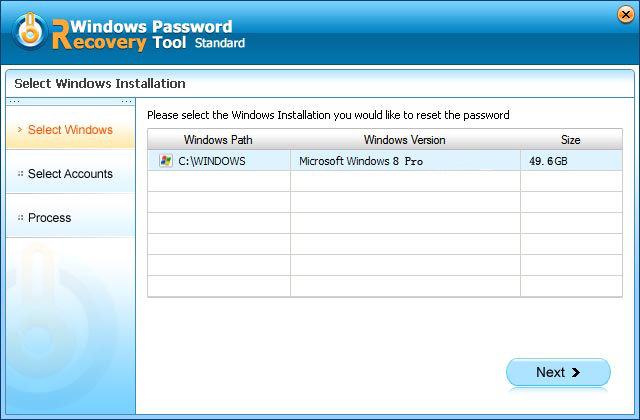 3). Choose the administrator account whose password forgot. In this screen shot, administrator or Mike are enabled administrators, choose one. Click "Next" and restart your computer.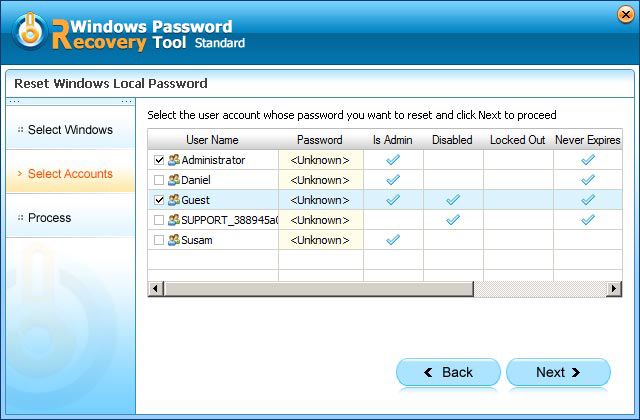 You've finished your task to unlock Windows 7 password, and now you are able to login to Windows 7 without password.
Free Try Windows Password Recovery Tool
World's 1st Windows Password Recovery Software to Reset Windows Administrator & User Password.
Free Download
Free Download