Accidents do happen. A notebook goes missing every 50 seconds in the U.S. airports. Chances are that these laptops could contain important company or personal information that you can't afford to leak out. It's essential to keep secret information from prying eyes. While, is there really a way to erase Windows 10 laptop remotely once the laptop is nowhere to be found?
Totally, there're 3 ways to remote wipe Windows 10 laptop, which can be used in different circumstances.
Solution 1. Erase Windows 10 Laptop Remotely with Windows Intune
Microsoft Intune provides mobile device management, mobile application management, and PC management capabilities from the cloud. With Intune, you can do a full or selective wipe and then retire your Windows 10 laptop from the Intune group. Keep in mind that after the wipe, data will not be recoverable. If your laptop is on and connected, in about 15 minutes, data on your laptop will get wiped.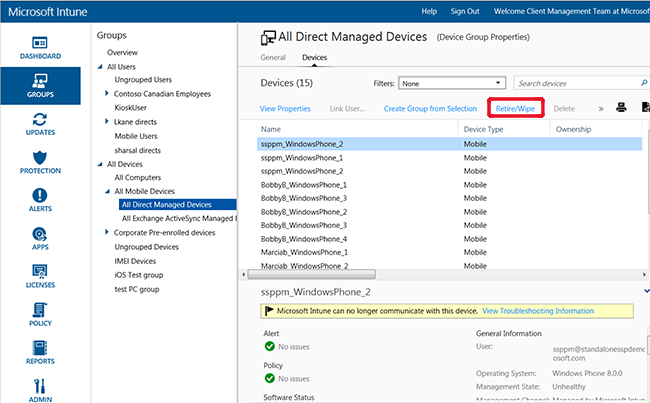 Prerequisites
Your device has been added to Intune before it's lost.
You should issue a remote device wipe command from the Intune Company Portal app on privately owned devices enrolled in Intune.
Price
$6 per user for 5 devices
NOTE
Find more details about Intune here:
https://docs.microsoft.com/en-us/intune/deploy-use/use-remote-wipe-to-help-protect-data-using-microsoft-intune  
Find lost Windows Login Password: Download Windows Password Recovery Tool.
Solution 2. Remotely Wipe Laptop if Stolen with Third-Party App Prey
Besides Intune, some third-party apps also support to wipe and secure data in case your device is lost or stolen. One of the best rated apps is Prey. Once it's installed and configured on your laptop, you can manage the app from your Prey account and have access to a series of features including Lock your device, Wipe data, Data recovery, Send sound alarm and Take photos with front camera.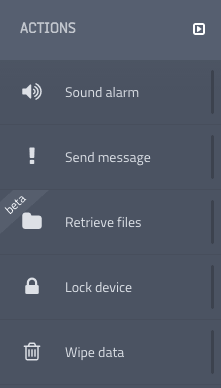 Log into your Prey account from Android, iOS, Windows or even Linux device, and choose "Wipe data";, you'll get the following options.
Documents: Remove the Contacts, Documents, Downloads, Desktop, Pictures, and Videos, AppData, Local, Desktop, and My Documents directories for every user.
Cookies: Remove all data related to Chrome, Firefox, and Safari.
Emails: Remove all data related to Outlook and Thunderbird.
Dropbox and Google Drive local files: Delete all Dropbox and Google Drive files that are on the device.
Price

Solution 3. Remote Wipe Windows 10 with QQ's Remote Assistance
For people who want to remote wipe a Windows 10 laptop that is not by their side the simplest way would be QQ's Remote Assistance (explained in our previous post Top 2 Ways to Enable and Use Windows Remote Control). As you set up remote connection between 2 computer using QQ's Remote Assistance, one can operate the other computer just like sitting in front of the computer. You would have full control of the laptop over the distance, and you are free to erase any data at your will. The QQ Remote Assistance is free to anyone.
One setback: The remote connection can be set up only when both sides accept the request, which is not likely to happen when your laptop is lost or stolen.
Final Words: Turn on BitLocker to Enable Full Disk Encrypt
BitLocker has been introduced since Windows Vista. It's a security feature that help to protect data on your Windows system. With this done, even if your laptop gets lost or stolen, no one can access data on your hard drive.
Free Try Windows Password Recovery Tool
World's 1st Windows Password Recovery Software to Reset Windows Administrator & User Password.
Free Download
Free Download