"College kids have gotten lap tops and I decided to hook up their computers but for some reason they have forgotten the administrator password to the computers... They were originally set up as Windows Vista… there has to be an easy solution... HELP..."
There are several ways of recovering forgotten Vista password. This article will share 3 easy tips if you forgot your Vista Password. Please choose the best one according your own condition.
Tip 1. Log in an Administrator Account to reset other accounts' password
What you need: An administrator account.
How to do:
1. "Control Panel" -> "User Accounts" -> "Manage another account"
2. Select the account which password you forgot and want to reset.
3. Choose "Remove the password" or "Create the password" from left menu.
4. Confirm as the windows guides you.


Tip 2. Reset Password with your Password Reset Disk
What you need: a password reset disk (How to create a Vista password reset disk)
How to do:
1. Insert the floppy or USB reset disk in the computer
2. Click the Reset password… item on the Vista logon screen to start the Password Reset Wizard
3. Click the "Next" button
4. Enter a new password
5. Reenter the new password
6. If prompted, enter a password hint
7. Click the "Next" and "Finished" buttons
8. Enter your new password to logon to the user account
Tip 3. Use Vista password recovery to access password forgotten account.
What you need: Windows Password Recovery Tool and a CD/DVD.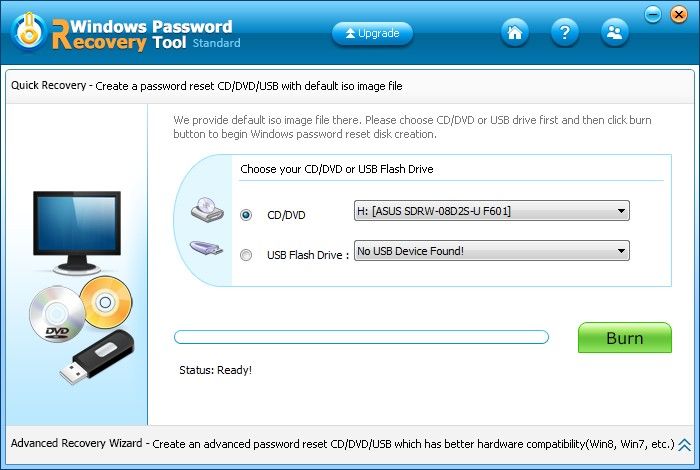 How to do:
1. Download and install the program on any other computer. Insert a CD/DVD to CD ROM.
2. Run program and burn password recovery files to the CD/DVD.
3. Go to the locked vista computer; insert the newly created CD/DVD. And enter BIOS to set boot from CD/DVD ROM.
4. Select the correct OS from vista password recovery main interface.
5. Select the Admin account you want to reset password.
6. Reset and done.
OK, these are the easiest solutions if you forgot vista password. Nevertheless, no matter how simple the methods are, the most secure way is keeping your password safety and never forget vista admin password.
Free Try Windows Password Recovery Tool
World's 1st Windows Password Recovery Software to Reset Windows Administrator & User Password.
Free Download
Free Download