Do you know how to recover Windows password? By asking this, we often mean how to recover administrator password most of the time.
Too often, we encounter such circumstances as being locked out of your computer, forgetting your computer password? Are you still unable to recover Windows 7 password for instance, though every effort has been tried?
The good news is that you don't have to search here and there blindly for solutions. You are now in the right place. I'd like to recommend you Windows Password Recovery which has proved effective every time you try, it can recover admin password and other passwords in minutes. If you intend to recover Window XP password or to recover Vista password, Windows Password Recovery Tool would also work perfectly for you. In addition, Windows Password Recovery is also designed to recover Windows 8 password!
How to Recover Windows Password in 3 Steps?
To recover Windows login password may sound challenging to most people. Have no worries no matter what your occupation, age might be, because the interface of Windows Password Recovery is very user-friendly-Guide on how to recover Windows password is elaborated in details. Here is the 3-step guide of Windows Password Recovery below, let's witness the magic!
Step 1: Download and Install Windows Password Recovery to Start to Recover Windows Password.
The software will show you the status of your accounts, as indicated in the following: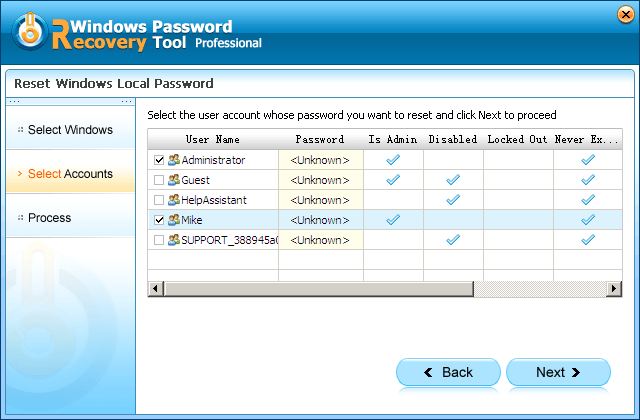 Step 2: Start to Burn a Windows Password Recovery with CD/DVD or USB Flash Drive.
1. Install the Windows Password Recovery and begin to recover Windows password by running it.
2. Choose a CD/DVD OR USB Flash drive to burn a Windows Password Recover, if you choose the CD/DVD item, then insert a disk, click the burn button, it'll be done in no time!
3. A burning completed successfully window would pop up, select "OK". Prepare yourself to be surprised.
Step 3: Recover Windows Password with the CD/DVD or USB Flash Drive
1. Insert your newly-burned CD/DVD or USB flash drive into your pc or desktop, set BIOS to boot from your CD/DVD or USB disk, you can wait patiently.
2. After initializing, the following interface will come out, select the target Windows system to reset password, click "next" to proceed, now you are one step closer to recover Windows password.
3. Successfully, you finally come to the interface where you could select target account you wish to reset password for. Still, click "next" to proceed.
4. Congratulations! Your work to recover Windows password is nearly done, click "reboot", and let's see what happens next?
5. Now a dialogue window is presented in front of us, eject your CD/DVD or USB from your computer, and click "restart now", and you are able to restart your computer without any password. Thus our work to recover Windows password is completed successfully, bravo!
Free Try Windows Password Recovery Tool
World's 1st Windows Password Recovery Software to Reset Windows Administrator & User Password.
Free Download
Free Download