Have you any idea how to bypass Windows password? Is there any difference between "bypass Windows 7 password" and "bypass Windows 8 password"?
Well, when it comes to Windows password bypass, too often, we can't call back the memory of administrator password. So, let's first get to know the ABC about creating administrator account and why we should resort to Windows password bypass before we become proficient in dealing with this kind of situation.
I. ABC about Administrator Account
What is administrator account?
Administrator account is often created to safeguard our computer security by setting a password so that we can gain access to our PC with the password. Therefore, it goes naturally that we should have created an account on our computer before we talk about how to bypass Windows password.
How to create an administrator account?
Here are a few quick steps on how to bypass XP password (steps are applicable to Windows 7 etc, though different styles of interfaces may be presented).
Follow by clicking "Start"-"Control Panel"- "User Accounts". After creating an admin account, an interface will appear: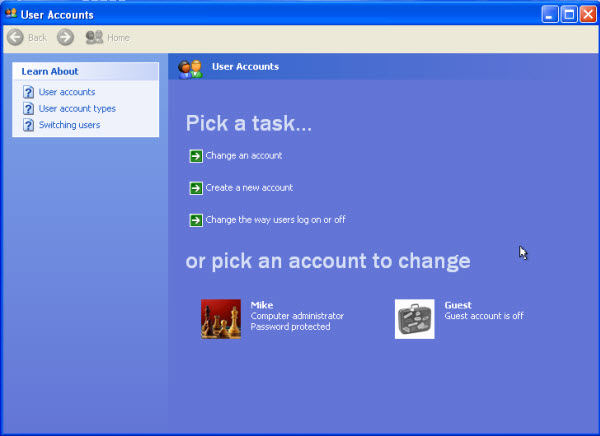 The picture tells us, "Mike" is computer administrator. If you forgot admin password, it would be necessary to bypass admin password/bypass login password.


In order to activate the guest account, simply click "Guest" - "activate guest account", if done successfully, the Guest button will change into following status:
Note: Same steps also apply to Windows 7 and Windows 8, and if you intend to bypass Vista password, it also works perfectly! Except for different styles of interfaces may be presented.
II. Why Should We and How to Bypass Windows Password?
Every coin has two sides. Setting password may keep your computer secure, but you may also get yourself into troubles as being shut out of your system if you happen to forget your administrator password.
Does it mean we are going to be locked out forever? Don't worry, there's something we can do about it: To bypass administrator password. How and by what? Windows Password Bypass software provides you the safest and easiest solution to bypass Windows passwords without doing any change to your computer, follow the 3 quick steps below:
1. Download Windows Password Recovery Software and create a bootable disk with Windows Password Bypass, you can either burn a CD/DVD or USB flash drive from Windows Password Recovery iso.
2. Insert the CD/DVD or USB flash drive into your PC, set BIOS to boot from your device.
3. Remove your device and click restart now, then you are able to enter your computer without any password.
In answering whether there is any difference in an effort to bypass Windows 7 password and Windows 8 password, well, the answer is Windows Password Bypass can solve this problem for all Windows operating systems. I'm pretty sure that you've all got the idea of how to bypass Windows password already.
Free Try Windows Password Recovery Tool
World's 1st Windows Password Recovery Software to Reset Windows Administrator & User Password.
Free Download
Free Download