iTunes is an extremely important software for iOS devices, and it is also an important product for Apple Company. So, why we need to use iTunes rather that other manage software? How to download and use iTunes? Here we will discuss the details for you and help you download iTunes for Windows 10.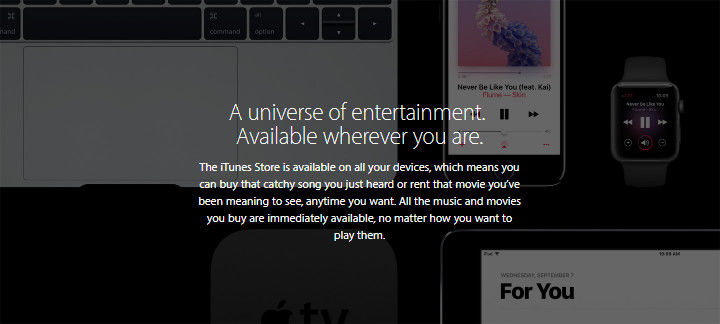 Why We Need to Download iTunes
If you are new to iOS devices, like iPhone, you may then take hours to know about iTunes. iTunes is a manager which can help you better manage your iPhone. It can help to:
Back up your files;
Import music and video to your iOS devices;
Download Apps;
Restore data;
Update iPhone, iPad, or iPod touch.
iTunes, at the beginning, is a kind of music player, but it is improves day by day, and become absolutely necessary to most of the Apple users. As comprehensive software, iTunes can be a best assistant software which combines display function, application store, data backup and equipment management together.
How to Download iTunes for Windows 10 & How to Use iTunes
For download iTunes, we recommend you do this through official sites. Try not to get iTunes files from other unreliable site, or it may violence the security of your Windows 10 computer.
Official Website: http://www.apple.com/lae/itunes/
From the iTunes page of Apple, users can get some basic function introduction, which also contain some video tutorial. Meanwhile, the download process is start from this site.


Click the blue button on the top of this website, you can then get iTunes free download for Windows 10.
Notes: For Mac users, iTunes is always being built-in software, thus only Windows users need to download and install iTunes by themselves.
If you have don't want to see the introduction of iTunes, you can also skip it and download iTunes through this website: http://www.apple.com/lae/itunes/download/
For using iTunes, after you have downloaded and installed iTunes in your Windows 10/8/7/XP/Vista computer, launch it. You will find iTunes is divided into 3 parts, on the top is the menu bar, database and navigation bar is at left and display window is on the middle. We suggest you to experience every function by yourself that you can get a deeper understand of how to use iTunes.
Among those functions, for iOS devices users, back up, restore and update can be the most important. When you prepare to store a backup file, you may find an item named "Encrypt iPhone backup", it can better protect your privacy but we also recommend you to keep this passcode in mind that we hear from lots of users they don't even remember they have done this.
But for a few people, they might also meet with the problem that iTunes won't install on Windows 10. We suggest you to reinstall it, and you should make sure to clear all the iTunes files before you install. Download from official site is required, and recourse from unreliable site may damage your PC/Mac or cause iTunes won't install.


Then you might also wonder, what if I forget the password, can I get my backup back by using iTunes? Unfortunately, Apple don't provide decode functions. And you have to use third party software to get the password back. iPhone Backup Unlocker may be the one you need. it can help you restore the password in only 3 steps, kindly give it a download if you need.