Apple makes life so convenient for us by allowing us to store credit card on Apple way for paying for digital music, apps or movies from iTunes store. Somebody may be confused of how to remove credit card info from iTunes once it is expired or stolen or add a credit or debit card with iTunes.
"How to change credit card data from iTunes easily? How can I change my credit card details? My credit card was stolen and I want to use a new one for paying apps but I don't know how to do that."
"I have got apple ID but while registering i did not put any payment information like my credit card and now i want to pay for some applicaiton and it keep asking me for my credit card details. How to add my payment information to Apple pay?"
Do you want to change billing address and credit card in iTunes? To edit the card details without credit card, here are the 2 easiest ways for you to remove credit card from iTunes using your computer.
How to Remove A Credit Card from iTunes Account?
This is the steps to Change Credit Card Details on iTunes without iPhone/iPad. If you are not having your iPhone or iPad in hand, it is lucky that you can follow this solution via your computer and effectively and efficiently remove credit card without any interruptions.
Step 1:
Launch iTunes on your computer and log in with your Apple ID.
Step 2:
Continue to click on Account Info. You will see your name on the screen.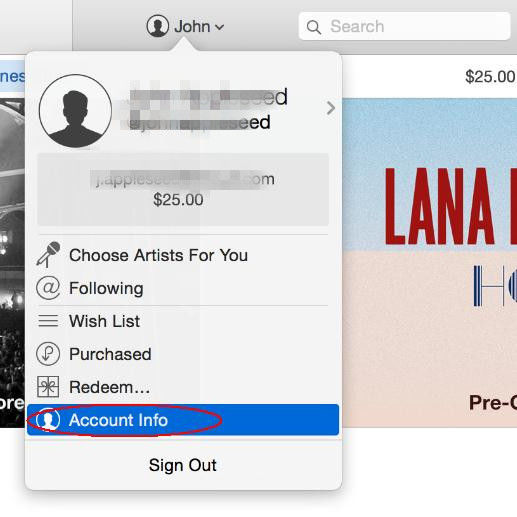 Step 3:
Click on your name and select account info from the drop down menu you see on your computer screen.
Step 4:
You will see Edit option Right next to the Payment Type option. Move to click on Edit and you will see a new page.


Step 5:
Select None in this step to remove the attached credit card.
How to Add A Credit Card to iTunes App Store?
For how to add a credit card for payment about purchasing in the iTunes Store, here is the tips for those who are not familiar with iTunes functions.
Step 1
Sign in to your Apple ID account and select Account Info.
Step 2
Click one of the credit card providers including VISA, MasterCard and American Express and enter your credit card details in the provided fields.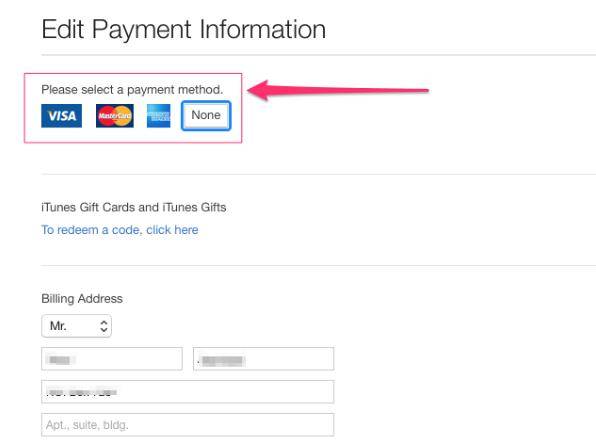 Step 3
Click the Done button to finish adding the card to iTunes.
No matter you want to remove or add the credit or debit cards on iTunes, you can change your Apple ID credit card used for iTunes within simple steps provided in a few minutes.
Do you have any forgotten password trouble such as how to unlock iPhone/iPad/iPod backup password? iPhone Backup Unlocker can quickly bypass iTunes backup file password to let you gain access to important files again. You will be surprisingly found how helpful this online password unlocker is!