"Ever since I upgraded to iOS 10, it's become a lot harder to unlock my phone. Before the upgrade, it was a simple swipe and passcode — a gesture I've done so many times that it's burned into my muscle memory — but iOS 10 retakes that space for a new info panel. Now, I need to hit the home button and wait for a good half-second while my phone figures out i'm not submitting a fingerprint or calling up Siri."
When using your iPhone X/8/7/6, will you feel it inconvenience to unlock through Touch ID? In one hand, it makes our iPhone/iPad/iPod safer but sometimes when we cannot easily unlock our iOS device through touch ID, it really gets annoyed. Thus we might wonder if there ways to unlock iPhone without touch ID or pressing Home button? Sure! Follow this article you will find what you need.
Part 1: Unlock Your iPhone without Pressing Home Button
Part 2: Unlock iPhone when Touch ID IS Disable via ReiBoot
Part 1: Unlock Your iPhone without Pressing Home Button
Many users have set their iPhone unlocked only by Touch ID, thus how to reset this setting and allow us to
Step 1: Go to, Settings >> General >> Accessibility >> Home Button, and you will see options like below. Press the switch of "Rest Finger to Open", turn it off. This will make it so that you can open your iPhone by pressing Home Button rather than resting your finger on the home button.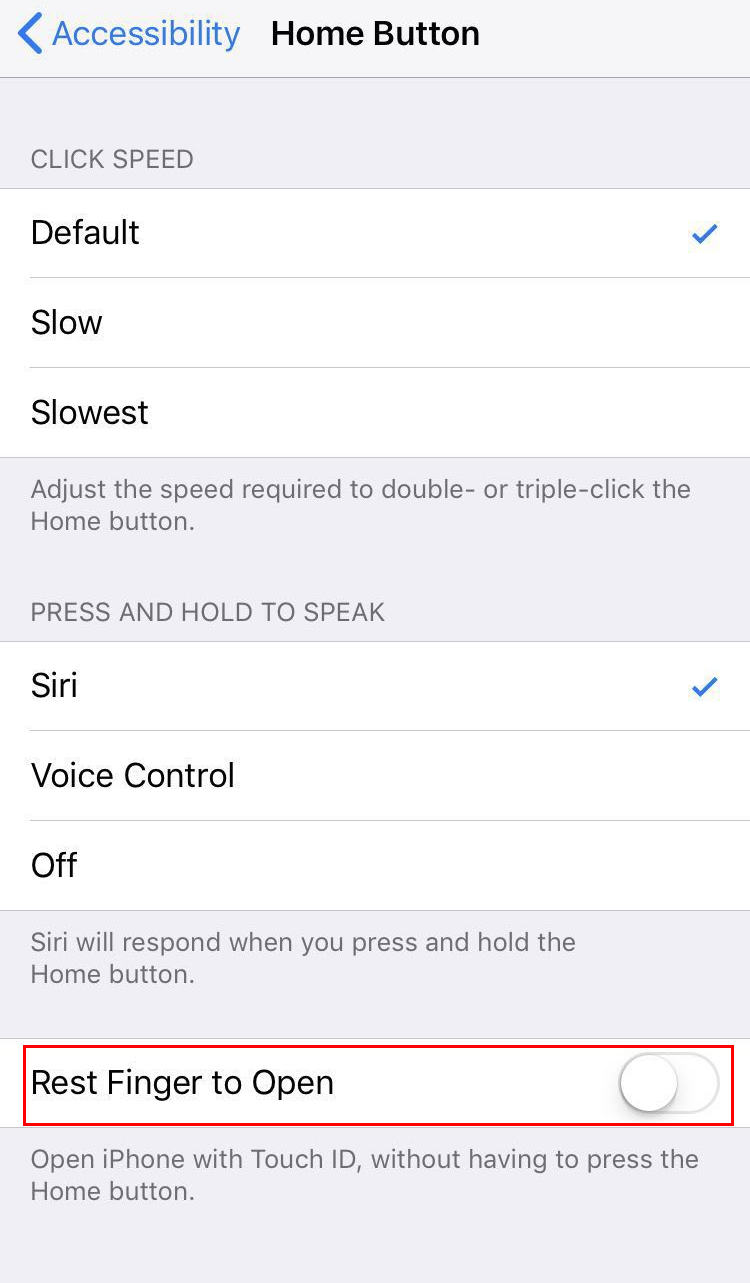 Step 2: The setting that allows TouchID to unlock your iPhone must be turned off. You can go to, Settings >> Touch ID & Passcode >> iPhone Unlock. Tap the switch to turn it off.

Then you can lock your iPhone/iPad/iPod again to check whether your iOS device can be unlock without Touch ID.
Part 2: Unlock iPhone when Touch ID IS Disable via ReiBoot
For users who have already set to unlock iPhone with Touch ID and then iPhone unclock Touch ID greyed out. This kind of problem is always caused by system error, thus we high recommend you to use ReiBoot to get your iPhone system repaired. This software is professional in solving all kinds of iOS issues, you are sure to fix your iPhone unlock Touch ID failed problem.
Step 1: Download and install this software to your computer, run the program and connect your iPhone with PC/Mac. Click "Factory Reset iPhone" from the upper corner to get into the advanced system recovery interface directly. This is a complete remove of all settings including iPhone touch ID settings and data in your device.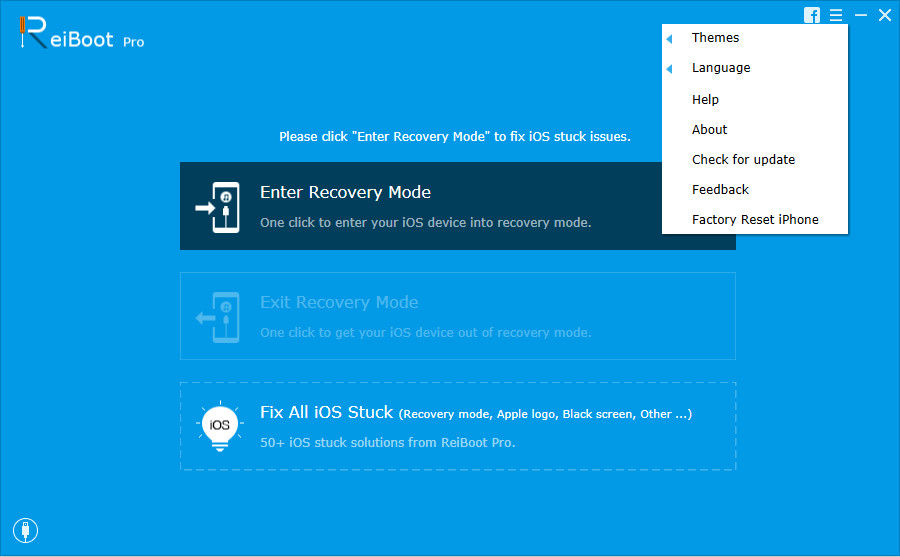 Step 2: Click to start and you then need to download or import firmware for next operation.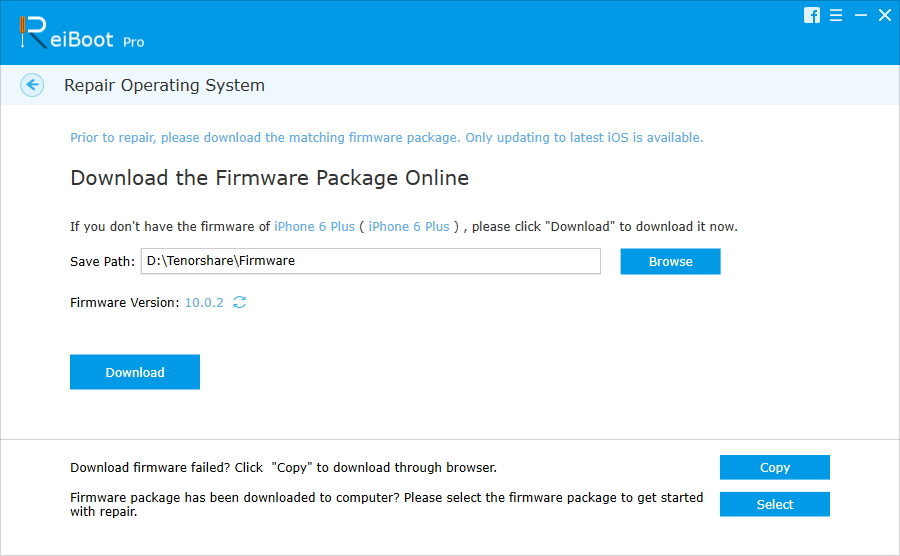 Step 3: When you have successfully get firmware, click "Start Repair" to start repair the operating system. Your iPhone will restart when this process is done, and you can unlocked iPhone without Touch ID or passcode , and now you can set up iPhone as a new device.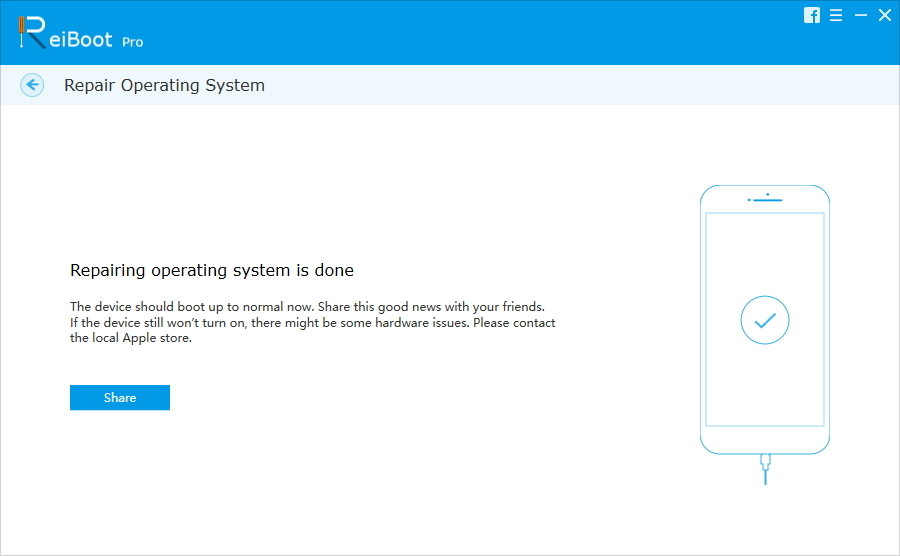 That's all about how to unlock iPhone without Touch ID, these two methods also works on other iOS devices like iPad and iPod. If you meet with this problems again, don't forget come to this article for solutions.