Feeling annoying because your iPhone is out of space? The Other stuff like photo caches, download caches is swallowing a large amount of space on your devices? Want to upgrade to iOS 8 but your memory is leass than 4.7 GB ( iOS 8 update requires at least4.7 GB of memory)? Taking photos, playing new games, downloading music… iPhone really bring us a wonderful digital life. However, your device can run out of space quickly with all those media, especially if you have only a 16GB. In this article, we list top 3 ways to free up space on iPhone 5s/5c/5/4s/4 for your reference.
Top 1: Manually Delete Unused and Duplicated Files
One of the first things you should do if you're concerned about your storage is to simply have a look at what is taking up your space, and then decide what you can remove. Heading to Settings -> General -> About will show you how much space you have available and how many songs, videos, photos, and apps you have. Go to Settings -> General -> Usage and look at Storage to get more information.
1. Delete Watched Video Files
Video files will take up much space on your device. Deleting them will save large space and for those you purchased from iTunes you can re-download them again if you want to watch them again. Go ahead and tap on Videos, and it will show you all of your TV series and movies from iTunes.
To remove a movie or entire series, just slide it to the left and hit Delete. Or, you can hit Edit in the top right, tap on the minus symbols beside each one, and Delete.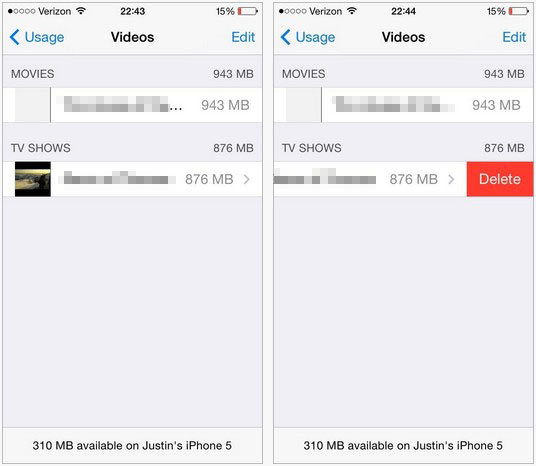 2. Remove Unused Apps
Some space-hogging apps will swallow a large amount of space on your iPhone. Find the apps you no longer want or need on your iPhone and tap them, hit Delete App and Delete App again to confirm. This will delete the app and all its documents and data, so make sure before you commit.

3. Delete Messages and Camera Roll
Haven't deleted messages on your device for a long time? Photos takes too much space on your device? Those files will take up a large amount storage space. Now it's time to delete them. Before deleting, you can backup messages in iTunes or iCloud, save photos from messages to camera roll and transfer your photos to PC.
To remove messages, swipe each conversation left and tapping Delete. You can also tap Edit in the top left, tap the red minus circle next to each thread, and confirm with Delete.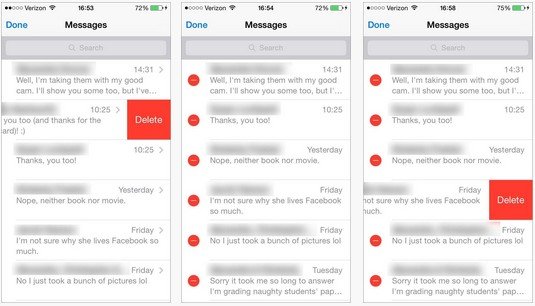 4. Delete Photo Stream
Photo Stream keeps up to 1000 of the latest photos you take and stores them on your device. If you have turned on this feature (turn on by default) on your iPhone, you will duplicate your last 1,000 photos in your Camera Roll. This will eat really a large amount of space.
If you don't care about sharing your photos to other devices and backed up your photos on PC, turn this feature off entirely by going to Settings -> Photos & Camera -> My Photo Stream ->Delete.
Top 2: Reset Your iPhone as New
Another way to recover space on iPhone is to back up your iPhone with iTunes, then wipe your device and restore from a backup.
Simply go to Settings -> General -> Reset and Erase All Contents and Settings.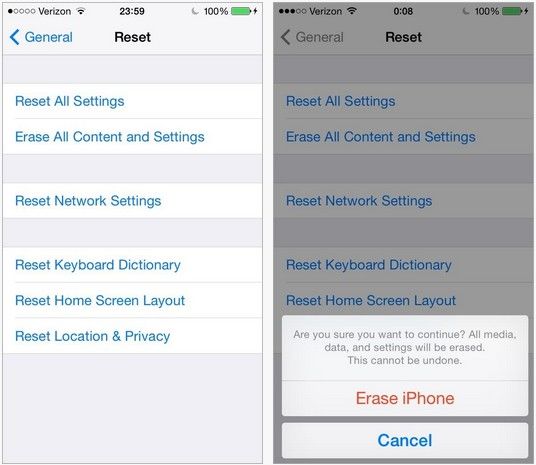 Top 3: Use Free iPhone Care to Reclaim Space on iPhone with 1-Click
Free iPhone Care is a free iOS cleaning tool that can clean up a variety of the junk files, private data, etc. on your iPhone/iPad/iPod touch and optimize the performance of your device . With it, you neither need to delete unwanted files one by one nor wipe your device to start as new.
Run iPhone Care on your PC and connect your device to the computer with an USB cable. Click on the Setting button to set preference settings.
Now, you can either choose Quick Clean to remove junk files or choose Deep Scan to clean private data like messages, Internet history, Safari cookies, calling history, etc.
After the cleaning, you'll found the space reclaimed by this program in the result page.
That's all for how to free up space on iPhone 5s/5c/5/4s/4. Just choose your preferred and have a try.