"My iPad 4 is died and I want to restore the data from my iTunes backup, is that possible?" A friend of mine asks me as such. Yes, of course you can. Easily and reliably!
Each time you sync your iPad with PC, PC will create a backup file for your iPad on your computer's hard drive.
Free Download
Free Download
How to restore iPad data from iTunes backup?
As many people recommended with their personal experience, iTunes Data Recovery is an easy-to-use and reliable data recovery tool to restore iPad from backup file. Its price is also reasonable. What's more, it has friendly and fast after-sale service and guarantee.
Typically, iTunes Data Recovery is a tool to recover iPad data from iTunes backup, including iPad 4, 2, the new iPad and iPad mini. Operating steps are as follows.
Step 1: Scan iTunes backup files of iPad
When you launch the program, you will see list of iOS devices which synced with iTunes before. Select your iPad and click "Start Scan".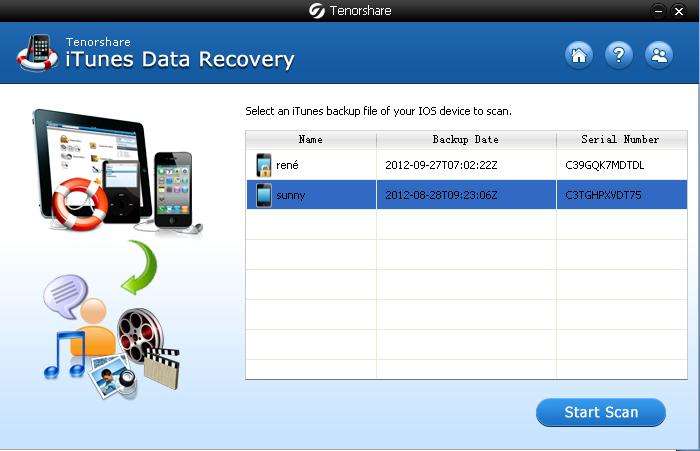 Step 2: Preview and select iPad contents
You will see all your iPad data is there listed by categories: Call History, Contacts, Messages, Notes, etc. You can preview them in detail by highlighting the specific folder.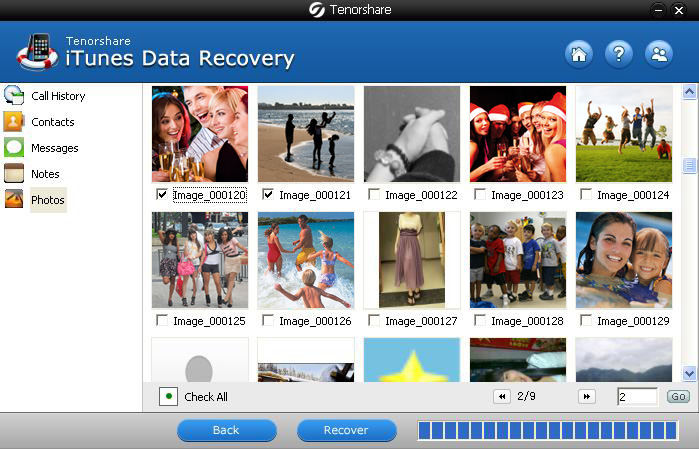 Step 3: Recover lost iPad data
When you checked your iPad file and selected the needed information, press "Recover". In the pop up window, select a proper save path.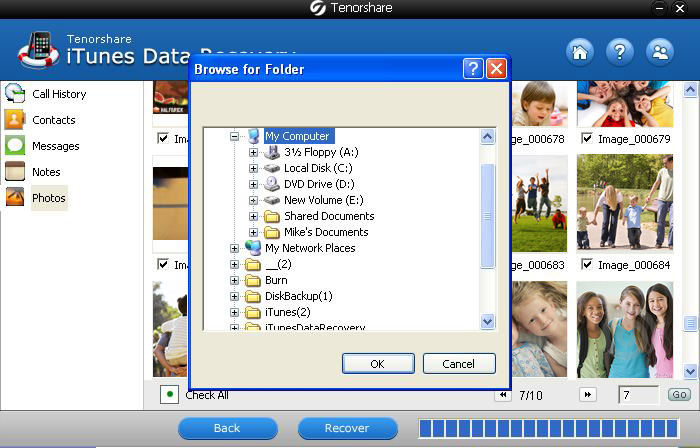 Come here, maybe you have caught how to restore iPad from iTunes backup. After you operate it successfully, you can return to your iPad to see the recovered files.
How to Restore Your iPad to Factory Settings?
If you want to transfer your iPad to a strange buyer or your iPad goes wrong frequently, you may consider setting it to default settings. There are two ways to do it.
Restore iPad to factory settings using iTunes
1. Connect your iPad with computer via a USB connector.
2. Open iTunes (it may open automatically when you plug your iPad to your PC).
3. Click on your iPad which shows up under the device tab in the left side of the screen.
4. Click on the "Restore" button. iTunes will prompt you to back up your iPad. Go ahead and choose "Back up" from the dialog box.
5. Choose "Restore and Update" in the prompt box. This is a confirmation by iTunes to know whether you want to restore your iPad to factory settings or you just press the wrong button.
6. The process will take you several minutes. Meanwhile, your iPad is rebooting. Once it has been done, your iPad data is new as you buy it just now.
Restore iPad to Factory Settings Through the iPad Settings Without Connecting It to iTunes
1. Go to the iPad settings whose icon looks like gears.
2. Choose the general settings on the left sidebar of the settings. Scroll down the page until you see the "Reset" option.
3. Press "Reset" button and confirm it.
4. Now it's the time for your iPad restoring. Wait for it patiently.
Notice: If you are so careless that not making a backup before you restore your iPad to default settings, you can ask help from iPhone Data Recovery. And if you need to selectively recover iPad data from iCloud backup, iPhone data recovery will be your right choice. Sure, if you just want to recover iPad files from iTunes backup, you can choose iTunes Data Recovery as preferred.