BitLocker Drive Encryption is a data protection feature offered by Microsoft in Windows 10/8/7. While BitLocker helps mitigate unauthorized data access by enhancing file and system protections, it also causes troubles for many users. Among those problems, forgetting BitLocker password, and lost BitLocker data are the most ones troubled users.
In this article, we will show you the top 3 Bitlocker recovery software to unlock Bitlocker encrypted drive without password, recover lost data from BitLocker encrypted hard drive partition.
Top 1: Bitlocker Recovery Key
BitLocker recovery key is created and saved to a USB flash drive during BitLocker setup. Generally, drives encrypted with BitLocker will be unlocked automatically with your computer's built-in TPM every time you boot it. If the TPM unlock method fails, you'll see a "BitLocker Recovery" error screen that asks you to "Enter the recovery key for this drive".
In this case, BitLocker recovery key will help you unlock your Windows 10/8/7 system drive and any other drives during the boot-up process, thus you can gain access to your PC. However, if you don't know your BitLocker recovery key, you'll have to factory reset your PC to regain your access. (If you simply locked out of your PC because of losing login password, you can refer to Windows Password Recovery Tool, a professional program to reset forgotten Windows login password for local account and Microsoft account.)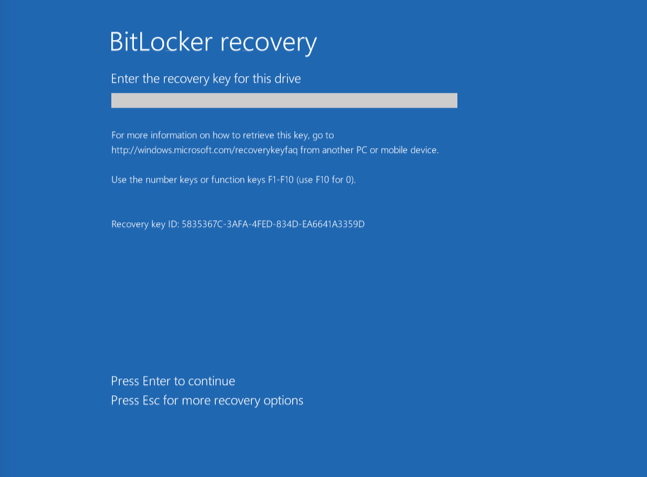 Note: If you were signed in to your Microsoft account when you encrypted a drive with BitLocker, then you can get your recovery key from your OneDrive at the link below.
Microsoft account: BitLocker recovery keys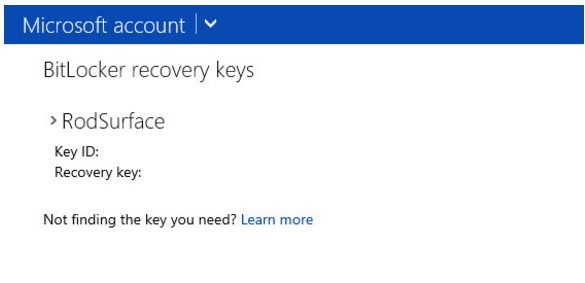 Top 2: M3 Bitlocker Password Recovery
If you don't have the Bitlocker recovery key, M3 Bitlock Password Recovery can help you unlock a BitLocker-encrypted drive from within Windows without using Bitlocker recovery key.
Taking an advantage of brute-force crack algorithm, M3 Bitlock Password Recovery will try many password or passphrases to guess your password correctly, thus to unlock Bitlocker encrypted drive without password or recovery key.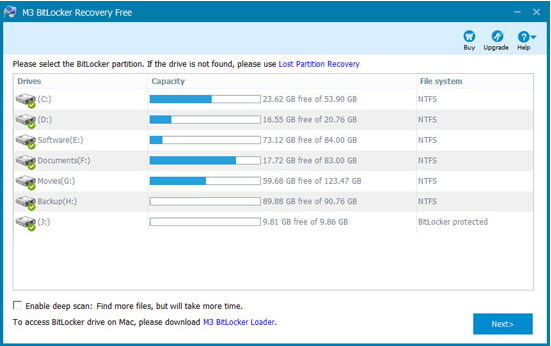 Top 3: Bitlocker Data Recovery Software – Tenorshare Any Data Recovery
Bitlocker partition got deleted or formatted? Bitlocker data recovery is another issue troubled many users. Since Bitlocker offers enhanced protection to data, it is more difficult for users to recover deleted data from a Bitlocker encrypted drive than a non-encrypted drive. If you unfortunately lost important data in Bitlocker encrypted partition, we highly recommend Data Recovery Pro, a professional data recovery tool to recover data from formatted, lost, deleted BitLocker encrypted hard drive partition.
In only 3 steps, you can get all lost data back from BitLocker encrypted hard drive.
Step 1: Run Free Any Data Recovery Pro and select the file types you want to recover and then click on Next to select the BitLocker encrypted hard drive.


Step 2: Click "Scan" button, the software will quickly scan the selected disk to find all your target files.
Step 3: After scan, the program will list all your lost files by file type, folder structure and time, you are free to preview them and select out those you want. Then, click "Recover" button to get them back.



Done! Just take use of the Bitlocker recovery software when you have troubles on recovering lost password and data on Bitlocker encrypted drive.

Free Try Windows Password Recovery Tool

World's 1st Windows Password Recovery Software to Reset Windows Administrator & User Password.

Free Download

Free Download