Suddenly being blocked from certain websites? While websites can be blocked at three levels: Computer level, Network level or the ISP/Governmental level, you can never worry about it. 3 typical methods are listed in the following to tell how to access blocked websites.
Note: Being locked out of your Windows computer, please see Windows password recovery tool.
Method 1: Use a Proxy Server
Proxy servers are useful tools that act as intermediaries between your computer and the websites you visit. It allows someone to access a Web site or a Web service anonymously. When you can't get on a site, you can turn to a proxy server to help you. The following is the detailed steps:
Go to the website for the proxy service, type the URL of the site you wish to unblock, and press enter.
Browse the restricted site. Notice that the address bar of your browser displays the proxy service's domain, indicating that you re browsing anonymously.


Note: A reliable proxy service can help you circumvent internet censorship.
Here is a list of most popular free proxy servers:
ProxEasy
KProxy
ProxyBoxOnline
SelfHide
RocketSurf
Proxify
Method 2: Change the DNS
If using proxy servers doesn't help, you can try to unblock the website using its IP address. When some website is banned in an area, it is the ISP blocking traffic to and from that website. Changing DNS settings from your ISP to something different might help you access the site.
DNS is the server which has all the information of all the websites around the world. Generally when any country blocks any website for their countries ISPs, thei block it in their own DNS server, so that whoever uses that DNS cannot access restricted sites. This same concept has been used by many MNC companies for their office internet access. But if you use Google DNS or OpenDNS, many times you can access blocked websites. This trick generally work very well for the BSNL internet users.
Method 3: Take Advantage of a Translation Service
Translation services such as Google Translate, Microsoft Translator, or Yahoo Babel Fish are similar to proxy services in that they fetch a website and display it for you without your visiting the site directly. Just take the Microsoft Translator for example:
Visit Microsoft Translator.
Enter the URL of the restricted site into the left text field. Keep "Translate from" as Auto-Detect and "Translate to" as English. Click Translate.
The page will display below a functional and unobtrusive Microsoft Translator banner. Browse as you normally would.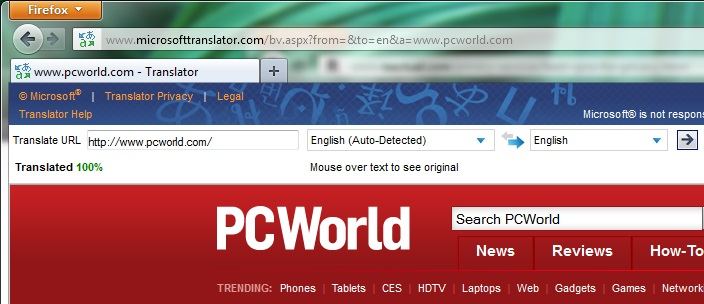 That's all for how you can do when you are suddenly being blocked from certain websites. Feel free to try. If you have other useful ways, be sure to make a comment below. And also, you can keep following us to know more Windows tips.
Free Try Windows Password Recovery Tool
World's 1st Windows Password Recovery Software to Reset Windows Administrator & User Password.
Free Download
Free Download