When turn on your Windows 10/8/7 computer, have you ever meet with the situation that your computer reminds you "Getting Windows ready" "Don't turn off your computer"? If you don't know how to solve this problem, in this article we prepared the best 3 solutions for to figure it out! Just follow us.


Solution 1: Wait For A Long Time Until Computer Login
In most of the case, users would find this situation after update the system or fix the bugs. Thus computer need some time to load new settings. Users may patiently wait for a while until your Windows computer normally boot.
But for users who find it take 2~3 hours or more, you can skip this solution and read the following content to solve the Windows 10 "getting Windows ready" stuck.
Solution 2: Power Reset Windows Computer
As we all know, power reset is a good solution for all the digital devices to solve basic problems. We here can also use this solution to fix the loop of "getting Windows ready". But before we do this, users may need to unplug all the peripheral devices.
For PC users, press restart button can easily get your Windows computer power reset.
For laptop users, you may need to unplug the battery after turn off your laptop. Then press and hold power button for about 30 seconds, and plug the battery back to your computer.
After you Windows 10/8/7 computer turn on, the "getting Windows ready" interface will disappear.
Solution 3: Use Windows Boot Genius to Fix Windows Stuck on Getting Windows Ready
If you have tried conventional solutions but fail to handle this getting Windows ready loop, here we recommend you to have a try by using Windows Boot Genius, a professional software which can help to solve all kinds of Windows boot issues including disable "getting Windows ready".
Buy Now
Step 1: Download and install Windows Boot Genius to an available computer, run the program and insert a blank CD/DVD/USB flash drive to burn a bootable disk.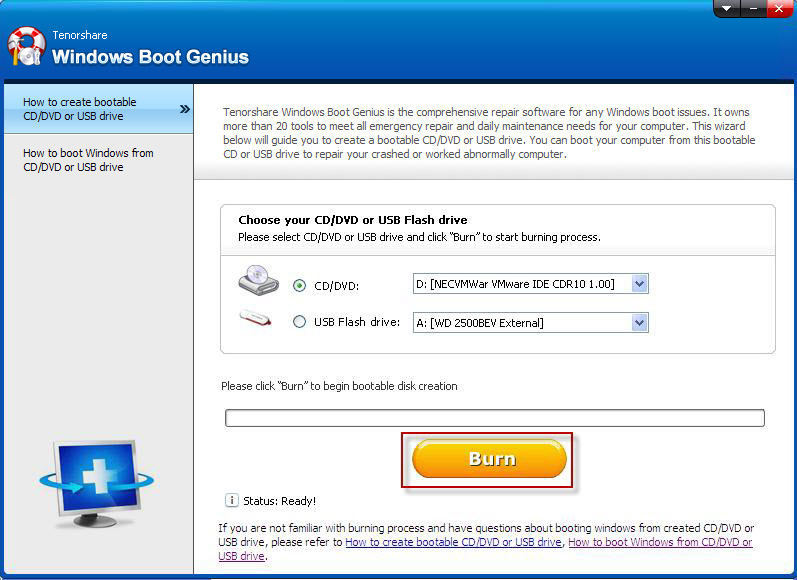 Step 2: Insert the bootable disk to your computer which stuck on getting Windows ready loop. Start your Window computer and select "Windows Rescue". For users who can access to Windows loading bar but cannot be able to log in, choose "Crash on loading bar" and then follow the solution to fix Windows system completely.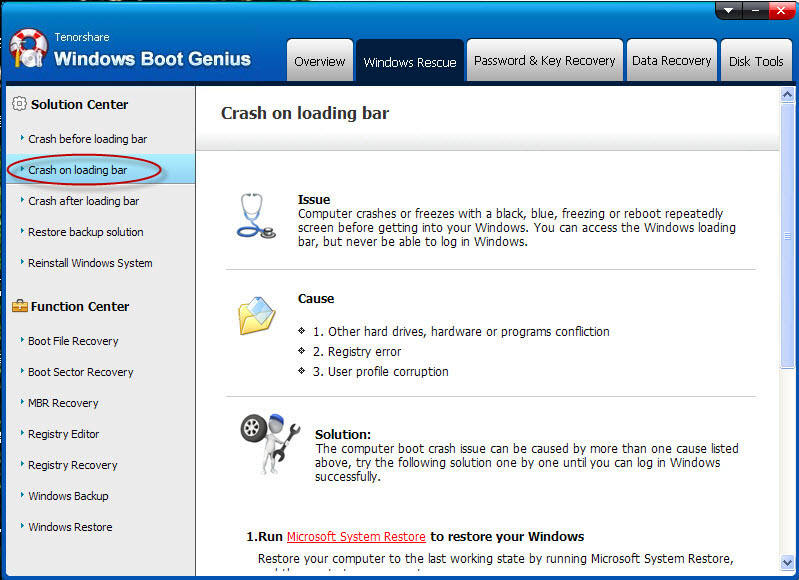 After you have tried all these three solution, your Windows 10 getting ready loop mush be solved. These solutions actually can also help you to fix the same problem on Windows 8.1/8/7. And for users who meet other kinds of Windows boot problems, you may also refer to the useful tool – Windows Boot Genius for help, it will sure help you out!