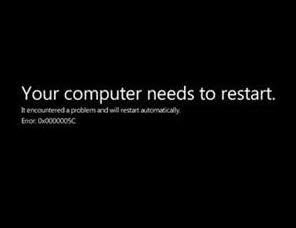 Windows 8.1 has been available for a few month, some users have experienced Windows 8.1 black screen of death when installing or running Windows 8.1. On the word of complainers, Windows 8 black screen after login, forcing them to restart; or just installed 8.1, when logged back on; it went to black screen with only showing mouse pointers.
Worse still, resently Microsoft realeased the ill-fated Windows 8.1 Update 2 patch, KB 2975719 which doesn't fix the original issues in Windows 8.1 but caused the black screen (many users with Auto Update were hit with persistent black screens).
This is really a painful issue for Windows 8.1 users, thus in this article, I will show you how to fix Windows 8.1 black screen in Safe Mode and with third party Windows Boot Genius. Just keep reading.
Buy Now
Method 1: Fix Windows 8.1 Black Screen Problem in Safe Mode
Generally, Windows 8.1 Black Screen can be an issue of incompatible updates of Windows itself as well as device drivers, corrupted device drivers. And you can fix Windows 8.1 Black Screen in Safe Mode.
Note: To fix Windows 8.1 black screen on startup, you must have your installation disc to boot Windows 8.1 to safe mode.
For Windows 8.1 Black Screen Caused by Windows Updates
Access Windows 8.1 Advanced Startup Option, click "Startup Settings" Click "Restart" and choose "Enable Safe Mode".
Go to the Control Panel and click to access Programs and Features.
Now click the words stating View installed updates in the left pane of window.
Right click the recently installed update and choose to Uninstall it.
For Windows 8.1 Black Screen Caused by Driver Updates
Boot into Windows 8.1 Safe Mode and go to the Control Panel, and then click to access Device Manager.
Locate the drive in the list that you recently updated by expanding the device category.
Right click the updated driver and click Properties.
In the Properties window, access the Driver tab and click Roll Back Driver.
Method 2: Repair Windows 8.1 Black Screen with Windows Boot Genius
Using Safe Mode is too complicated or the Safe Mode doesn't work for you? Don't worry. Windows Boot Genius is here to save you out. It holds more than 20 Windows OS repair tools that can fix all Windows 8.1 boot issues including black screen of death.
To get started, free download and install Windows Boot Genius in a computer which can boot normally and run this software.
Run Windows Boot Genius and insert a blank CD or USB into the workable computer and click "Burn" to create a bootable CD or USB.
Insert the bootable CD or USB to your problem computer and press F12 or Delete to access the Boot Menu. Select the CD or USB as the first boot device.
When successfully get into WinPE environment, you will see the icon of Windows Boot Genius. Launch Windows Boot Genius to get into Windows Rescue Menu to repair Windows black screen under the "Crash before loading" instruction.
After the repairing process, your Windows 8.1 will work normally. If you have any further problems, please be free to tell us.