A virus can quickly spread among Wi-Fi network especially public wireless network and steal your personal information when you connect to it. No wonder so many people leak their account info while made online purchase when connecting to wireless network. Moreover, today the number of free public Wi-Fi hotspots is growing, but not every hotspot can provide a strong protection from Wi-Fi virus. Thus it is very important to know how to get rid of Wi-Fi virus.
This article will show you how to avoid Wi-Fi virus and secure your computer on Wi-Fi network especially public wireless hotspots in details. Read on, please.
How to Stay Safe on Wireless Networks?
Following these security precautions can help avoid Wi-Fi virus and keep your computer safe and secure.
1. Enable Firework
A firework can monitor incoming and outgoing connections. Whether you use the Firewall built into Windows or 3rd-party software, make sure it's enabled before connecting to Wi-Fi especially sign on to a public hotspot.
On a Windows notebook, locate your firewall settings in the Control Panel under System And Security.
Click on Windows Firewall, then click Turn Windows Firewall On or Off.
Make sure it's turned on under Home or Work and Public network location settings.
2. Turn off Sharing
It is great to share your music library, printers or files, or even allow remote login from other computers on your Wi-Fi network in the privacy of your own home. But when you're on a public network, you don't want others to see your data.
Click on the Network icon in the Taskbar and select Open Network and Sharing Center.
Click on the Change advanced sharing settings hyperlink.
Turn off file and Printer Sharing and Turn off Public folder sharing and save the changes.
3. Disable Wi-Fi When not in Use
Turn off the Wi-Fi connection if you are not using your wireless especially when you at a hotspot. This to some extents can protect you from any viruses. Click on the Wireless icon on the Taskbar right-click the network you're connected to and Disconnect.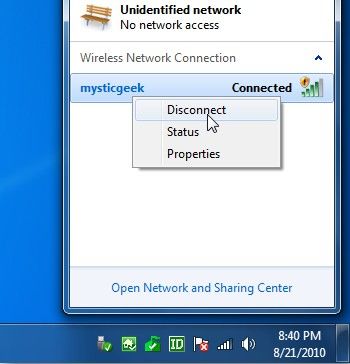 4. Password Protect Your Wi-Fi Network
If you use the WI-Fi at home, please set strong password to your WI-Fi Network. Study shows that malware can easily spread among unprotected (and under protected) routers whose signals overlap. And this malware can spread faster than any human flu. Thus set strong password for your wireless network and test it is whether security enough with Wi-Fi Password Recovery.
5. Run Anti-Virus Software
Anti-virus software can help provide the first alert if your system has been compromised while connected to an unsecured network. An alert will be displayed if any known viruses are loaded onto your PC.
To sum up, we have introduced 5 tips for you to get rid of Wi-Fi virus. Remember to be more careful than less.