Dell has introduced new Inspiron laptops for CES 2013 to satisfy users' needs for better battery life, thin and portable performance, etc. These new Inspiron laptops are available for customers in the United States, Canada and select countries around the world. While enjoying nice property of these laptops, you may encounter some worrisome problems, such as you forgot password on Dell Inspiron. This content is special in solving this forgetting password issue.
Free Download
Free Download
How to Avoid Forgetting Dell Inspiron Laptop Password?
Here are some tips for you to avoid the problem that you forgot Dell Inspiron laptop password:
1. Create a password reset disk in advance. When you create your account on Dell Inspiron laptop, you should also create this tool at the same time.
2. Make a Windows password hint. This hint will remind you what the password is for the user account.
3. Write down your password on a paper and keep it in a safe place.
If you fail to take these tips and forgot your password, never let it eat your heart out. You can reset password on Dell Inspiron with Windows Password Recovery Tool and regain access to your laptop.
How to Reset Forgotten Dell Inspiron Password in Windows 8/7/XP/Vista, etc.?
The easy and quick way to reset forgotten password on Dell Inspiron laptop is to use Windows Password Recovery Tool, which is the top-tier Windows password recovery software to help you reset password for both local administrator and other user accounts.
Windows Password Recovery Tool has high compatibility to reset Dell Inspiron password supporting the hot models as following shows and any other Dell Inspiron laptops.
| | | |
| --- | --- | --- |
| Dell Inspiron M101z | Dell Inspiron 1110 | Dell Inspiron 1300 |
| Dell Inspiron 1370 | Dell Inspiron 1440 | Dell Inspiron 1525 |
| Dell Inspiron 1545 | Dell Inspiron 1570 | Dell Inspiron 1750 |
| Dell Inspiron 15 | Dell Inspiron 17 | Dell Inspiron 14R |
| Dell Inspiron 15R | Dell Inspiron 17R | Dell Inspiron i15N-2728BK |
| Dell Inspiron i15R-1632sLV | Etc. | ... |
Here we would like to show you a guide on Dell Inspiron administrator password recovery (the other user accounts password reset is the same).
Step 1: Download and install Windows Password Recovery Tool on a computer you have access to.
Step 2: Burn a password reset disk to make Dell Inspiron password recovery. You can insert a CD/DVD or a USB flash drive on the computer and then specify one of them. Click "Burn", "Yes", "OK" to create the disk.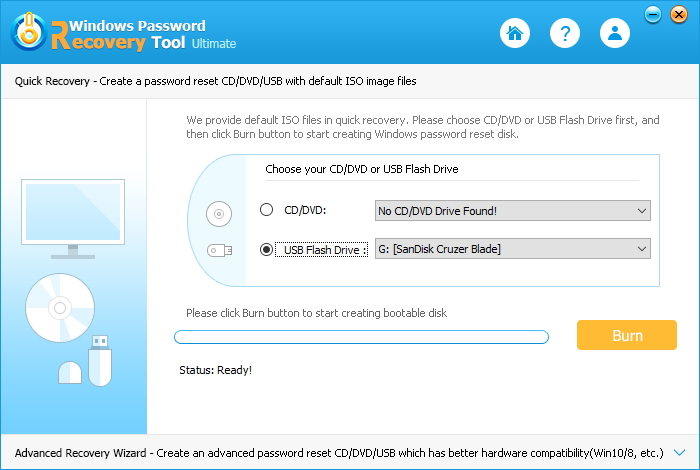 Step 3: Start Dell Inspiron laptop and inset the newly created password reset disk.
Step 4: Select the Windows installation you would like to reset the password, click "Reset your password" and "Next".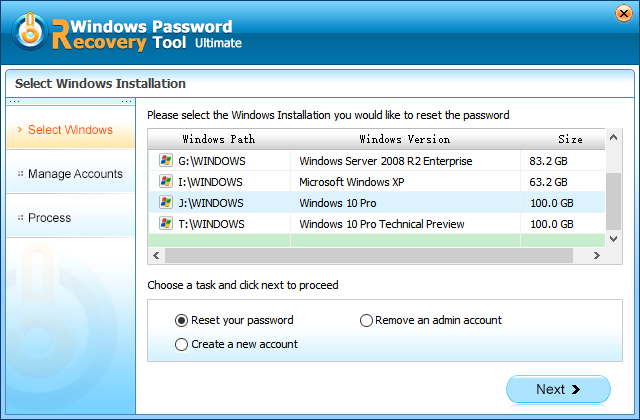 Step 5: Select the administrator account, and click "Remove the password" and "Next".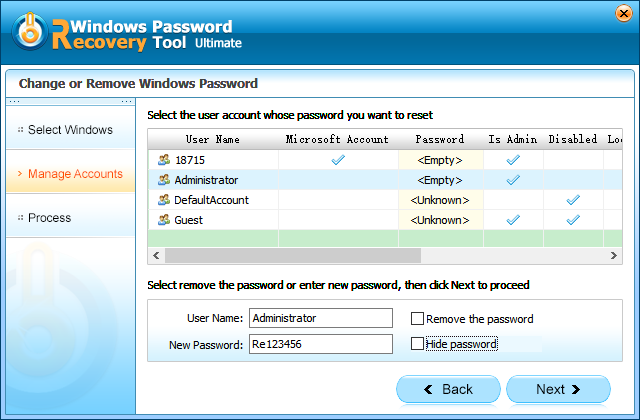 You have successfully reset the password with Windows Password Recovery Tool. Just click "Reboot" to restart your Dell Inspiron laptop and login Windows system without any password.
Free Try Windows Password Recovery Tool
World's 1st Windows Password Recovery Software to Reset Windows Administrator & User Password.
Free Download
Free Download