"Help, how to disable backup password in iTunes? Last week I bought a new iPad mini, I really want to restore the files in my red iPhone 7 to the iPad mini. However, I was asked for the iTunes backup password. I even didn't remember if I set an iTunes backup password or not. I really want to figure out how do I disable my backup password in iTunes since I have some important data to be restored such as my precious photos, call log, text messages etc."
Most people may encounter this situation when they enjoy iPhone, iPad or iPod but Apple itself doesn't offer any solutions. So, is it possible to force into encrypted iTunes backup when you forgot password. Luckily, an easy iPhone Backup Password Unlocker can solve your problem promptly. It can enable access to password encrypted iPhone backup files by turning off iTunes backup password, no matter for iPhone, iPad or iPod.
Next we will illustrate the 5 easy steps to turn off backup password in iTunes.
Free Download
Part 1. How to Disable Backup Password in iTunes
Import iPhone Backup File
The iPhone Backup Unlocker will automatically check out default backup files for you. However, if your locked backup file is not listed in, you can also click "Import" to finish file importing.
Select an Attack Type and Define the Settings
Please choose a suitable attack type to minimize the search time and enhance password recovery speed.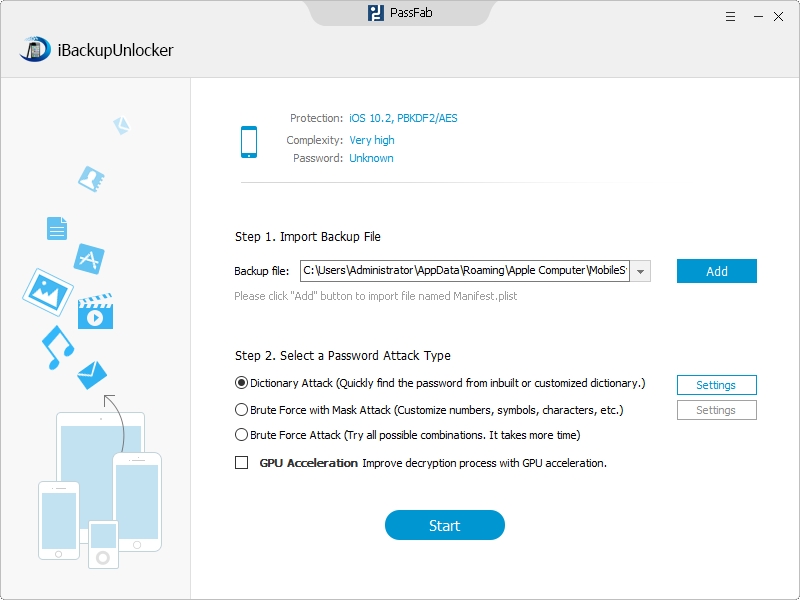 Start to Recovery Backup Password iTunes
Click "Start"to disable iTunes backup password for your iPhone, iPad or iPod Touch. Within minutes (Seen as below), your desired iPhone backup password will be recovered successfully with display in the File Opening Password Box.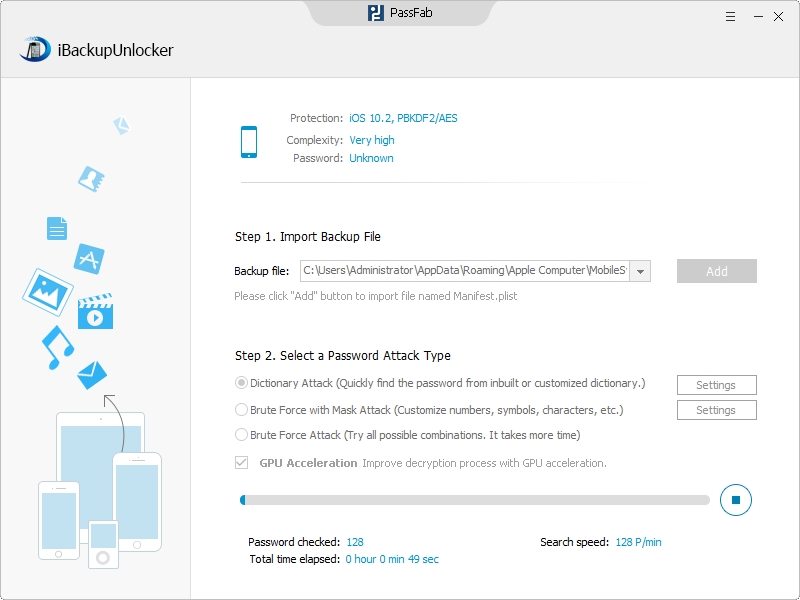 Select Encrypted iPhone backup file
Click "Add" again on the main interface and then "Enter" button next to the file you want to remove password.
Start to Backup Password iTunes Disable
Enter the password you just find for your encrypted backup file and click Decrypt to remove the password from your iPhone backup. Your unlocked backup file will be stored under: \My Documents\iTunesRecovery.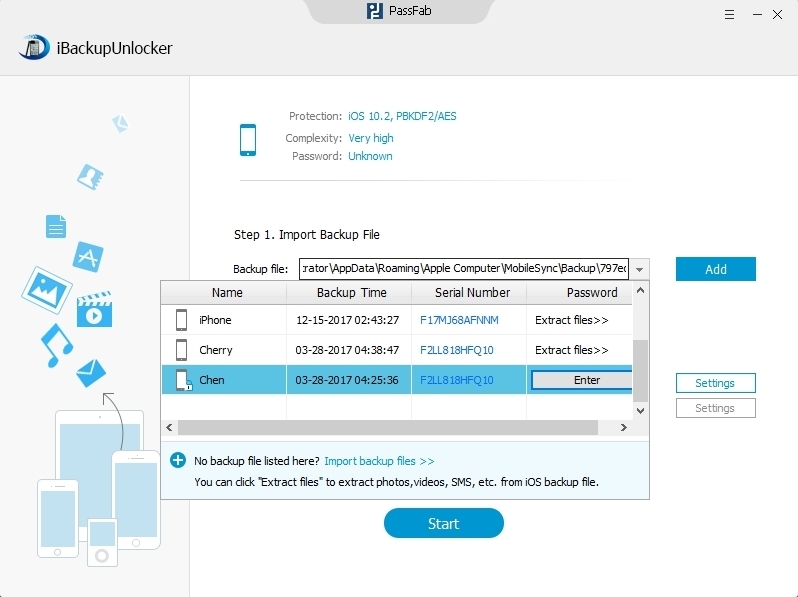 Part 2. How to Restore iPhone to Factory Settings
You'd want to factory reset your iDevice when you're selling it, when you're sending your device for repairs, or when you can't fix so severe problems for your device. If this is the case, feel free to restore it to factory settings, since you have ever turned off backup password in iTunes and you can restore data from backup after factory reset erased your data.
Here we take how to restore iPhone to factory settings for example.
1. With the iPhone turned on, power it off.
2. Keep pressing the power button and hold the home button.
3. Count to ten and then release the power button.
4. Restart in what is known as a "restore state".
5. Follow the prompts and you will soon have your phone restored to its original settings.
After reset, you can restore iPhone data from iTunes backup. If you find you lost iTunes backup, refer to the information for how to disable backup password in iTunes with iPhone Backup Password Unlocker.