How to Reset Windows 8 Password with Ease?

2012-12-31 08:44:33 / Posted by Ruby Johnson to Windows 8 Tips
Follow @Ruby Johnson
Windows 8 password not working is such a pain in the neck! Especially true when important data is contained in it. Unlike the previous editions of Windows, Windows 8 is especially alert in computer security. Besides the classical textual content password, picture password and PIN are added. You can also sign in with a Windows live ID.
Due to various kinds of reasons, we often forget Windows 8 administrator password or Windows 8 user password. Is there anything we can do to retrieve Windows 8 password? Some of you may get panicked, lost or frustrated. Don't be sorry. I will do some analysis for you and introduce you effective options on how to recover Windows 8 login password. To begin with:
Free Trial Windows Password Recovery Tool :
Reinstall Windows 8?
This option is not recommended. Reinstalling Windows 8 could erase all data in your computer and you have to build your computer from scratch. You could totally save the trouble by resorting to other options.
Turn to a Computer Expert for Help?
Forgetting a Windows 8 password may not be as frustrating as you've expected. It's not necessary for you to resort to a computer professional and pay through your nose to reset lost Windows 8 password. You can just unlock your Windows 8 computer on your own with the options provided in this article. The below is how:
Solution 1: Create a Windows 8 Reset Disk
When we type in Windows 8 login password, we can see a hint is provided under the box (see Windows 8 login screen below):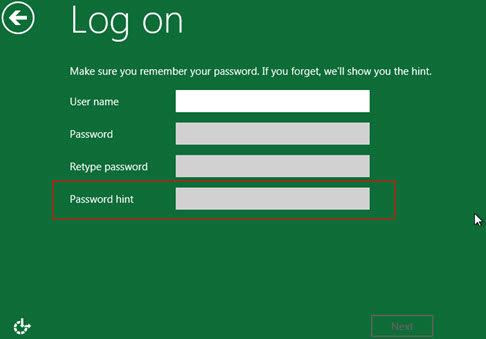 If the hint proves helpful, you wouldn't be showing here asking about how to reset Windows 8 password. To perform Windows 8 password reset, you need a Windows 8 password reset disk created in advance. Windows 8 has a built in password reset function. If you fail to do so, please jump to solution 2, if you are perspective to do so and you typed in the incorrect password, just follow the following steps of how to reset Windows 8 password: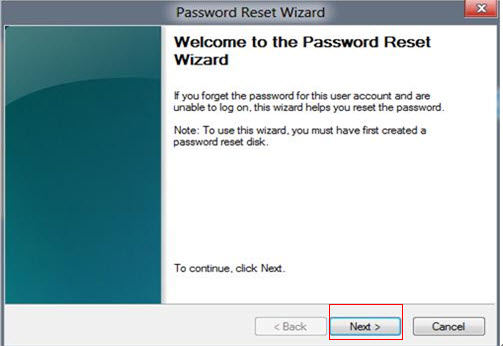 1. Click "Next", and connect your password reset disk/USB flash drive that was previously created to reset Windows 8 password for a specific user account.
2. Enter a new password for the user account, and enter it in again to confirm it and then enter a new password hint, click "Next".
3. Click "Finish" to complete the Windows 8 password bypass. And now you're able to sign in to this user account with the new password.
Solution 2: Use Windows 8 Password Reset Disk
If you fail to create a Windows 8 password reset disk, there's still something you can do after you lost or forgot your Windows 8 password. It's the only feasible and safe option which enjoys great popularity in most Windows users - to find Windows 8 password for both local account and Microsoft account with Windows Password Recovery Tool.
Here's how to reset Windows 8 password.
1. Download Windows Password Recovery Software free on an available pc.
2. Burn a Windows 8 password reset disk/USB with the Windows 8 password reset software. There are 2 ways to do so: Quick Recovery and Advanced Recovery Wizard.

3. Insert the newly burned CD/USB flash drive into your locked computer. To reboot your PC from this bootable disk, you need to set BIOS. If your computer is preinstalled with Windows 8 and use UEFI, you have to disable UEFI Secure Boot before the BIOS setting.
4. When this software screen appears, select your Windows sytem, choose the account for which you'd like to reset password, and reset it.

5. Restart your computer and login pc with blank password.
Note: It's compatible with Windows7/Vista/XP, etc.
Free Trial Windows Password Recovery Tool :
comments powered by