How to Recover Windows 8 Password with Windows password recovery disk?

2014-09-11 06:53:41 / Posted by Ruby Johnson to Windows 8 Tips
Follow @Ruby Johnson
Along with a series of new features brought about by Windows 8, there is also a new look in Windows 8 password. And raising questions on how to recover Windows 8 password among users becomes an increasing tendency.
Free Trial Windows Password Recovery Tool Standard:
Besides the traditional textual content password, picture password, PIN password and Windows Live password are newly added to Windows 8, thus making 4 types of password.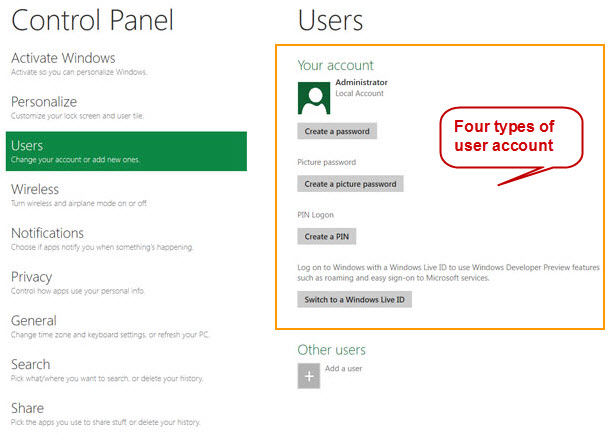 With the increasing computer security, Windows 8 now by default requires users to set a Windows admin password for administrator account. I assume most people are accustomed to setting an admin password the old way. What if we forgot Windows 8 login password? How to recover Windows 8 password without re-installing Windows 8?
Yes! Though, Windows 8 is different from Windows 7 and other operating systems in many ways. The solution to get back Windows 7/Visata/XP password remain unchanged for Windows 8 password recovery if we rely on Windows password recovery software to recover Windows password.
It's an easy, safe and efficient solution adopted by most majority of people who forgot or lost Windows password.
Here is the idea of how Windows 8 password recovery software works: To burn a Windows 8 password recovery disk/USB from Windows Password Recovery iso for the computer to reboot from.
Here are 3 easy steps on how to recover Windows 8 password with Windows 8 Password recovery:
Step 1: Download Windows 8 password recovery and run it on an accessible computer.
Step 2: Burn a Windows 8 password recovery disk/USB flash drive.

Step 3 Set BIOS to boot from the newly burned disk/USB flash drive and get Windows 8 password recovery started.

After inserting the disk/USB flash drive, the Windows 8 password recovery tool will start to initialize.

Done loading, you'll see an interface. Choose the target Windows system you want to recover password for, click "Next".

A list of accounts, including administrator and standard user accounts will be presented for you to choose whose password you intend to recover for. Select the target account, and click "Next".

Complete Windows 8 password recovery by clicking "Reboot".

Restart you computer, and you'll gain access to your computer password-free.

That's all for how to recover Windows 8 password with password reset disk and you can also read about how to recover a password for a Gateway Windows 8 for more details on Windows 8 password recovery for specific PC brands.
Note
:
Windows 8 password recovery is able to recover Windows 8 login password, recover Windows 8 administrator password, etc.
It's powerful to recover Windows login password of all editions of operating systems, including recovering Windows 8/7/Vista/XP password, etc.
Free Trial Windows Password Recovery Tool Standard:
comments powered by