What Is The Windows Experience Index?
Windows Experience Index (WEI), one of the hundreds of features introduced with Windows Vista, is designed to help you better understand your computer's capabilities. It scans your computer hardware and assigns it a score after running a number of tests. These ratings help users in purchasing software and games. For instance, a base score of 5.2 means that the PC will run an application or a game if the WEI score of the game or application is less than, or equal to 5.2.
How to Rate PC Performance with Windows Experience Index in Windows 8/8.1?
Even though most users don't refer to the base score of WEI before installing software and hence will not miss this feature in Windows 8.1, some users who refer to WEI score might want know how to get back the feature or at least how to check Windows Experience Index ratings in Windows 8.1.There is no perfect workaround to add WEI to Computer Properties. However, since Microsoft hasn't completely removed this feature from Windows 8.1, there is a way to check WEI score.
Step1.
Open your computer and sign in to your account. Click "Start" and type %WINDIR%\Performance\WinSAT\DataStore into Search Bar.
Step2.
Find the file titled Formal.Assessment(Initial).WinSAT and double-click on the file. Here if you have multiple files, please open the latest one to open up the XML file in your default web Brower.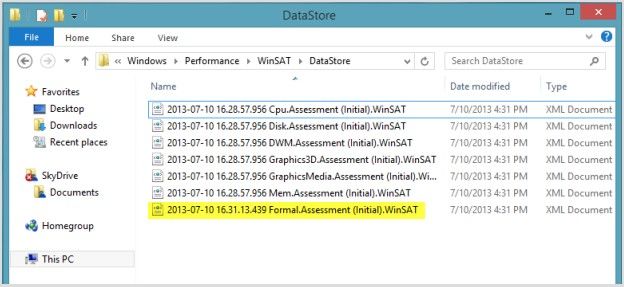 Step3.
After the file is opened in the web browser, you will see the data on which the file was generated and also the score for your hardware such as system score, memory score, CPU score, graphics score, disk score and gaming score.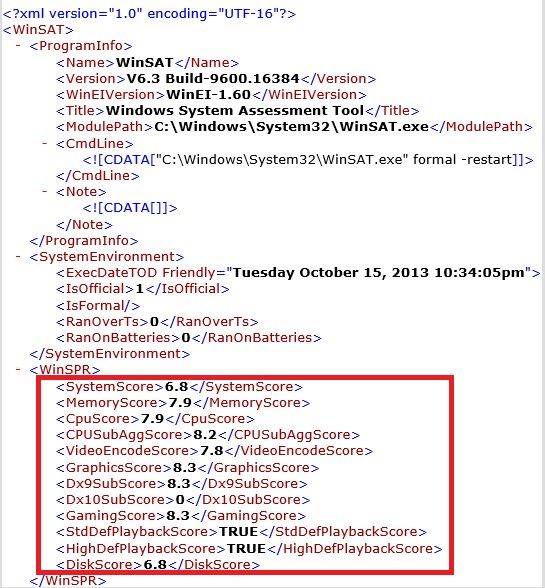 Notes: If your Formal.Assessment(Initial).WinSAT is not presented in DataStore, you have to follow the next instructions to generate the file before you operate Step1.
1. Type cmd into Search Bar and click Command Prompt icon. Next to click on Run as administrator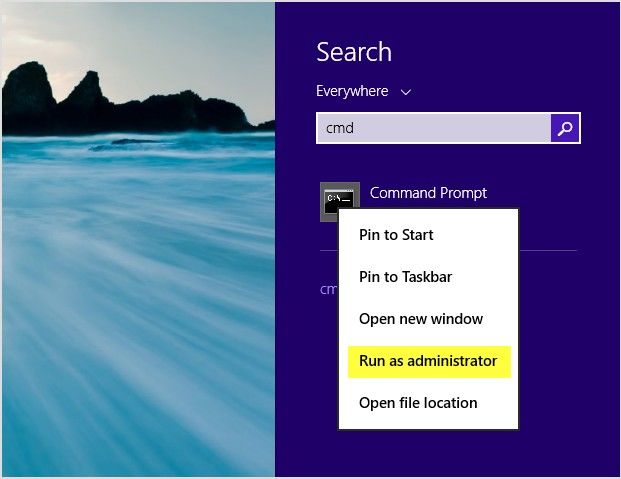 2. Here you will see a window type Winsat formal and press the Enter key. This operation may take few minutes. Please wait patiently for a while and do not use the computer until it finishes generating the report.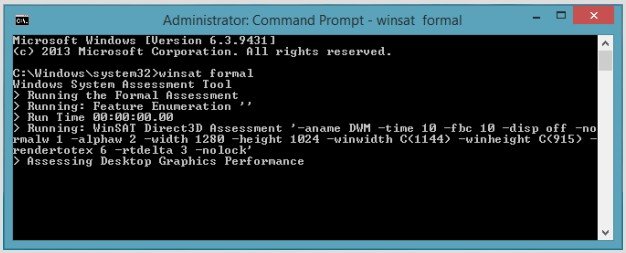 Once you finish those two steps to generate file, you can rate your PC follow previous 3 steps to do. Of course, hope you have learned how to get Windows Experience Index score in Windows 8/8.1. If your computer gets low score, you can visit Windows 8.1/8 runs slow, how to speed up it?
Free Try Windows Password Recovery Tool
World's 1st Windows Password Recovery Software to Reset Windows Administrator & User Password.
Free Download
Free Download