I've forgotten the login password to my Dell XPS M1530 (Windows 8.1). And all my documents are on it. How can I bypass it or is there any way to reset login password to Dell XPS laptop?
No matter what brand of your computer is, no matter what operating system your notebook was installed, once you lost the login password to it, you can't access it and enjoy its excellent performance. It is the same with Dell XPS notebook and gaming desktop.
To regain the access to your Dell XPS computer, you need to remove the login obstacle. Here we introduce 2 plans for Dell XPS laptop/desktop password reset.
Plan A. Reset Admin and Standard User Password on Dell XPS with Password Reset Disk
If you have created a password reset disk when you set the login account and password, you can take it out now. Using previously-burned password reset disk is the most direct and efficient method to recover the forgotten login password.
Note: No previously-created password reset disk available? Turn to Plan B for help.
Step 1 Start you Dell XPS computer and click Reset Windows Password on the login screen.
Step 2 Insert the password reset disk into the USB port of the computer.
Step 3 Follow the Password Reset Wizard instructions to create a new password.
Step 4 Log into your Dell XPS notebook with the newly-created password.

Plan B. Reset Local User Account and Microsoft Account Password with Windows Password Recovery Tool
How do you reset your dell administrator password for xps m1530 without creating password reset disk before? Have tried to find your Microsoft account password by Microsoft account password reset online but failed? Don't worry. Windows Password Recovery Tool can help you solve all of the problems.
Windows Password Recovery Tool is an all-in-one program and can recover Microsoft account password and local user account password on Windows 8.1/8/7/Vista/XP and even the newest Windows 10.
Free download Windows Password Recovery Tool Ultimate and install it on a computer that you can login.
Step 1 Launch it and burn Windows Password Recovery Tool Ultimate to USB Flash Drive/CD/DVD (two options can be used: create bootable device with default ISO image or create bootable disk with Advanced Recovery Wizard).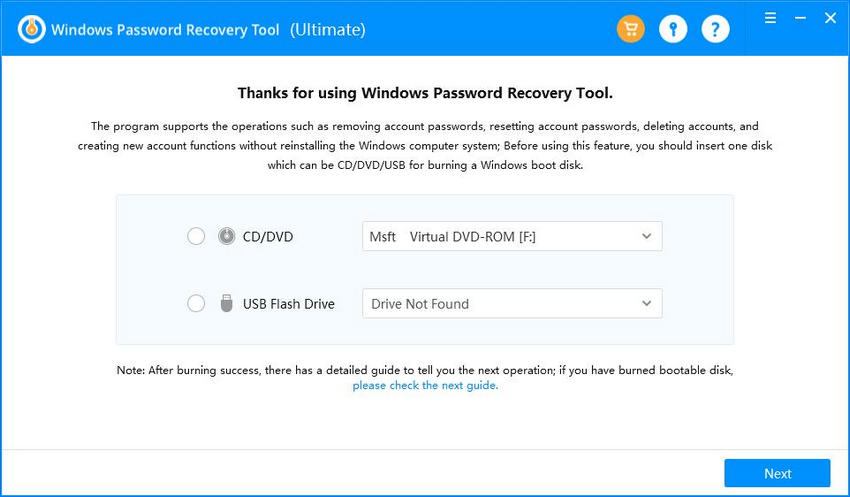 Step 2 Pull out the bootable disk and insert it into your locked Dell XPS computer and set BIOS to boot your computer from it (Learn how to set BIOS to boot from the CD/DVD-ROM or how to set BIOS to boot from USB Flash Drive). For the computer with Windows 8 preinstalled uses UEFI, you should disable UEFI Secure Boot firstly.
Step 3 After the program launches, all Microsoft account and local user account that are used to log into your Dell XPS notebook will be listed in it. Select the account you want and new password will show as well.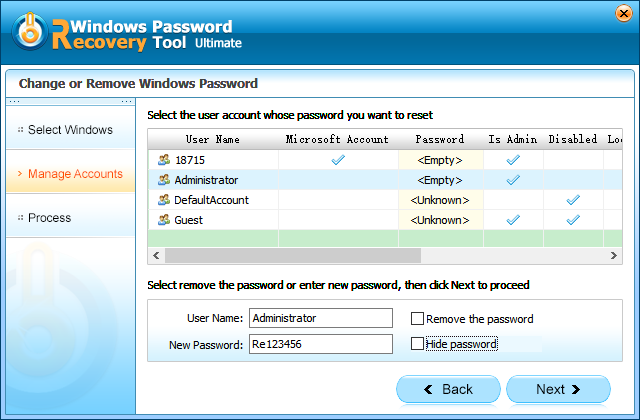 You can choose one from these two options on how to reset password on Dell XPS laptop/desktop. But in my own opinion, Windows Password Recovery Tool is a more flexible choice.
Free Try Windows Password Recovery Tool
World's 1st Windows Password Recovery Software to Reset Windows Administrator & User Password.
Free Download
Free Download