"When I want to restore iPhone from backup on PC, a dialog pops up suddenly and asks a password to unlock iPhone backup. But I have forgotten iTunes backup password. How can I unlock iTunes backup for iPhone and recover data from it?"
If you don't remember the iTunes backup password, the iPhone backup will not be unlocked. In such a situation, the data cannot be restored from the locked backup. So, if there anyway to unlock encrypted iTunes backup or recover data from password forgotten iTunes backup. Let's take a more detailed look.
Tutorial on How to Restore Files from Locked iTunes Backup
To recover data from encrypted iTunes backup, password is needed to be found first. iPhone Backup Unlocker is the best iTunes backup password unlock software to facilitate you to recover data from locked iTunes backup files and enable access to password forgotten iTunes backup with 100% guarantee on Windows computer in few seconds. It fully supports red iPhone 7/SE/6s Plus/6s/6 Plus/6 and it is compatible with all iTunes versions, including iTunes 12.
Step 1: Run the program, connect your iPhone to the computer.
Install and run the program on your computer, then connect your iPhone to the computer through its equipped USB cable.
Step 2: Import iPhone backup file.
The program will detect and find directory of the backup file automatically. Click "Add" and then double click on the file you lost password from the drop-down box.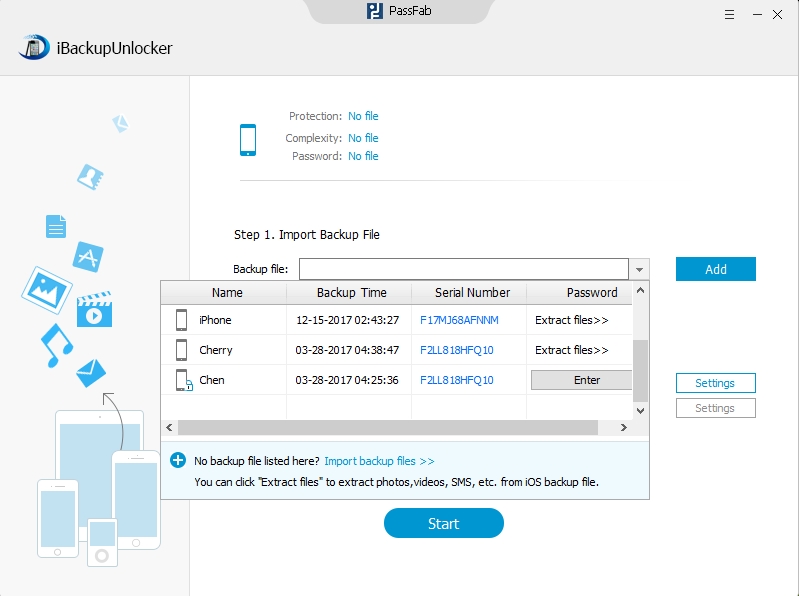 Step 3: Select an attack type and define the settings
iPhone Backup Unlocker provides three types of attack: Brute-force Attack, Brute-force with Mask Attack, Dictionary Attack.(For more info about these 3 attack types, please move to this guide, click here) Just choose a suitable attack type to minimize the search time and enhance password recovery speed.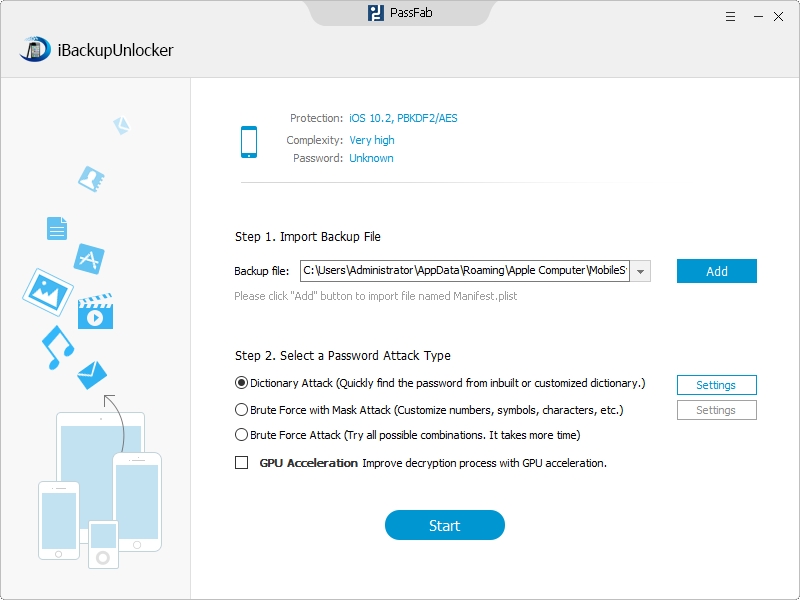 After attack type selected, you then need to set up attack settings accordingly.
Step 4. Start recovering iPhone backup password.
Click "Start" to start recovering the password, and then save the project to continue next time or to end the project.
Within minutes, your desired iTunes backup password will be recovered successfully with display in the File Opening Password Box.
Additionally: Recover Data from iCloud Backup
If you have turned on iCloud backup, alternatively you can restore lost files from your iCloud backup file. Go through the iOS Setup Assistant again by erasing all the contents on the device. Just hit Settings > General > Reset > Erase All Content and Settings. When iOS device is closed now:
1. When iOS device is closed now. Turn on your device. You would see a Hello screen.
2. Follow the steps in the iOS Setup Assistant until you get to the Set Up screen.
3. Select Restore from iCloud Backup and then sign into iCloud.
4. Select a backup and restore your device from the backup.
It is really easy to unlock iTunes backup password with iPhone Backup Unlocker. When you want to restore files by unlocking iTunes backup, Just try iPhone Backup Unlocker and have your password unlocked instantly.