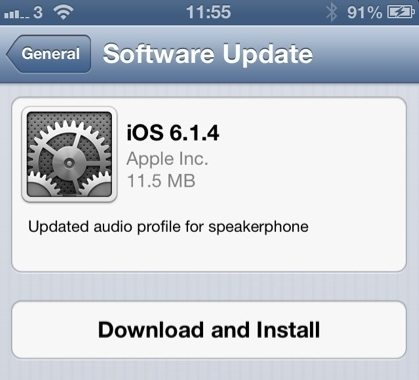 Recently Apple has released iOS 6.1.4 which is exclusively for the iPhone 5. The purpose of iOS 6.1.4 update is to improve the audio profile for the speakerphone. So far, the overall experience withiOS 6.1.4 on the iPhone 5 has been a good one. However, there are some users complained the iOS 6.1.4 battery drains and data loss problem.
Part 1: The Problem of Battery Drains in iOS 6.1.4
A user said: "I updated my iPhone 5 to 6.1.4 this afternoon [...] since then I've had a text from O2 saying that I've used my monthly data allowance of 1.5 GB. Also, my battery is draining before my eyes. It's going down about 1% a minute! Has anyone else had problems?"
Reports has that under the same situation (Wi-Fi and Bluetooth turned off and all apps closed), with iOS 6.1.4, the battery drainage has been visible with at least 30 percent vanishing in approximately two hours, but with iOS 6.1.3, 30 percent of battery life would typically be used up in a span of six hours.
The problem of battery would thread people's choice of updating iOS 6.1.4 as the biggest concern from iPhone owners before choosing to install a new iOS update is whether it has any significant battery life issues.
To solve this problem, some have suggested that they should hard reset the handset before restarting and restoring. But there are also some people stated that this way didn't work at all. So far, people are still looking for an efficient way to solve this problem.
Part 2: The Problem of Data Loss in iOS 6.1.4
Another problem most users complained after iOS 6.1.4 update is that they lost some or all data previously exist in their phone. This may be due to some inappropriate operations during the process of iOS 6.1.4 update.
If you have synced and backup your iPhone 5 to iTunes, then you can recover lost iPhone data from iTunes backup files. If unfortunately don't have any backup files, then iPhone Data Recovery will be a great assistance to recover your lost files from iPhone 5.
Here is how to recover lost iPhone data with iPhone Data Recovery.
1. Connect your iPhone device with PC, and run iPhone Data Recovery.
2. Click "Start Scan" to scan your iPhone 5 directly.
3. Select your lost data on iPhone 5 to recover.

We have listed the problems of iOS 6.1.4 and offered some kinds of solution. You can choose whether update iOS 6.1.4 on your own mind.