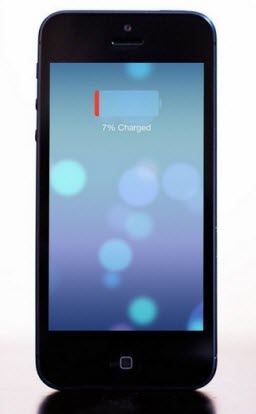 iOS 7 has been available for a while. There are plenty of iOS device users happily using iOS 7 since the recent update but some people complained that it drains their iPhone's battery faster than before. From the stamina tests, iOS 7 really is a more power-hungry system than iOS 6. However, we still have ways to fix battery drain in iOS 7. This article lists 5 ways for you to fix battery life issues in iOS 7 Devices including red iPhone 7/7Plus/SE/6S/6/5S/5C/5/4S/4, iPad 5/4/3/2/mini, iPod touch 5G.
Before you look some ways to fix the battery life issues, you need to make sure that it does have a battery problem because iOS 7 appears to use much more battery its first day or two after updating, so if you've just updated to iOS 7 and are experiencing battery life issues, give it a day or two to see if they stabilize on their own.
1. Test Battery Life on Standby
After updating a new iOS, there are a ton of new features to try out. If you used you iOS 7 Device more than ever, it will cause the battery drain. So put your device down for a few minutes and then check the battery change. If there isn't a big change while in standby, you're probably okay and your battery life will return to normal when your usage returns to normal.
2. Restart Your iOS 7 Device
Sometimes your iOS 7 battery issues is due to a rogue process or something else doing what it shouldn't be doing, in this case, a restart can easily fix that, so try to restart your iPhone to fix it.
3. Quit Power Hungry Apps Running on Your iOS 7 Device
Some apps especially drains battery life such as the Airdrop which is the new feature of iOS 7 allowing iPhone and Macs talk to each other directly on Wi-Fi. It drains battery by searching for nearby iPhone users. Double-click the Home Button to activate the multitasking car view and quit, hold your finger down on power-hungry apps, and then fling them off the screen to close them.
4. Restore Your Device as New
Many iOS 7 battery life problems with iOS 7 device occurs when they are restored from backup and not set up as new devices. In this case, the battery drain can be fixed with a clean install.
Restore your Device by going to Settings -> General -> Reset -> Erase All Content And Settings and set it up as a new iPhone. But before you erase all the contents and settings, please take a backup of your device.
5. Turn off What You're not Using
Anything running on your iPhone, iPod touch, or iPad can use up the battery life. A good way to have a longer battery life is to turn off the things you are not using although it means that you will miss some new features.
Turn off the Wi-Fi work

iPhone's Wi-Fi chip will automatically search for available network any time any here which is a main cause for the battery drain. To disable this feature, launch the Settings app, tap on Wi-Fi, and tap on the On/Off toggle for Ask to Join Networks to disable it. You can also turn it on whenever you want.

Turn off Background app and content refresh

Apple added smarter multitasking to iOS 7 that lets apps fetch content over the network in the background. Although it is a new feature in iOS 7, but downloading things really waste power especially when you don't explicitly need to. Go to Settings, General, Background App Refresh, here shows you everything you can turn off.

Turn off Notification Center widgets and Push Notifications

Apple added a lot of new features to the Notification Center. But stocks particularly weather in Notification Center drain battery life. If you receive a lot of push notifications, your battery can take a hit. So go to Settings > Notification Center > scrolling down to the Include section to see the list of apps and tap on any of them to turn notifications off.

Turn off Location Service

Go to Settings, Privacy, Location Services, and turn off any app and system service you really don't need tracking or using your location.
These are tips for you to fix battery life problem in iOS 7. Hope they will get your problem solved perfectly.
P.S.: Lost Data from iOS 7device and try to get them back? iOS 7 Data Recovery is already here to recover Contacts, Call History, SMS, etc. from iOS 7device.