Forgot password to unlock iTunes backup? iTunes asking for password you never set? This could happen to anyone of us. Read the following content which offers 2 easy ways for you to unlock iTunes backup.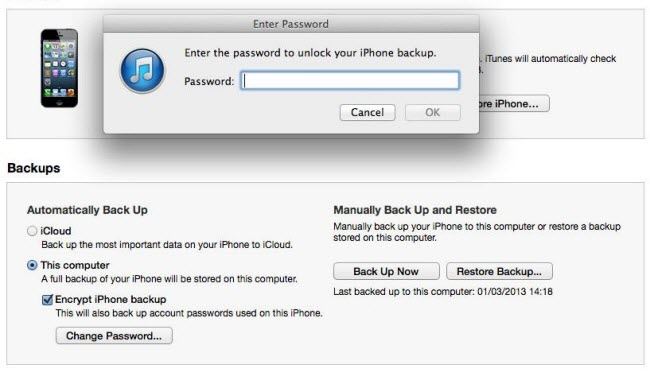 Free Download
Why You Need to Encrypt iTunes Backups
To prevent unauthorized persons from accessing your important information stored on computer when iTunes makes a backup for your iDevices, you'd better set a password to encrypt the backup files.
In the iTunes Summary screen, select "Encrypt iPhone backup" and follow the instructions to enter a password.
For more info, you can go to Apple's official website about iTunes backups.
What Cautions You Should Note after Encrypting iTunes Backups
There are some important cautions you should pay attention to:
1. Write down the password on a paper after you set for iTunes backup file and keep it in a safe place to avoid forgetting it.
2. If you forget the password, you can continue to back up and use your device, but you will not be able to restore the encrypted backup to any device and your data will be unrecoverable until you unlock iTunes backup file password.
How to Unlock iTunes Backup Password if You Forgot it
If you forgot iTunes backup password or someone has changed it without your notice, you can try 2 ways to unlock iTunes backup: try other passwords, and use the iTunes backup password unlock tool iPhone Backup Unlocker. They are specified into 2 parts as follow shows.
Part 1. Try Other Passwords
When you forgot your iTunes backup password, take a breath and enter the following passwords to see whether they work or not. If this isn't workable, go to part 2.
The password can be:
Computer password
iTunes account password
password set on your iPhone/iPad/iPod
Apple ID password
Your own device name
1234
0000
Part 2. Use iPhone Backup Unlocker
iPhone Backup Unlocker is the best iTunes backup password unlock software to help unlock iTunes back files and enable access to password encrypted backup. Moreover, it also allow you to remove password from encrypted iPhone backup file, which iTunes can't do. It fully supports red iPhone 7/7Plus/SE/6S/6/5/4S/4/3GS, iPad 4/3/mini/2, iPod touch 5/4, etc. and it is compatible with all iTunes versions, including iTunes 11.
1. Run iPhone Backup Unlocker on your computer. The program will detect and find directory of iTunes backup files automatically. Select your backup file from its destination folder and click "Add".
2. There are 3 types of attack and you need to select one of them according to your need.

3. Click "Start" button to start cracking the iTunes password to unlock backup file.
With so many passwords to remember in our daily life, you are highly advised to write down the passwords on a paper and save it. If, unfortunately, you did not do any precaution and forgot iTunes password, get iPhone Backup Unloker to help unlock iTunes backup password and access the backup files.