Fast Recover iPhone Backup Password without Efforts

2012-09-29 02:23:36 / Posted by Shawn Hamilton to iPhone Backup Password
Follow @ShawnHamilton
iPhone has become the "in" gadget for digital product geeks since it was firstly launched in January 2007. iPhone renders its users security backup capability features to create a backup file that can be used to restore their iPhones in the event something will go horribly wrong, such as an accidental deletion of photos, contacts, messages, and etc.
Moreover, due to security issues, Apple also provides the backup feature with a password protection option. But this has also become some sort of a peeve to some users when they inadvertently forget their passwords and are unable to access their backup files anymore. Therefore, learning how to recover iPhone backup password is essential to get the full range of services that's available for your versatile doohickey.
Apple's protection scheme and gain access to your old data is to use special software to recover iPhone backup password. The recommended tool is iPhone Backup Password Recovery. It is specially tailored for Windows users to legally unlock iPhone backup that is password-protected when you unfortunately forgot your password. It supports all versions of iPhone released to date: iPhone 5, iPhone 4S, iPhone 4, iPhone 3G, iPhone 3GS, and etc.
The following you can find step-by-step instructions of how to use iPhone Backup Unlocker to recover lost iPhone backup password.
1

Step 1: Import Encrypted File

Download iPhone Backup Password Recovery, install and launch it. With a fancy interface, you will ensure the first step is to import the encrypted file stored on your computer. Usually, this file is stored by default in the bellowing folder according to the computer's operating system, and you will be navigated to the foler containing this file by clicking "Open".
# Windows XP: \Documents and Settings\(username)\Application Data\Apple Computer\MobileSync\Backup\
# Windows Vista and Windows 7: \Users\(username)\AppData\Roaming\Apple Computer\MobileSync\Backup\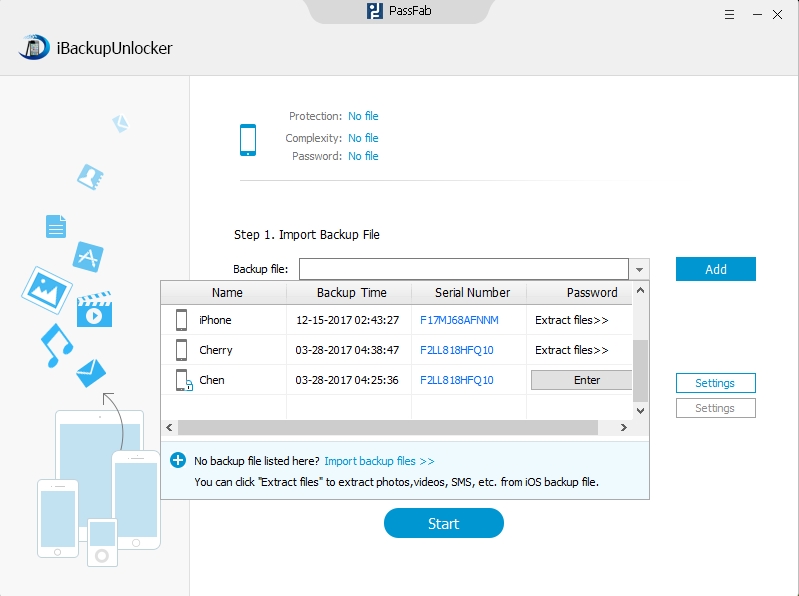 2

Step 2: Select the Attack Type and Deploy Settings

Then select the most appropriate attacking type from three types this program provides: Brute-force Attack, Brute-force with Mask Attack, and Dictionary Attack. The fist one tries all possible character combination randomly. It will take relatively long time to attack the password; the second one shortens attacking time by providing any clue about the password you can remember compared with the first one; the third one tries all the words in an exhaustive list called a dictionary.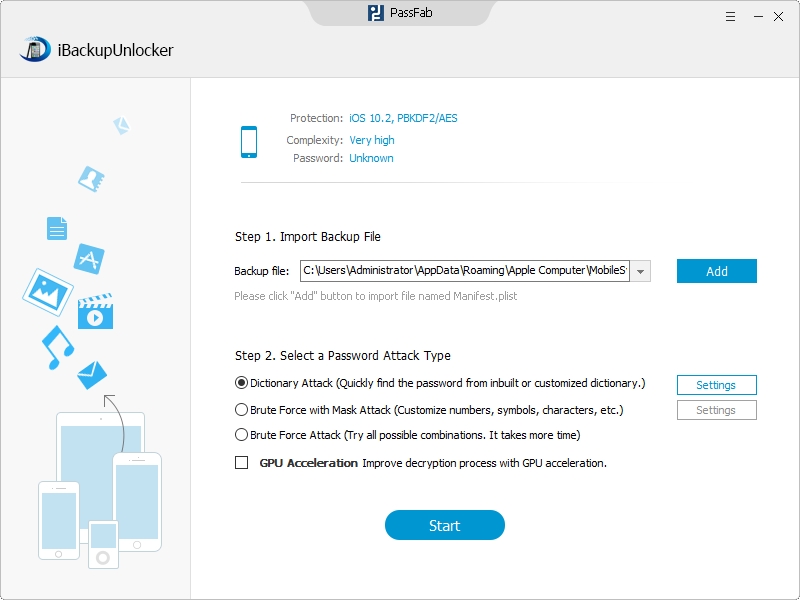 If you select Brute-force Attack, you need do nothing for settings.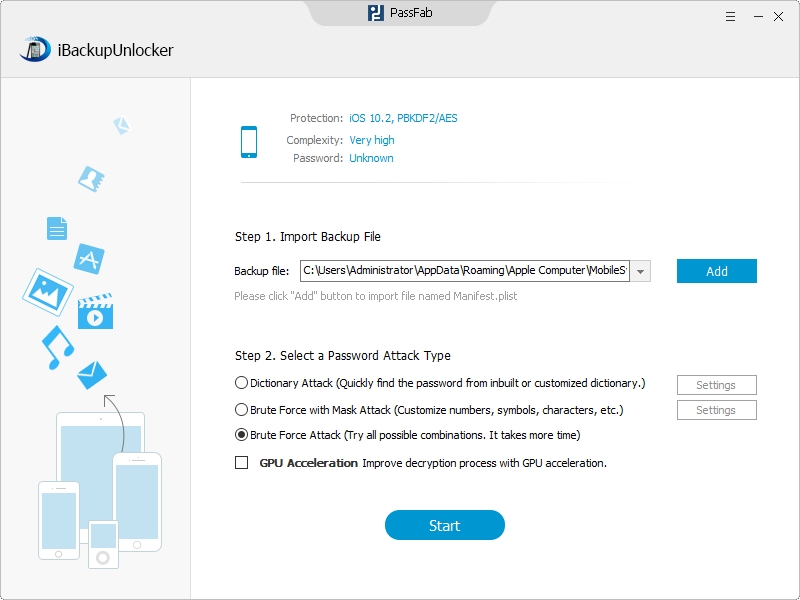 For selecting Brute-force with Mask, click "Settings" to deploy the settings such as password length, character set and affix set according to the clues about the password you can remember.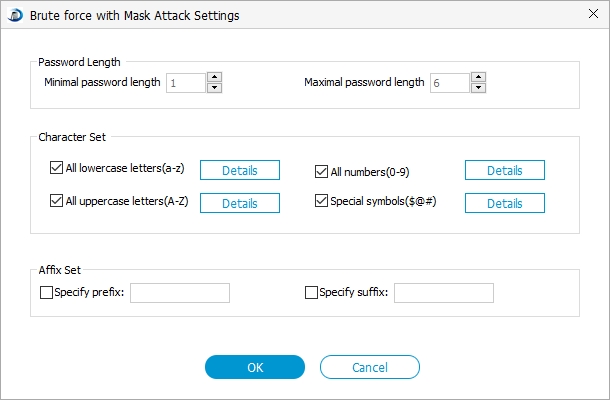 Or you have a dictionary at hand, and you can try "Dictionary Attack". Click "Settings", and here you are optional to choose import the default dictionary, or your own one if you have.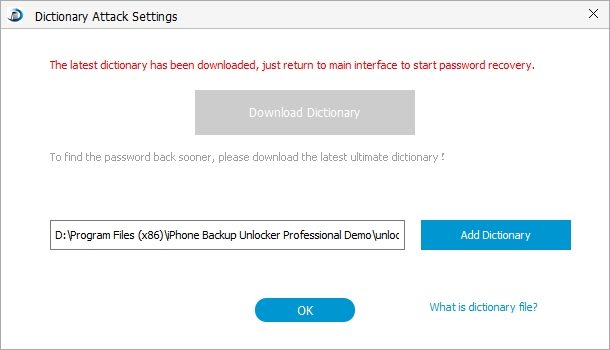 3

Step 3: Start Recover Forgotten iPhone Backup Password

Click "Start" to start unlock the password. The time varies depending on the attacking type you select in the previous step. During the process, you can stop the process and save this project for later usage: importing the previous attacking results to resume recovery without re-attacking.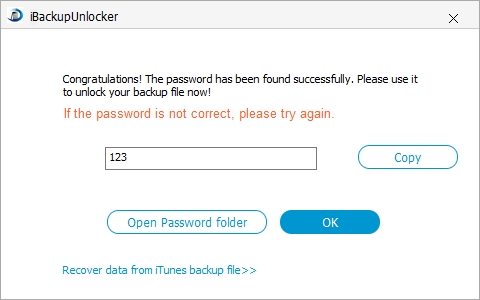 Download iPhone Backup Unlocker to Recover iTunes Backup Password:
comments powered by