How to Repair Windows System with Windows Boot Genius
Windows Boot
Software (Windows Boot Genius) is the 30-in-1 Windows repair software. It holds several Windows repair tools that can simply fix all Windows boot problems. Such as blue screen of death, black screen of death, freezing loading bar, random system corruption, etc. Moreover, it can recover data, Windows password and Microsoft product key. You can also use it to clone, backup or restore Windows, hard disk and partitions. Resize, format, create or delete partitions is also available with this powerful Windows boot repair software. The following tutorial shows you how to use Windows Boot Genius step by step.
Contents
Part 1: Create a Boot Disk
Step 1. Download Windows Boot Genius and install it on any available computer.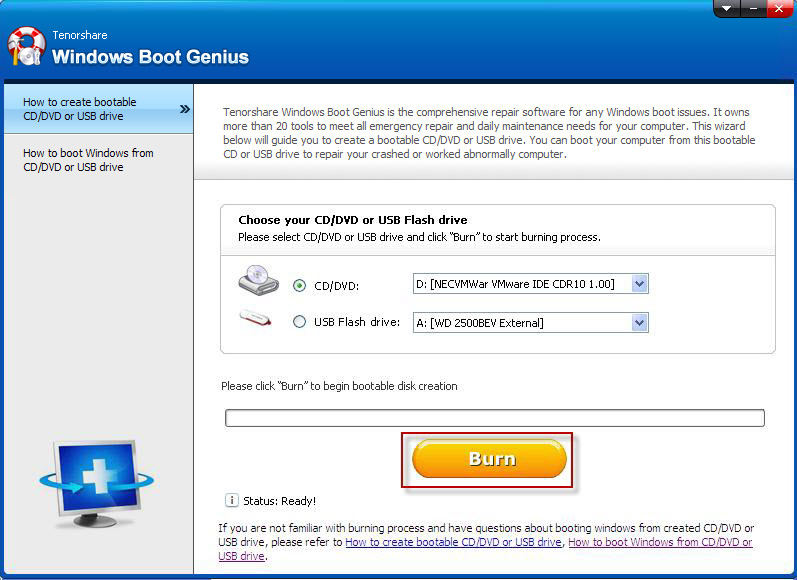 Step 2. Insert one blank CD/DVD or USB drive to computer. Launch Windows Boot Genius. In the main interface, select CD/DVD or USB Flash drive, and then click "Burn" to begin boot disk creation.
Part 2: Windows Boot Issue Repair
Boot up computer from newly created boot disk. To learn how to boot up computer from CD/DVD or USB Drive, you can refer to
Windows Rescue
You will see the interface of Windows Boot Genius displayed like a wizard here. In the left window, there are two parts: Solution Center and Function Center. In Solution Center, It states phenomena of your computer boot issues and corresponding solutions one by one. In Function Center, you will see all Windows boot repair tools. There are 7 Windows rescue tools. Boot File Recovery, Boot Sector Recovery, MBR Recovery, Registry Editor, Registry Recovery, Windows Backup and Windows Restore.
Before doing system repair, you are highly recommended backup your operating system. This step is significantly important for if you are failed to repair Windows, you can still get your operating system to the original state with the function of Windows Restore. Here you will know how to backup Windows system.
1

Backup Windows Operating System
Step 1. Choose "Windows Rescue" mode and select "Windows Backup", then click "Windows Backup" button.

Step 2. In the pop up window, you can backup system, DPT, MBR and Registry. Choose any of them to continue (Here we take System Backup for example). You are friendly suggested to backup all of them for safety consideration.
Here you will know how to repair blue/black screen or corrupted computers step by step.
2

Computer Crashed before Loading Bar

If your computer got crashed with black/blue screen of death before arriving at the loading bar, and you encounter error messages like:
Hard disk boot failure
Invalid partition table
Operating system not found
Error loading operating system
Missing operating system
Black screen with no information
NTLDR is missing of corrupted
Ntoshml.exe is missing
Ntdetect.com is missing
BOOTMGR is missing
NTFS.SYS is missing
Hal.dll is missing
…
Please select "Crash before loading bar" and follow the solutions instruction to repair your operating system step by step.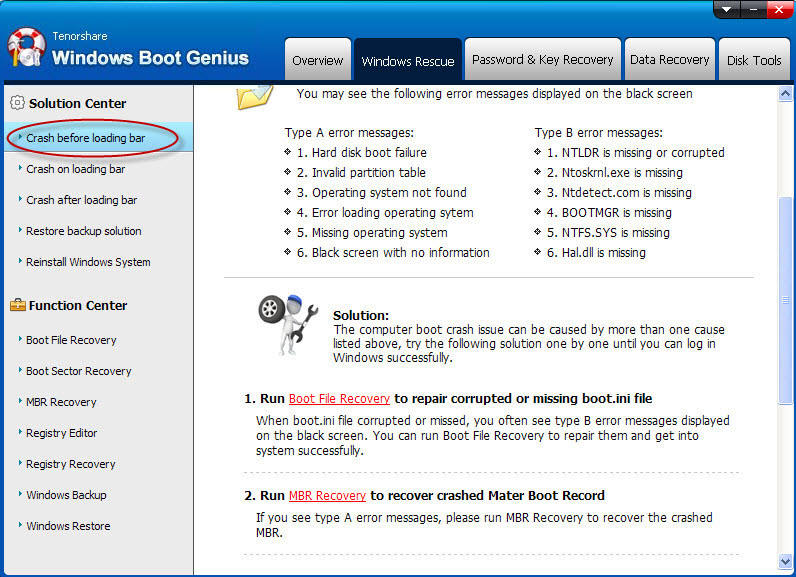 3

Computer Crashed on Loading Bar

You can access to the Windows loading bar, but never be able to log in Windows. That's because the operating system has confliction with other hard drives or programs or registry got some error. In this case, you can go to "Crash on loading bar" center to fix your problems.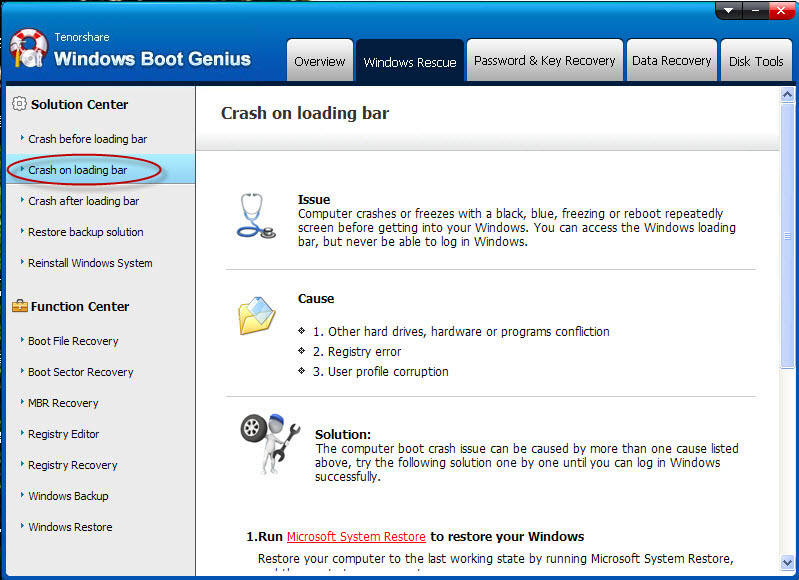 4

Computer Crashed after Loading Bar

You can get access to the operating system, but it flashes black/blue screen then restart. And it keeps crash randomly. That is caused by the bad computer memory, corrupted software or malware, etc. You can go to "Crashed after loading bar" center to repair the crashed computer.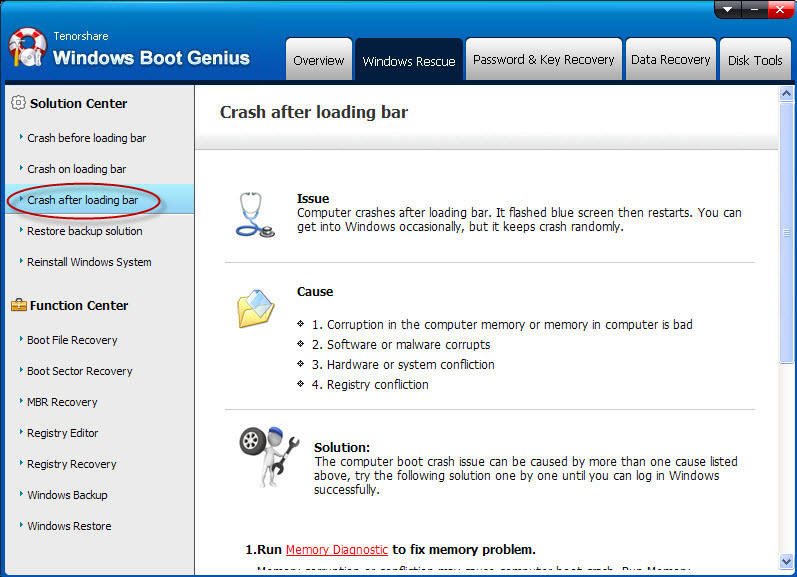 Part 3: Password & Key Recovery
If you are locked out of Windows without password, or after reinstalling operating system, but forget the Microsoft product keys, you can go to "Password & Key Recovery" mode to get them back.
Contents
1

Windows Password Reset
Step 2. In the pop up Windows Password Reset window, select one operating system and click "Next" to continue.
2

Product Key Recovery
Step 2. In the pop up Product Key Recovery window, select Windows Installation, and you will see all Microsoft product listed there with product name, license key and product ID.
Part 4: Data Recovery
Computer got corrupted completely, and there is no hope to get it to normal. Don't worry! At least, you can get all your precious data back with Data Recovery mode.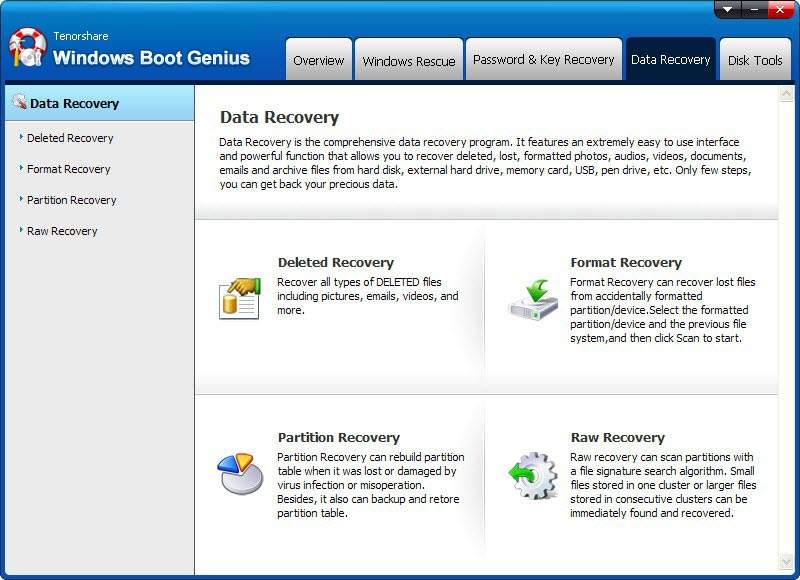 Part 5: Disk Tools
In this mode, you can clone the content of the whole disk or partitions and restore them in case of data loss. It also allows you to manage partitions.
Contents
1

Clone Entire Disk or Clone One Partition (Take Clone One Partition for instance)

Note : The capacity of the target disk should be larger than the previous one.
2

Backup Disk or Partition (Take Backup Disk for example)
3

Restore Disk and Partition (Take Restore Disk for example)
4

Partition Manager
Step 1. Choose Partition Manager and click "Partition Manager" button.
Step 2. In the Partition Manager window, you can create, format, delete or resize partitions. Here we take Create new partition for instance. Click "Create" button.

Step 3. In the pop up window, select the partition type, size and drive letter for the new partition. Then click "Yes".

Step 4. Click "Apply" to confirm the operation.
Note : There are 4 primary partitions at most on a hard disk. You should check if there are 4 primary partitions. If there are already 4 primary partitions, you can't create one more partition. You can delete one of the primary partitions and create an extended partition, and then you can create more than one logical partition in the extended partition.
Our 100% Satisfaction Guarantee
If you have any questions about this program, please contact us, We provide lifelong technical support and upgrade service.