How to Use iPhone Care Pro
iPhone Care Pro is a comprehensive system tool for iOS users to fix all kinds of issues for red iPhone 7/iPhone SE/iPhone 6s/iPhone 6 Plus/iPhone 6/5s/5c/5/4s, iPad Air/mini 2/4/ and iPod touch 5/4. It can powerfully help you clean up junk files and speed up devices, manage files (Contacts, Photos, Apps, etc.), backup and restore iOS devices, repair iOS when performing abnormally, and more.
Here is the tutorial about how to use iPhone Care Pro step by step. Before you start, you need to download iPhone Care Pro first and install it on your PC.
Note: iPhone Care Pro offers 6 features to meet your different needs. To change between different utilities of iPhone Care Pro, you can click on the "Back home" button to get back to the main menu and select other functions. Or you can directly choose from the menu bar.

Free Trial iPhone Care Pro:
Part 4. Remove Ads on iPhone, iPad and iPod Touch Apps
The Ads Remove feature will block or remove in-app ads (banners and popups) on iPhone, iPad and iPod touch, thus you can get rid of annoying ads (floating ads, pop-ups ads, flash ads, full Screen Ads, blinking banner ads and other advertising types; Google AdSense, iAds, Admob and other advertising networks) and enjoy a totally ad-free environment in apps.
Step 1: Connect Your Device and Start to Scan
Connect your device to the computer via a USB cable. Launch the program, click on "Ads Remove". The program will detect your device automatically and display your device information on the interface. Click "Ads Remove" on the main interface and the program will scan your apps for ads.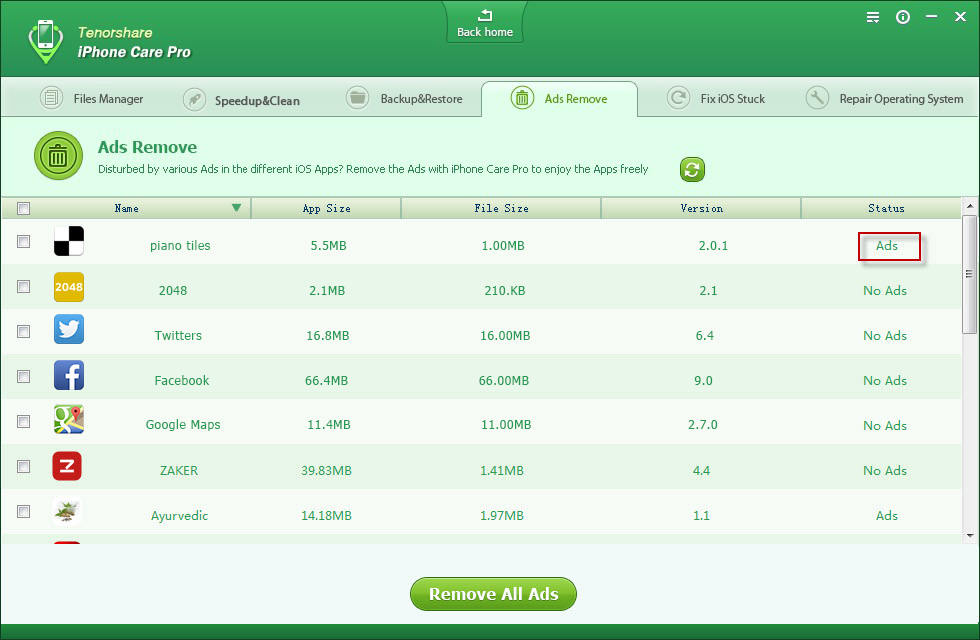 Step 2: Select the App(s) to Remove Ads for
After scanning, all your apps and app information including: Name, App Size, File Size, Version, Status (having in-app ads or not) will be automatically displayed. Select the app(s) you want to remove ads or simply select all.
Step 3: Start to Remove Ads from iOS Apps
After that, click "Remove All Ads" and then click "Yes" on the pop-up window to confirm to start to block in-app ads (banners and popups) on your device. Once the removing finished, you can check "Refresh" (

) to confirm all the changes. From the following picture, You should see that the ads from the App Ayurvedic are removed successfully.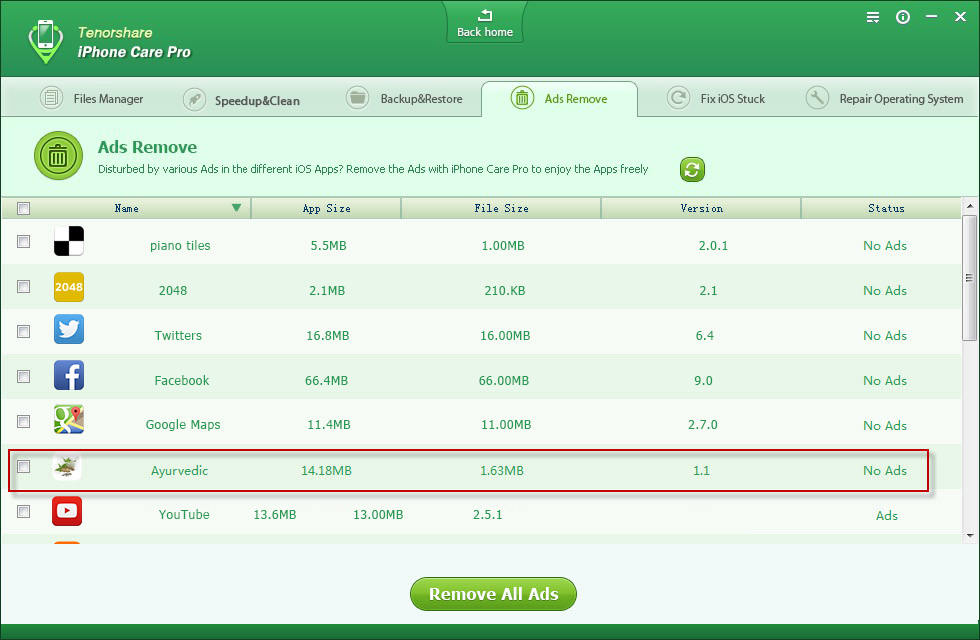 If you have any questions about this program, please contact us, We provide lifelong technical support and upgrade service.