How to Use Tenorshare iPhone Backup Unlocker
iTunes keeps asking for a password protecting iPhone backup, that means you cannot restore your iPhone backup if you don't have that password,
Tenorshare iPhone Backup Unlocker
is designed for disabling iPhone backup password. Follow the steps below to learn how to recover iPhone backup password.
Contents
1

Step1. Import iPhone backup file.

The program will detect and find directory of the backup file automatically. Select your backup file from its destination folder, and click "Open" to finish file importing.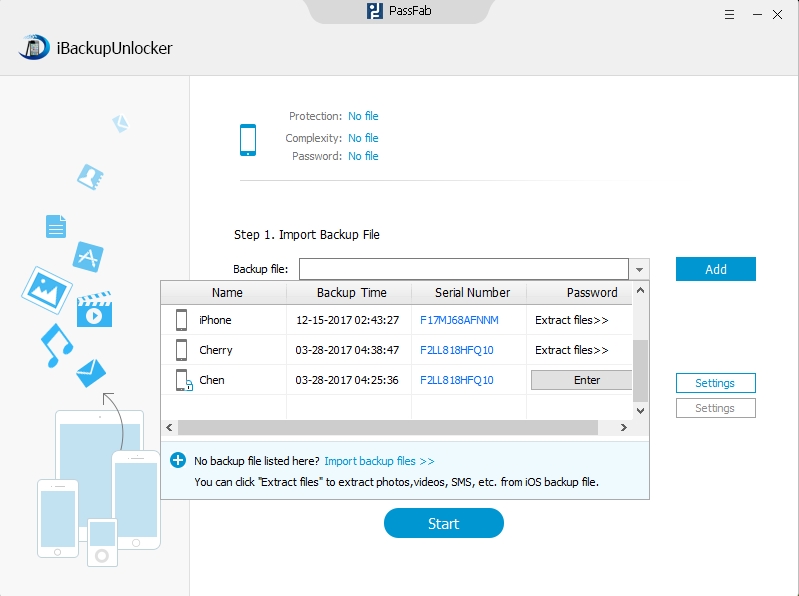 2

Step2. Select an attack type and define the settings.

Note: this iPhone Backup Password Recovery provides three types of attack: Brute-force Attack, Brute-force with Mask Attack, Dictionary Attack. If you can still remember something about the forgotten iPhone backup password, please choose a suitable attack type to minimize the search time and enhance password recovery speed.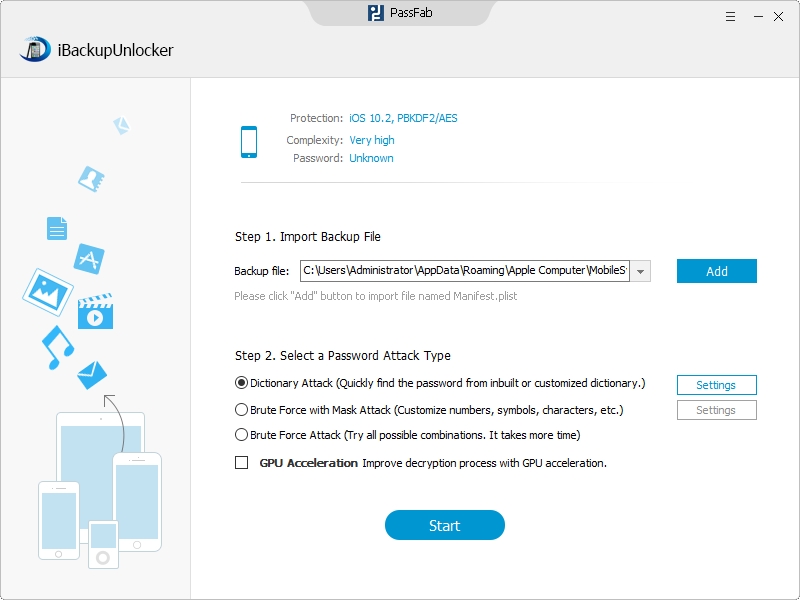 After attack type selected, you then need to set up attack settings accordingly. For each attack, the settings or sets are different, seen as below:
Option 1: If you choose "Brute-force Attack", the program will try all possible combinations by default, no need to define any setting. But this attack will take longer time.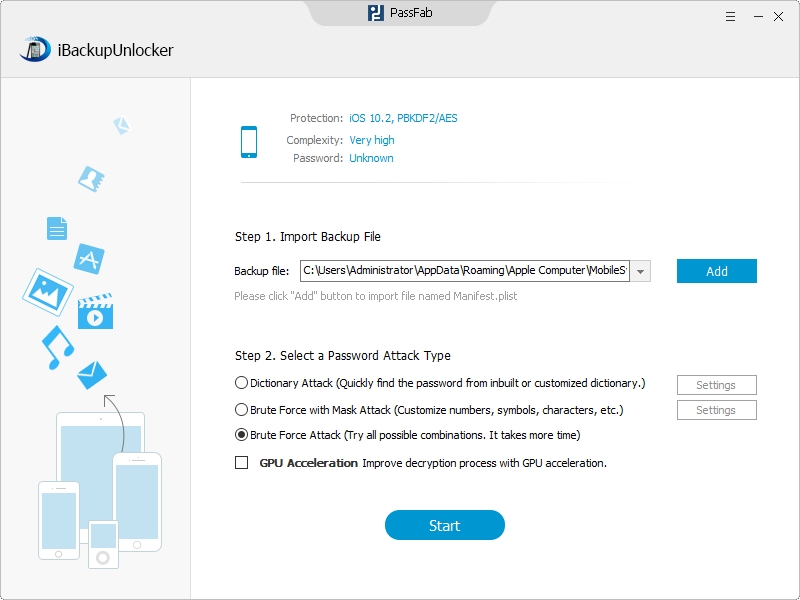 Option 2: If you select "Brute-force with Mask Attack", you need to click "Settings" to define the settings such as password length, character set and affix set according to the clues about the password.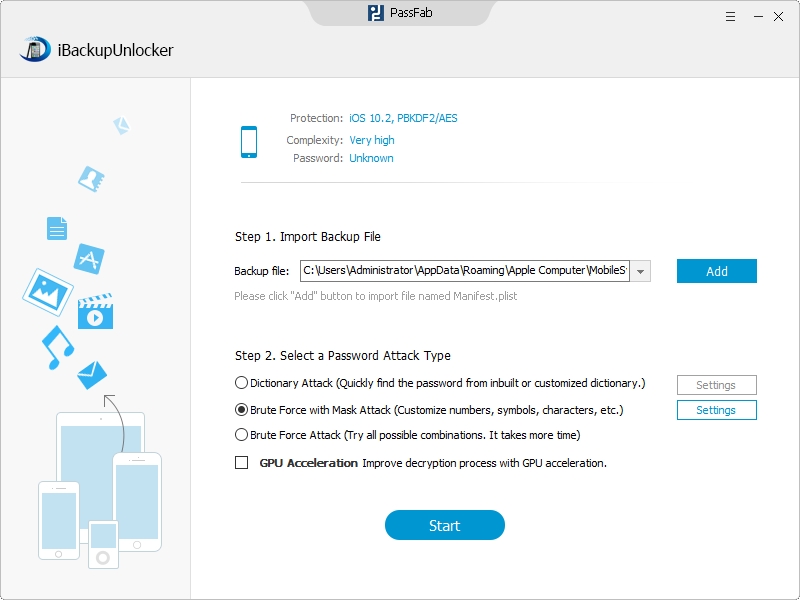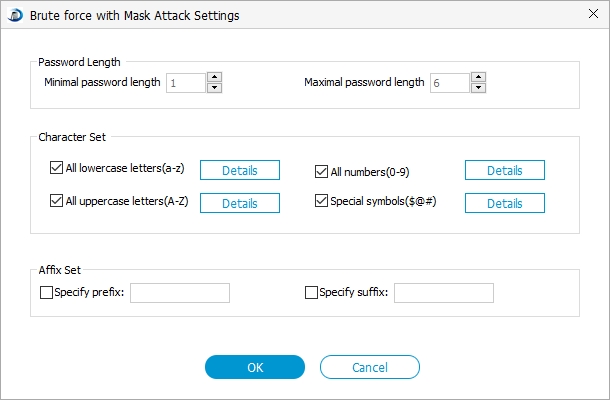 Option 3: If you select Dictionary Attack, you also need to click "Settings" to move forward.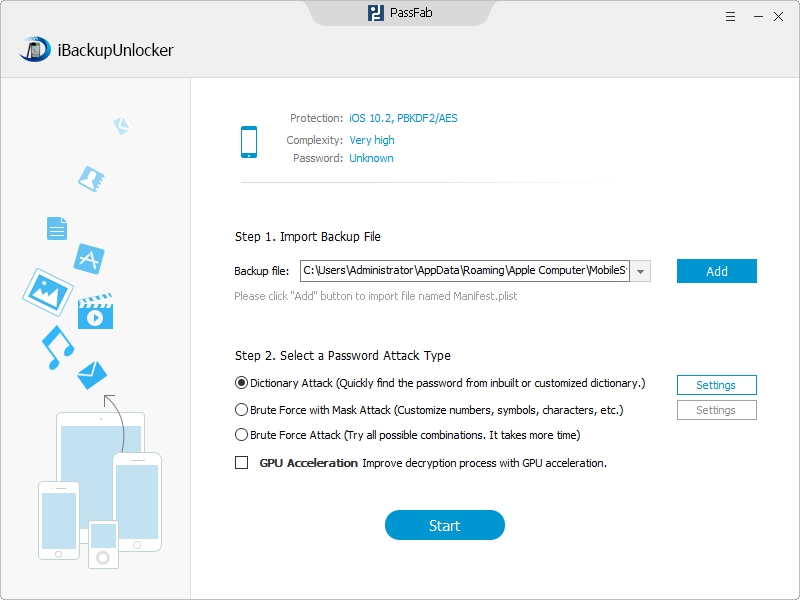 Here you can choose "Use Default Dictionary", or "Browse Dictionary Files" if you have a password record list file.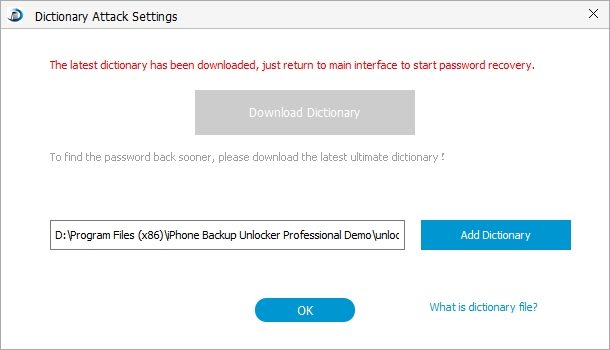 3

Step3. Start recovering iPhone backup password.

Click "Start" to start cracking the password, during the process you are allowed to click "Stop" button to stop the process and then save the project to continue next time or to end the project.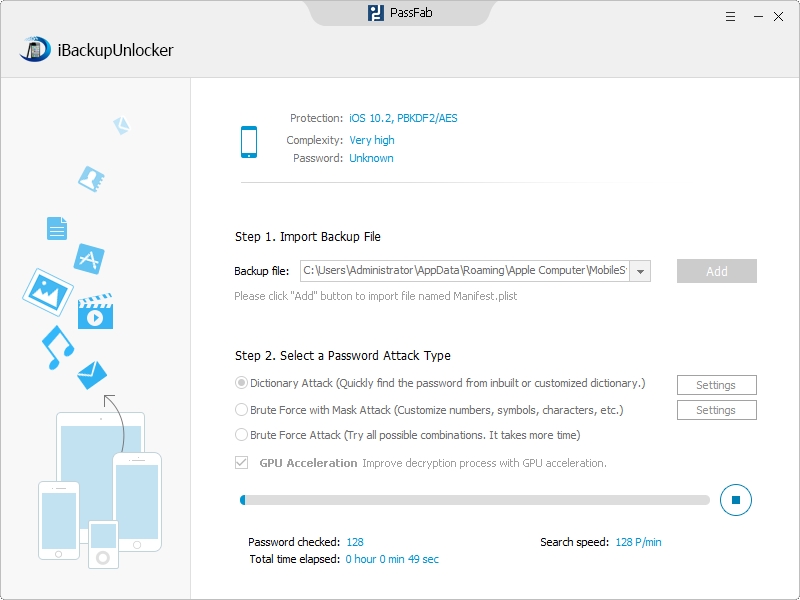 Within minutes (Seen as below), your desired iPhone backup password will be recovered successfully with display in the File Opening Password Box.