Passwords are a pain to remember. Though the fact it is, we still need to change our passwords periodically to keep them from "propagating" and being used by others on purpose or not. Likewise, Windows administrator password is also suggested to be changed regularly for the sake of security. When speaking of changing password, the discussion on how to reset administrator password or some other login passwords if we forgot them, would be very intense. In this article, I would focus on how to override Administrator password.
How many times have you experienced forgetting your Windows administrator? Are you looking for a way to reset Windows administrator password on your computer? Have you found one? Write down your problem and search for it in Google, you may find there are many solutions to your forgotten administrator password reset. And that means in different cases, you can use different methods to recover the lost passwords.
Method 1. How to reset admin password if your Windows hasn't been locked yet
Method 2. How to reset admin password if your Windows has been locked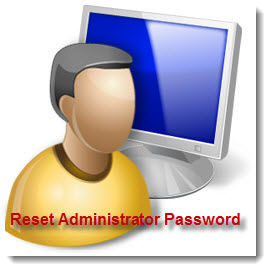 How to reset admin password if your Windows hasn't been locked yet
This means you have more than 1 login password on your computer, so at this time you can still login to your PC with the user account, say a standard user.
Method 1: Execute the following operations: right click "My Computer" ->then double click "Manage ->Local Users and Groups ->Users". Then all your computer login users including the built-in super administrator account, administrator account and standard account will be displayed. So you can just choose your administrator account, and set a new password for it without typing a new password.
Method 2: Make a Windows password reset disk to realize administrator password reset.
A. Start -> Control Panel -> User Accounts -> Select the user that needed to set a disk.
B. Choose "Prevent a forgotten password" on the left of Related Tasks.
C. Prepare a blank floppy disk and then do the following operation as the Forgotten Password Wizard.
D. When the progress indicator displays 100% complete, click "Next" and then Finish.
E. Remove the floppy disk from PC and keep it.
F. Insert the disk to your computer. When the window jumps to a login screen, then quickly reset password to a new one.
Note: Since you make such a reset disk, if you forget your administrator password in the future or you change it again, this disk can still help you reset the password.
How to reset admin password if Windows has been locked
At this moment it means you cannot login to your PC, it is locked! To take use of a third party application is the only available way. Otherwise you have to reinstall your Windows system. Usually system reinstallation for bypassing Windows password is not a wise way. For doing that you would be most probably lose all your important data. That is not worthwhile.
In the course of finding a good, clean and effective administrator password reset application, I found Windows Password Recovery Tool is the best choice. It does not only support all versions of Windows operating systems but also can reset admin password in a very short time. What's more, no matter you are a computer beginner or professional, you can follow its simple step-by-step guides with images or tutorial video to accomplish what you want. Below are the guides, you can take them as a reference.
Step1: Download Windows Password Recovery Tool and install it to another computer properly.
Step2: Prepare for a blank CD/DVD or USB flash drive.
Step3: Insert the CD/DVD/USB flash drive to computer, and then click "Burn" button to start burning an ISO image file to the CD/DVD or USB flash drive.
Step4: After finishing the burning, remove the CD/DVD or USB flash drive from the computer and then insert this CD/DVD or USB flash drive to the locked computer.
Step5: Set the locked computer to boot from CD/DVD or USB flash drive in BIOS.
Step6: Enter Windows Password Recovery Console, then reset the forgotten Windows password with burned CD/DVD/USB flash drive.
Free Try Windows Password Recovery Tool
World's 1st Windows Password Recovery Software to Reset Windows Administrator & User Password.
Free Download
Free Download