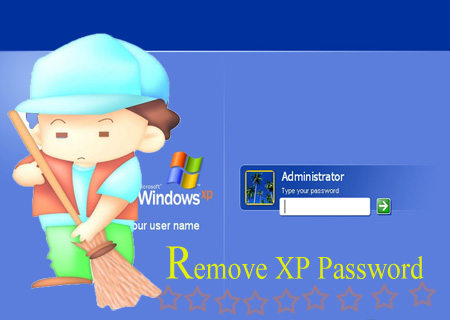 Whenever we find it's no need to log in our Windows XP computer with entering a password again and again, we can easily remove Windows XP password to let the computer boot automatically. Someone may not know how to remove Windows XP password, now let's follow the below easy steps on Windows XP password removing.
You first just go to "Start-> Control Panel-> User Accounts". Then under "pick an account to change", select the account whose password you want to remove from. Next just press "Remove my password". You now enter the password to the account. Finally, press "OK" to finish Windows XP password removing.
(P.S. Note: Make sure you are logged in from your admin account on the PC before removing Windows XP password.)
Of course, soon you will find the above steps to remove Windows XP password only works on the basis that you haven't forgotten or lost the Windows XP password and your computer is still logged in.
What if you have forgotten or lost password on Windows XP on your PC and you have been totally locked out from it, then how to remove the password? Well, at this time, you might have to resort to Windows Password Recovery software such as Windows Password Recovery Tool, which is a professional program for password reset in any Windows-based computer. It is very easy to use this program to reset or remove the forgotten Windows XP password for you with burning a password reset disk on a CD/DVD or USB flash drives. Below are the step-by-step tutorials:
Get Windows Password Recovery Software here.
Step1: Install and run this program on any accessible Windows-based computer. (not the locked one).
Step2: Insert a blank and writable CD/DVD Standard to it to make a bootable Windows XP password reset disk free. Once the burning finishes, take out the disk.
Step3: Insert the created password reset disk to the target computer and set this PC boot from CD/DVD/USB.
Step4: Start Windows XP password recoverywith the password reset disc by following the wizard on the below interface: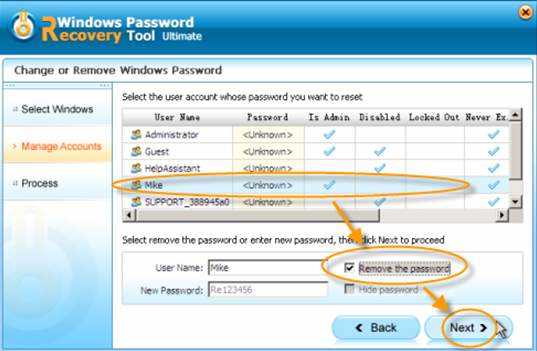 In this way, you can remove forgotten Windows XP password in a few seconds and all the data or files stored on your computer will be completely safe and no any other changes will be caused to your computer as well.
Free Try Windows Password Recovery Tool
World's 1st Windows Password Recovery Software to Reset Windows Administrator & User Password.
Free Download
Free Download