How to Remove Windows 7 Password

2014-09-18 10:08:19 / Posted by Ruby Johnson to Windows 7
Follow @Ruby Johnson
"I have Toshiba Netbook with Windows 7 Starter as OS. I forget the password for my administrator account and I want to remove it since I did not remember the answer of the hint (security question), so what should I do?"
- Asked by akintayo from Yahoo Answer
For safety consideration, Most of us get used to setting passwords for their personal computers.
This can significantly protect your privacy and reduce security risks. However, due to bad memory or other accidents like virus attack, the computer will get out of your control and lock you out without right password to enter. If that happened, how can you remove Windows 7 password? How to turn off password on Windows 7?
Windows 7 has bit32 and bit64 which makes password remove process more complicated. The good news is no matter how complicated or length of the password, Windows Password Recovery Tool can remove a Windows 7 startup password easily.
Free Trial Windows Password Recovery Tool:
Buy Now Windows Password Recovery Tool:
How to Remove Password from Windows 7?
Step 1. Create an Image CD/DVD or USB Drive
The first thing you need to do is download Windows 7 Password Recovery Software image file. Once the .ios file is downloaded, burn it to a CD or USB drive. If you are going to crack password on some devices that doesn't have a CD drive, such as a netbook. A USB drive is highly recommended.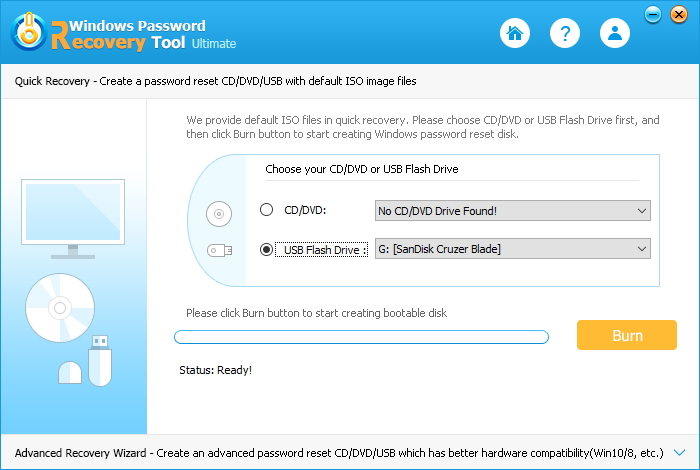 Step 2. Boot from CD/DVD or USB Drive
Boot the computer from the CD/DVD or USB drive that you have created. In many cases, you may have to go into the BIOS setting to change the boot order or push a key to show the boot menu.

Step 3. Delete Windows 7 Administrator Password
Once the disk is done booting,Windows Password Recovery Tool should start automatically and will begin to delete a password procted account in windows 7.
Free Trial Windows Password Recovery Tool:
Buy Now Windows Password Recovery Tool:
comments powered by