Lost Gateway Laptop password? Do not have to fear. You can follow these four Workable ways below to recover Gateway PC password on your own. Exactly, these 4 Gateway password recovery methods can work in all versions of Windows 7/Vista/ XP and Server 2008/2003/2000.
Way 1: Recover Gateway Computer password with Windows Password Hint
While you are creating/changing Vista login password, you have an chance to set a password hint to prevent losting it. While typing a wrong password on Windows logon screen, the password hint will pop up to remind you what correct password is. This is the most common way to resert your forgotten Vista password for Gateway computer.
Way 2: Recover Gateway Laptop password with Windows Password Recovery Disk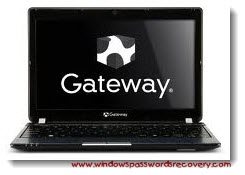 Recovering Gateway Laptop password is easy if you had created a password Recovery disk before you forgot password. The Gateway Vista password recovery disk will only work for this account.
To create a password recovery disk, you should login Gateway Desktop and enter User Accounts by clicking "Start" button -> "Control Panel" -> "User and Family Safety" -> "User Accounts". Then on the left pane, click "Create a password reset disk". A password reset disk wizard will come up, and then you can follow it to create a Vista password recovery disk for your Gateway Notebook.
Tips:
How to Create Windows Password Reset Disk.
When you lost Windows password for Gateway netbook, your need boot this computer and the reset password option will pop up when you use an wrong password on the Vista logon screen. Click on the option and the password reset wizard will be shown to guide you to recover Gateway password.
Tips:
Step by step guidance to Reset Vista Password with Password Reset Disk.
Way 3: Recover Gateway password with Windows System Recovery Options
In addition to creating a password reset disk, the System Recovery Options can also help you if you forgot Vista password. You can either use a installation CD or that recovery options provided by PC manufacturer to access the System Recovery Options. Certainly, you can also use a system repair disk alone. Just 2 steps!
1. Type "system repair disc" into the search box in the "Start" menu and press "Enter" (or click Start, All Programs, Maintenance, Create a Recovery Disc.). The dialog box opens where you select the right drive and click Create disc.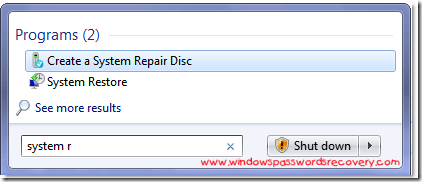 2. Insert a CD/DVD into the optical drive, a CD will be fine as it only takes up 142MB of space. Hit "Create disc".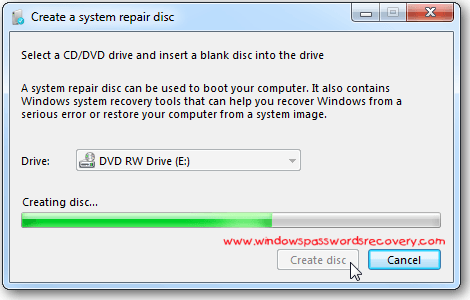 Using the Disc
1. If you are having problems with your machine just pop in the recovery disc and boot from it and enter into Windows Setup [EMS Enabled].
2. After it boots up you can access recovery tools or restore the computer back to a system image
3. Now you can choose from different recovery options to help you get your machine back up and running. These are the recovery tools available:
1. Startup Repair
2. System Restore
3. System Image Recovery
4. Windows Memory Diagnostic
5. Command Prompt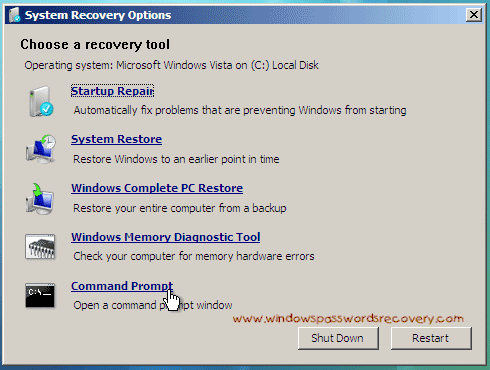 Tips: When Microsoft released Vista Service Pack 1 back in 2008, it included a recovery-disc builder very similar to the one bundled with Windows 7.
Way 4: Recover Vista password with Windows Password Recovery Tool Enterprise
If the 3 ways that we mentioned above can't help you out, here we list method 4 - Windows Password Recovery Tool. The big advantage of this option is that you can reset Vista password easily in 5 minutes without doing anything. There is plenty of such tools on the Internet. Here we suggest Windows Password Recovery Tool Ultimate which can reset any Windows password safely and instantly.
1. Download and Install Windows Password Recovery Tool Enterprise in any accessible computer.
2. Create a bootable CD/DVD or USB flash drive with the software.
3. Set CD-ROM or USB device as the first boot device in Gateway BIOS.
4. Boot your Gateway computer from the CD/DVD or USB flash drive and reset Vista password.
Finally
With these 4 techniques, you can easily recover gateway default administrator password and reset default gateway password for vista.
Free Try Windows Password Recovery Tool
World's 1st Windows Password Recovery Software to Reset Windows Administrator & User Password.
Free Download
Free Download