Having a Windows 7 laptop, but now the admin password is lost to you and the admin is the only admin on your laptop. You don't have any privilege to change or do anything with your laptop. What's worse, you have no disk for reinstalling or formatting operating system. If that happens to you, be relaxed, you can change Windows 7 password and enter your PC Again with Professional change user password program.
Windows Password Recovery Tool is the powerful Windows 7 password change utility designed to convert forgotten Win 7 password to other catchy one. No matter how long or complex of the password, you can overwrite the original one and set a new password for your PC. Besides Windows 7, you can also change Windows 8, XP, Vista, 2000, NT and Windows server 2012, 2011, 2008, etc. with this gigantic tool.
How to Change Windows 7 Password
Step 1. Create a Bootable CD/DVD or USB Drive
Download Windows Password Recovery Tool and install it on any available computer. Insert one blank CD/DVD or USB drive you have prepared ahead of time to the computer. Run the program, and choose one device to burn bootable .iso file to. Then click "Burn" to start to create the CD/DVD or USB Drive.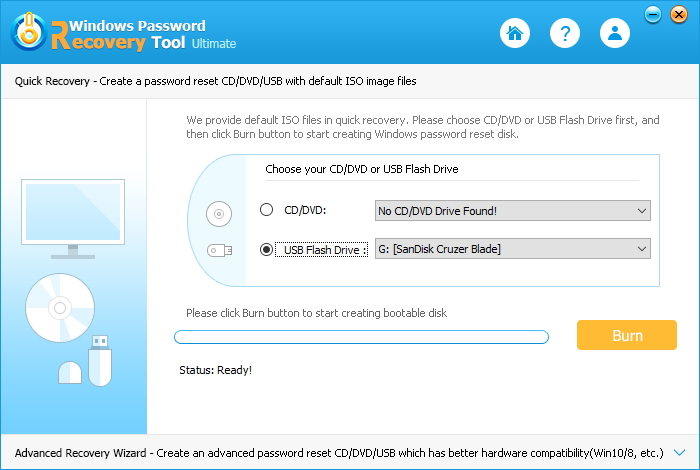 Step 2. Change BIOS Setting to Reboot Computer from CD/DVD or USB Drive
Insert the newly created CD/DVD or USB drive to the locked computer. To reboot it from CD/DVD or USB drive, you need to change the computer's setting and make it boot from them. To learn how to change the setting, you can refer to: Set BIOS from the CD/DVD-ROM or Set BIOS to boot from USB Flash Drive.


Step 3. Change Windows 7 Login Password
Here comes the interface of Windows 7 change password Tool. Highlight the operating system first, then select "Reset your password" and click "Next". In the next Window, choose one user account. You can see the username and new password will be automatically displayed. In general, the new password is reset to Re123456. But you can edit it by yourself.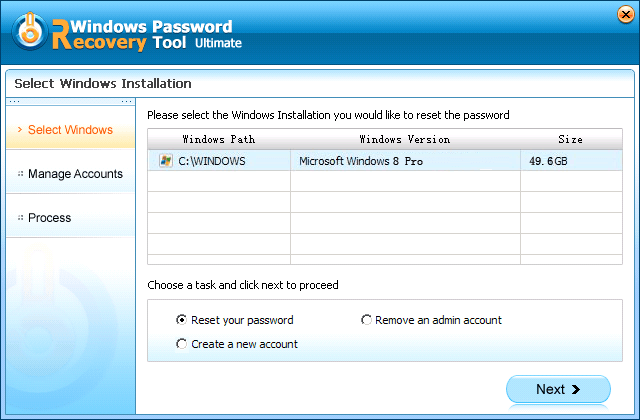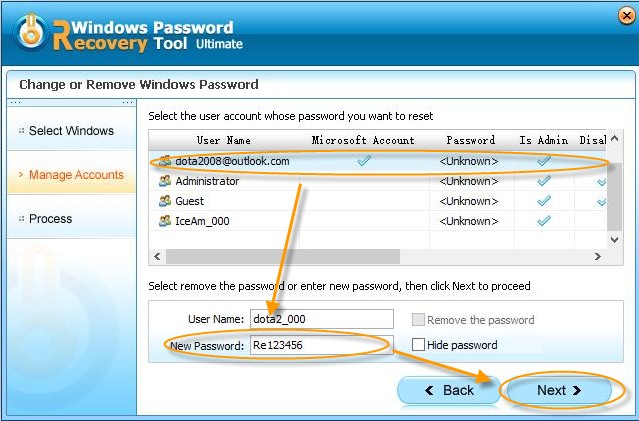 Step 4. Logon Windows 7 with the Newly Created Password
Unplug the CD/DVD and USB drive and click "Reboot" button to restart the computer. Now you can log in Windows 7 with the new password.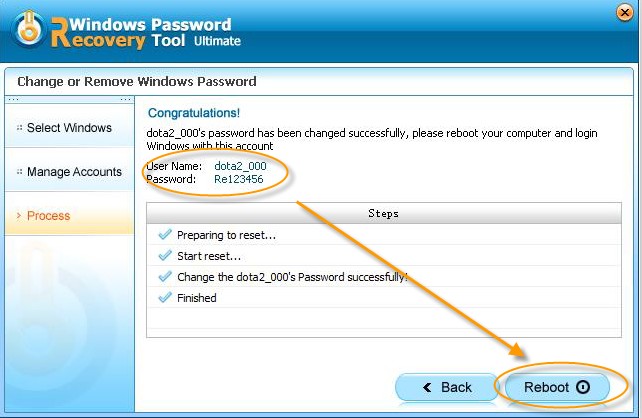 If you have other admin available and would like to change logon password, things will be easier. Follow the tutorial below to learn how to change Win 7 login password.
1. Click "Start" button and choose "Control Panel".
2. Start Windows 7 control panel, click "User Accounts and Family Safely".
3. In the User Accounts window, choose "Change your Windows password".
4. Here you will see the specific User Account window.

4.1. If you already have a password, Click "Change your password" to transfer it. Type your current password, new password and password hint, then click "Change password" button.
4.2. If you don't have a password, you will see "Create a password for your account". Enter your new password there and password hint. At last, click "Create password" button and then you will successfully perform Windows 7 change an account.

Free Try Windows Password Recovery Tool

World's 1st Windows Password Recovery Software to Reset Windows Administrator & User Password.

Free Download

Free Download