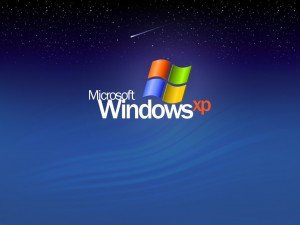 Starting your computer in Windows XP Safe Mode can help you diagnose and solve many serious problems, especially when starting normally is not possible. However many do not know how to bypass Windows XP in safe mode. In fact it is very easy, follow this article to learn how to bypass XP password in safe mode?
Before we talk about how to reset Windows XP password in safe mode, let's start from the definition and function of safe mode.
What is Windows Safe Mode
Safe mode is a troubleshooting option for Windows that starts your computer in a limited state. Only the basic files and drivers necessary to run Windows are started.
Safe mode helps you diagnose problems. If a symptom does not reappear when you start in safe mode, you can eliminate the default settings and minimum device drivers as possible causes. If a newly added device or a changed driver is causing problems, you can use safe mode to remove the device or reverse the change.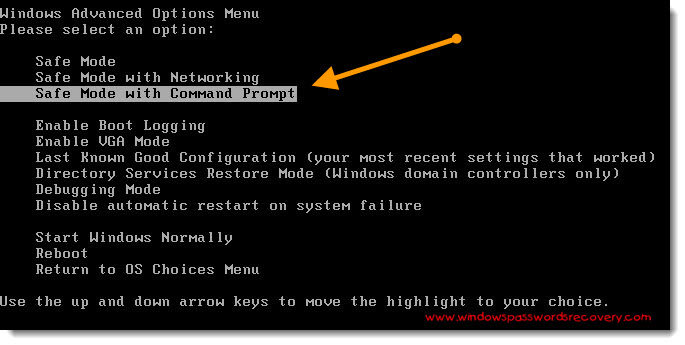 How to Bypass Windows XP Password in Safe Mode
Step 1: Before we bypass XP administrator password in safe mode, we need to hold "F8" Key which would bring up the "Windows Advanced Options Menu" when the computer is booting. And then use arrow keys to move to "Safe Mode with Command Prompt" and press Enter key.
Step 2: Select the operating system to start.


Step 3: When Windows XP Safe Mode finishes loading, a logon screen displays all OS user names, there are 2 accounts in this example: Administrator, Mike. Suppose that you want to bypass the "Mike" account password. Enter administrator password which is blank if you do not set.
Step 4: After entering safe mode, you can see the Windows command prompt. Enter "net user" and press Enter to list all the user names in your Windows XP. Enter "net user Mike 123456789" and press Enter, which means that you want to reset "Mike" account password to "123456789". All done, you can login the "Mike" account with the new password of "123456789".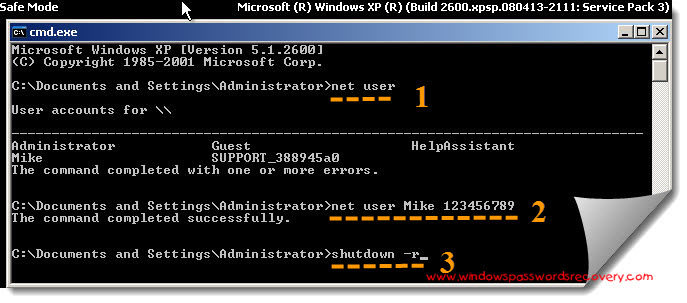 Step 5: Enter "shutdown -r" and press Enter, the System will be restart, then you can access Mike account in normal logon mode. Now you successfully change XP password in safe mode.
How to Bypass Windows XP Password with Reliable Software
You must notice that the above method is a little complicated, then why not bypass Windows XP login password with reliable software? The tool I recommend is called Windows Password Recovery Tool, an easy-to-use tool to reset Windows XP administrator password and other accounts password. You only need 4 simple steps to recover forgotten Windows XP password.
Step 1: After download and install Windows Password Recovery Tool to a computer that is accessible, run this program.
Step 2: Insert a CD/DVD or USB drive to the computer and click "Burn" on the interface of the program to burn an ISO image to the device you inserted.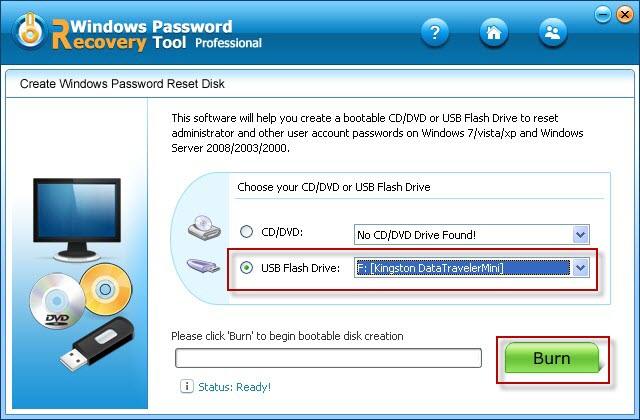 Step 3: Take the device out and insert it into the computer whose administrator password you want to bypass. Start the computer and boot it from the CD/DVD or USB flash drive.
Step 4: Select the target Windows XP user account the default administrator, then click "Reboot" to start bypass Windows XP Password with this burned disk. When the booting finishes and you get the congratulation message, you will get the administrator password.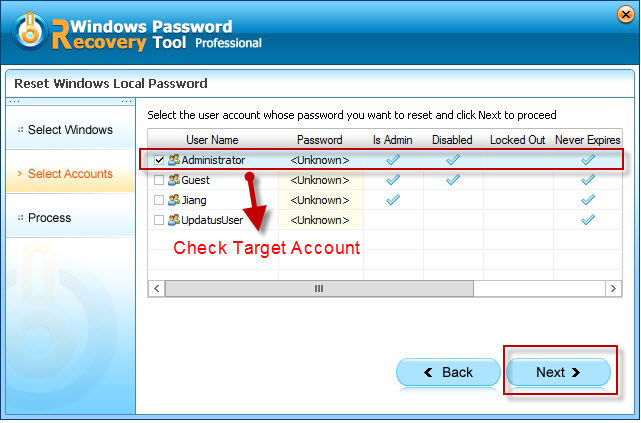 Next time you forgot Windows XP password and your computer couldn't start normally, just try the methods I told you, I am sure you could manage to bypass XP password from safe mode and find it actually very easy.Or, you also can now set a password for safe mode to restrict others access to set administrator password.
Free Try Windows Password Recovery Tool
World's 1st Windows Password Recovery Software to Reset Windows Administrator & User Password.
Free Download
Free Download